New Frontiers campaign will bring back the Dairy Bar
Thursday, December 17, 2020
The New Frontiers campaign at OSU is reviving a campus classic. The campaign is raising $50 million in private funds for a new teaching, Extension and research facility to be the new home of the Ferguson College of Agriculture. It also will launch a re-imagined Dairy Bar on the building's ground floor.
The Dairy Bar was a staple on Oklahoma State University's Stillwater campus beginning in 1928. Students would frequent the campus eatery for a variety of foods and dairy products, including ice cream and ice-cold milk.
"The Dairy Bar is steeped in tradition and has been missing from campus life for some time," said Jim Hasenbeck, a 1982 alumnus and managing principal of Studio Architecture PC. "It is more than a place to meet and eat. It is a display of what role agriculture plays in our everyday life. Plus, the cinnamon rolls and a cold glass of milk were the best of the best."
The eatery was housed in the old Dairy Building and offered a place for students to enjoy good food, socialize and unwind between classes.
"I lived off campus during the many years I was a student. So, when I traveled down Monroe Street every day, the Dairy Bar was an essential stop," said Steve Thompson, 2000 alumnus and senior director of public policy at Oklahoma Farm Bureau. "It was truly the hub of our campus universe. Almost like clocking into campus. And some days it was also the place I would stop when I was finished with class to clock out."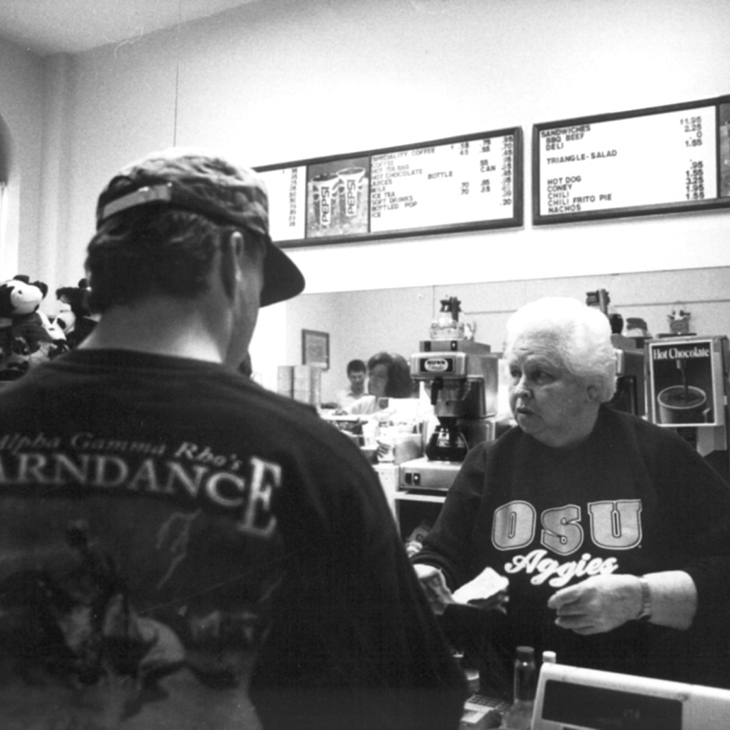 The Dairy Building was demolished in 2006 to create space for the Henry Bellmon Research Center, which honors the legacy of Gov. Henry Bellmon and facilitates interdisciplinary research. However, it was a sad turn of events for many students and alumni whose memories of campus were anchored to the Dairy Bar.
Many are now celebrating that the new home for OSU Agriculture will feature a re-envisioned Dairy Bar for future generations of Cowboys to enjoy.
"Introducing the Dairy Bar into New Frontiers brings back a tradition that has been long missed for everyone on campus," Hasenbeck said. "Its reintroduction will create opportunities for students, faculty and staff to meet and get to know each other a little bit more."