OSU family finds a way to continue Grandparents University tradition
Thursday, December 17, 2020
Every summer, hundreds of grandparents and their legacies head to Stillwater to attend Grandparent University (GPU). While the OSU Alumni Association took the 2020 edition of GPU online, one family went above and beyond to continue their GPU tradition.
OSU alumni Terry and Karen Stewart have been attending GPU with a combination of their six grandkids, Margaret, 13, Nolan, 11, and Katherine, 5, Meehlhause and Emma, 20, Abby, 18, and Jenna, 12, Stewart since 2009, bringing at least two each year. Family Traditions Continue Stewart family finds a creative way to continue Grandparent University experience in 2020.
"We have taken five of the six so far," said Karen Stewart, a 1972 education graduate. "We always take all who are eligible at the time, which included one year when we had four of them here at one time. Sometimes we end up going to both sessions, depending upon which majors they each choose."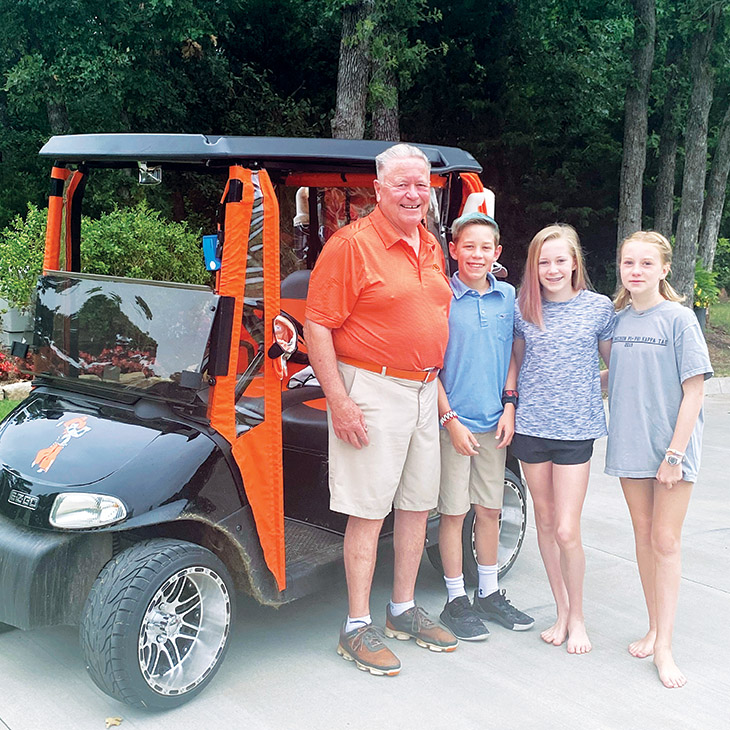 GPU is a unique three-day intergenerational learning event sponsored by the OSU Alumni Association where OSU Legacies ages 7-13 and their grandparents visit campus for a taste of college life for two sessions each summer. Participants choose their "major," stay in the residence halls, learn in OSU classrooms from OSU professors and graduate with a certificate of achievement at the end of their session.
"GPU allows us to spend quality time with our grandkids," Karen said. "They are really close cousins, too, so it is always great when we can all get together and do fun things."
This year, three kids would have been eligible to attend — Margaret, Jenna and Nolan.
"We were all so disappointed when the traditional in-person GPU was canceled, especially Margaret," Karen said. "She is 13, so she thought this would've been her last year to participate. Luckily, her birthday is in late June, so she will still be 13 on the cutoff date of June 1."
The idea for doing their own GPU came to the Stewarts in part because they had already set aside the time on their calendars to attend traditional GPU. The couple decided to have the kids come up for the week anyway with the promise of doing something.
"I decorate cakes, so I thought I could teach them how to decorate cookies, and I thought Terry could create his own major," Karen said. "When I told Jenna about our plans, she said, 'I could teach art!' and the idea came to me — why don't they each also teach us something as well?"
Both grandparents and all three grandkids created their own majors that included things they are each passionate about. The five majors included: Cookie decorating, golf, art, frappuccino class and Minecraft.
"Each major had its own stuff," Karen explained. "They each made supply lists for me to prep, and I also ordered a couple of special items, including GPU 2020 mugs and golf balls with GPU 2020 on them."
The Stewarts tried to make it as much like the traditional GPU as much as possible. Each child received a printed agenda of what activities would be done when. Following a similar three-day schedule, the family found alternatives for meals, specific events and other activities.
"Because they have come so many years, they knew what to expect, so we couldn't miss one thing," Karen said. "We always go out to eat on the first night, so we had them decide on a place they wanted to order takeout from. The GPU tailgate always has pizza, so we ordered pizza in that night, and we went over to our son's house to swim in their pool instead of going to the Colvin Center."
At the end of the week, the Stewarts went all out for a GPU-style graduation, including the playing of "Pomp and Circumstance," the handing out of certificates of achievement and even giving each child prized chocolate bars with special GPU 2020 wrappers to celebrate the end of their homemade GPU.
"Just watching them get so excited to teach us something they are good at was our favorite part," Karen said. "Having the opportunity to show us a skill they have made them all very proud."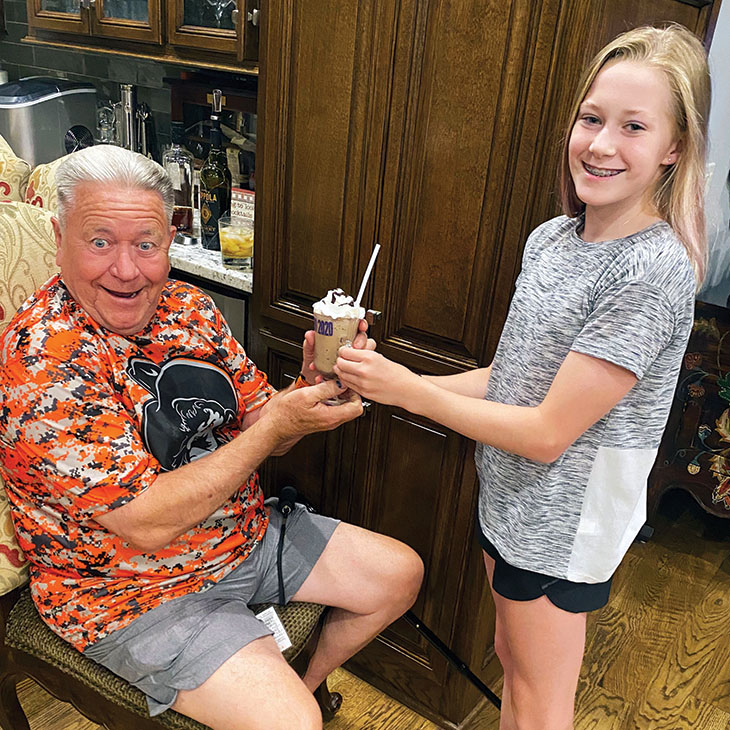 To make this year even more special, their oldest granddaughter, Emma, a junior at OSU majoring in psychology and the first grandkid to attend GPU, designed a special orange T-shirt with symbols for each major to commemorate the week.
The Stewarts are confident that while their grandkids had a blast this year, they are all looking forward to returning to the real GPU in 2021.
"At GPU, they meet new friends, and they love to stay in the dorms," Karen said. "But this year was a really fun and different experience."
Luckily for the Stewarts, they have one more grandchild who is not yet of age to attend the traditional GPU.
"We have a granddaughter, Katherine, who is just 5 years old right now, so we are looking forward to being able to participate for several more years," Karen said.
The OSU Alumni Association plans to host 2021 Grandparent University in person, but that could change with the COVID-19 pandemic. The 2021 sessions are planned for June 16-18 and June 23-25. Applications will open in February, and all fully registered OSU Legacies who will be 7-14 years old on June 1 are invited to participate. To learn more about GPU, visit ORANGECONNECTION.org/gpu.