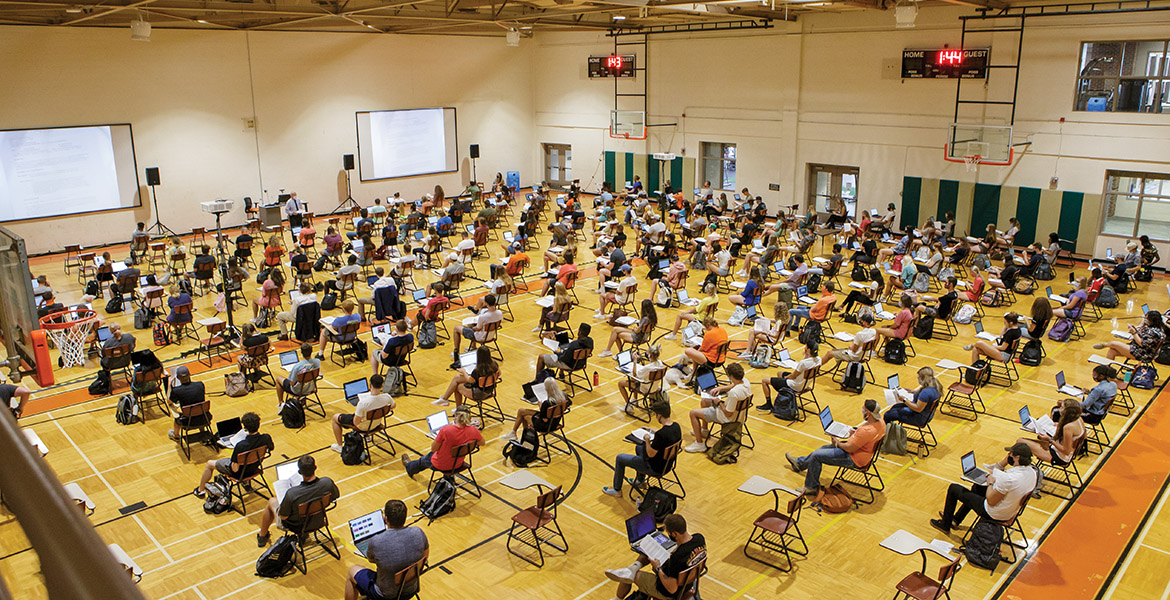 Transforming campus: How OSU prepared for return to in-person classes
Thursday, December 17, 2020
When Oklahoma State University announced its decision to halt in-person classes in the spring, plans to bring them back safely in the fall were already taking shape.
Creativity and communication were crucial to the Campus Pandemic Response Team's vision, as were countless hours of hard work and planning. From the classroom to the president's office, faculty, staff and students all played a role in making the semester possible, emphasizing a theme from the Cowboy Code: There will be pain, but pain will not win.
"The Cowboy family has always pulled together during difficult times, and we saw it once again as we completed a unique but successful fall semester," OSU President Burns Hargis said. "OSU faculty and staff worked extra hard this summer preparing our Cowboys Coming Back plan to effectively deliver on our academic, research and extension missions, while taking extraordinary steps to guard the health and safety of the campus. I cannot thank students, faculty and staff enough for their support and commitment to our success."
Planning and Communication
Preparing the campus for the fall semester meant new cleaning measures, reducing classroom occupancy levels and even creating new classrooms. But before any of these measures were put in play, there was planning. Lots of planning.
"A fool with a plan can beat a genius with no plan."
- Boone Pickens
Health came first. OSU's Pandemic Response Team was created in the spring to oversee the university's response, and a Public Health Advisory Task Force was created to monitor and guide the health of the broader OSU community. Together, they developed guidance for the implementation of a comprehensive effort to prepare the campus for students' return: The Cowboys Coming Back plan.
President Hargis released the six-phase plan detailing steps from May to December.
"Our plans will only be effective if everyone in the Cowboy family works together and acts responsibly," he said following the release of the plan. "I ask everyone to follow the Cowboy Code, which includes the principle that 'we have a passion to do what's right, even when it's hard.'"
The plan established rigorous on-campus COVID-19 testing, required all campus residents to test before moving into campus housing and set aside 300 quarantine units to accommodate and care for those who did test positive.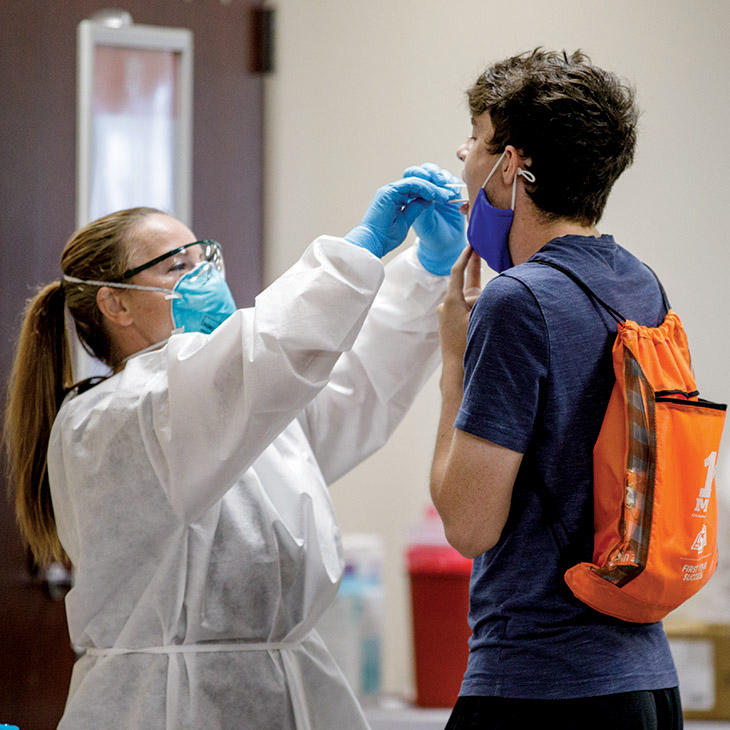 Extra hotel space was secured in case more units were needed, a 24-hour COVID-19 hotline was established and a dedicated email address was created to field questions.
"We started meeting four days a week, because it felt as if we were receiving new information about the fall every day," said Director of Housing and Residential Life Dr. Leon McClinton. "Fortunately, we have a very experienced departmental leadership team that embraced the new challenge."
By April, the Oklahoma State University's Diagnostic Laboratory had completed the verification procedures to become a fully authorized COVID-19 diagnostic lab, dramatically increasing Oklahoma's testing capabilities. In August, the lab eclipsed the 100,000-test mark. OSU's COVID testing lab has since relocated to Venture 1, an OSU research facility southwest of the main campus, and continues to be a focal point in the state's COVID-19 response.
Contact tracing efforts during the fall semester were bolstered through digital contact tracing using campus Wi-Fi and student ID card swipes. Led by Associate Vice President Christie Hawkins and supported by a special relationship involving University Health Services' Pamela Stokes, the Payne County Health Department's Kelli Rader and Stillwater Medical Center's Necia Kimber, OSU's contact tracing efforts have been remarkably effective.
In August, OSU created an interactive online dashboard (okla.st/dash) to track COVID cases and testing data and keep the OSU community informed. The dashboard continues to provide updates twice a week based on the latest testing data.
Those are just some of the steps the university took to combat the spread of COVID-19. Like the teams that created them, these measures worked in concert to protect the university community.
Physical Distancing

University Planner Casey Shell said the first step to making the campus safe for students' return was addressing physical distancing. The COVID19 Facilities Accommodation Committee was established with a representative from each college, the registrar, Environmental Health and Safety, Facilities Management, Institute for Teaching and Learning (ITLE), and two representatives from University Planning.
"Before students were sent home in March, we were already planning for the fall," said Chief Facilities Officer Ron Tarbutton. "It took a couple of months with the supply chain just to source everything we needed. That's why it was so crucial that we started planning when we did. And we found that many colleges were struggling to get these critically needed supplies and equipment. By consolidating purchasing, it put us in a better position to get everything."
Tarbutton is quick to give credit to the Office of Central Procurement for rounding up a laundry list of equipment and supplies at a time when supply chains were in disarray, as well as getting good value through bulk purchasing.
"University Planning surveyed all of the existing classrooms and took the lead on identifying alternative classrooms," he said. "They also helped us in other ways, like suggesting locations for new sanitizer dispensers. We ordered them and installed them, but it was through our partnership with University Planning that we were able to pull this off."
Tarbutton said the cooperation touched every aspect of the plan. ITLE, for example, was instrumental in setting up new classrooms with the technology they needed to be effective — white boards, speakers, projectors, etc.
"It took a lot of people doing a lot of things together to make this successful," Tarbutton said.
Shell said there's no denying that the preCOVID college experience was idyllic by comparison, but the university was able to find success through creativity and cooperation.
"We would get on the phone, we had weekly meetings, we talked about our concepts and ideas and worked together at every turn," Shell said. "If it wasn't for everybody working on this, there's no way we could've gotten it done before students came back for the fall semester."
Working with a formula to determine seating arrangements and scheduling, University Planning provided Facilities Management with a blueprint. Facilities Management then went about creating 15 new classrooms, removing desks and plotting out seating arrangements in newly improvised spaces.
Quickly it became clear that finding lecture halls was going to be a challenge, with some classrooms only able to accommodate 16 percent of their original capacity. The largest classroom — Seretean Theater Room 125 — originally seated 801 and was reduced to 131.
So Shell and his team started to put together a list, scouring campus (and even briefly considering off-campus sites) for spaces that could be transformed into socially distanced classrooms. Once they had their list, the hard work began.
"We now had to move surplus furniture out of the existing rooms into the new spaces that had no furnishings and move the remaining furniture to storage, identify and create specifications for the necessary audio-video equipment that would be needed, procure and install the necessary Wi-Fi equipment to make sure students had reliable Wi-Fi coverage, and purchase and install recording and streaming equipment in all classrooms to be able to simulcast classes for in-person or virtual attendance," Shell said.
The end result was new classrooms in such places as the Colvin Center, the suites at Boone Pickens Stadium, the OSU Alumni Center, the Wes Watkins Center, the Student Union Theater and even the Student Union Ballroom and Starlight Terrace.
The most striking may be the repurposed basketball courts at the Colvin, where three classrooms were created. Two courts were revamped to make two 200-student-capacity classrooms. Four courts in the annex became the largest classroom on campus in the fall, seating 350.
In addition to the creation of new classrooms, the Facilities Management team had its hands full with a wide array of projects.
For the HVAC systems, workers installed high-efficiency filters — going from the widely commercially used MERV 8-rated filters to hospital-grade MERV 13-rated filters — and added specialized equipment inside several HVAC systems to kill airborne viruses and bacteria in the airstream. Facilities Management implemented nightly electrostatic disinfectant spraying in all classrooms, computer labs and the library, hiring an additional 14 employees to get the job done.
Breadth of Changes
The summer is already a busy time for Facilities Management crews, and preparing the campus for a semester unlike any other added to the workload. Tarbutton said the emergence of H1N1 in 2009 was a bit of preparatory experience, but nothing like the breadth of changes that came with COVID.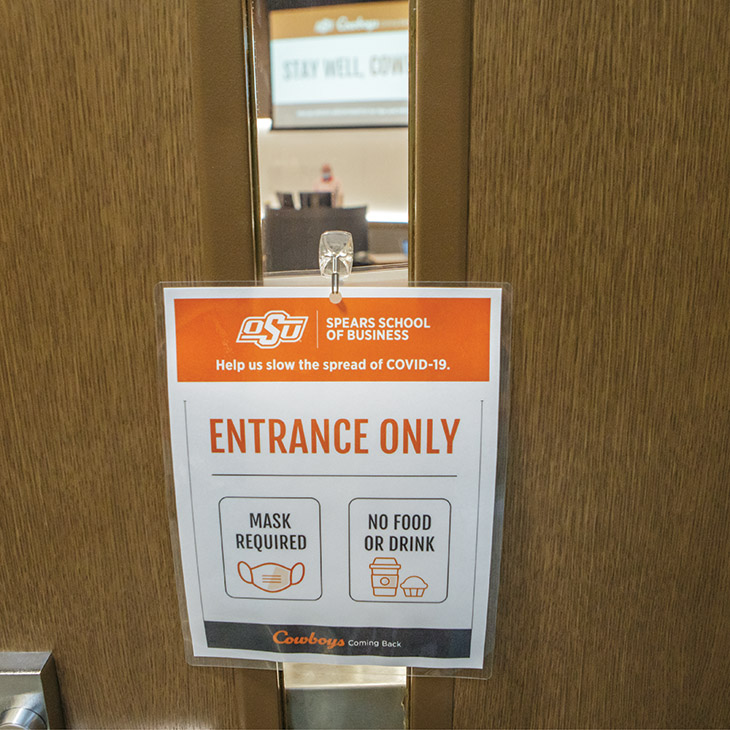 "It's been a strange semester unlike anything I've ever seen," he said. "It took a tremendous amount of effort and quick planning, quick thinking and coordination with a lot of people.
"Part of it is the communication messages that go out. Any time there's a great idea, those take time to procure what's needed and implement it. So we are constantly having to prioritize what we do and we did that. We did core things first and then we went to the second round and third round. Fortunately, we were able to get virtually everything out before the start of the semester. It came down to the wire with some things to just a week before, but those are the kinds of supply-chain challenges we were facing."
Tarbutton said his team embraced its role and was proud to do its part.
"I'm very proud of the efforts of Facilities Management, as well as all of our university partners to get campus ready for the return of faculty, students and staff," he said. "We worked tirelessly throughout the summer. Even when others were working remotely, we were coming in because we physically had to get things ready for people to return safely."
Looking back, Shell said preparing the campus was a remarkable feat. "By the first couple of weeks in July, we could see progress, but we had a long ways to go," he said. On Aug. 16, just one day before the start of the fall semester, Shell said everything was finally in place.
"It took a huge effort from all or our teams, lots of hours, weekends and evenings, but we [made it], and we were ready for in-person classes on Aug. 17."
Classroom Innovation
While university leaders and planners were juggling broad measures to bring students back to campus safely, professors and instructors faced their own challenges. After deftly pivoting to distance learning in the spring, they were ready for the fall.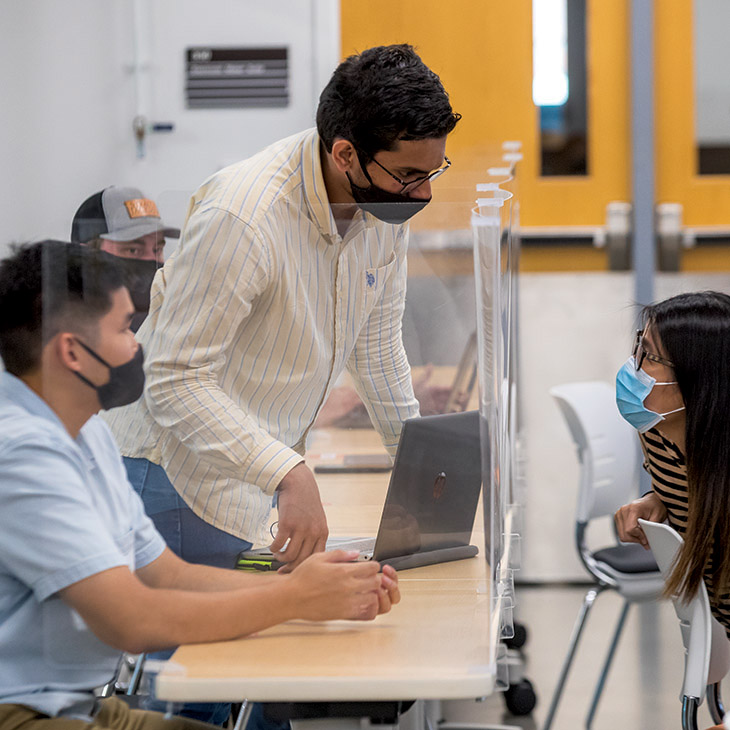 Dr. Bryan G. Brockbank, an assistant accounting professor and Wilton T. Anderson fellow, had recorded a handful of videos prior to the spring semester. He's since recorded over 200 and learned a lot along the way.
"Think about it from the student's perspective," he said. "Nobody wants to watch a 75-minute lecture video — including you after you've finished recording it. It's much easier to break class sessions up into individual topics and record short videos related to each topic."
His videos include an element you're not likely to find on any balance sheet: fun.
"I would record a short video each week with my boys where we would tell jokes or do magic tricks for my students," he said. "Part of the value we provide to our students is the personal connection they make with us as their professors, which is much more difficult to do in an online environment. Anything we can do to help make that connection is helpful."
Brockbank said one of the biggest challenges of teaching online or in a hybrid environment is the relentless competition from other content sources. But even in that he sees opportunities to improve the college learning experience.
"What I've seen is a general trend towards an 'on-demand' society with Netflix, YouTube, or any other social media and entertainment that is available at any time," he said. "The challenge there is that it may be difficult for higher education to compete with entertainment options, especially if the education is offered on demand. Are my students more likely to watch TikTok videos or my accounting videos? The unfortunate reality is that I'm not as creative or entertaining as the students' favorite social media influencer or TikTok channel. At the same time, my job isn't to entertain; it is to educate.
"The current challenges do provide an opportunity to evaluate how we spend time in class as well as what should be required outside of class. It offers a great opportunity to continually improve the product we deliver to our students."
COVID adaptations were especially challenging for lab classes where hands-on experience is crucial. Dr. Jill Akkerman teaches first-year anatomy in the College of Veterinary Medicine. She calls it a "full-contact class."
"In order to learn anatomy, students should optimally have direct hands-on experience with cadavers," she said. "Hands-on lab dissection teaches relationships among organs and structures, variability between and among species (cats are not small dogs) in addition to collaborative teamwork and psychomotor skills. Pre-COVID, our students spent significant time dissecting cadavers."
With a normal approach off the operating table, Akkerman found herself exploring new ideas. Some of the adaptations have proven to be so effective that she may retain them in a post-pandemic world.
"I think it is easy for instructors to get into a 'groove' with a specific course and not explore new teaching methods and ideas. COVID has certainly changed that for many instructors," she said.
"I told the students from day one our course motto this semester was 'optimistic, creative and flexible.' Despite all of my planning, [instructors and students] have had to 'pivot' a few times already to adapt, but as long as we all stay optimistic, creative and flexible, students will come out of the course having met the desired outcomes and prepared for future courses."
Like Akkerman, fellow veterinary professors Katrina Meinkoth and Stefano Di Concetto sought ways to maximize clinical opportunities.
Meinkoth teaches surgical fundamentals. She said the pandemic has accelerated instructors' comfort level with different modes of teaching. That's a good thing, she said, but there is no replacement for hands-on experience. Di Concetto found success by leveraging technology and finding new space.
With reduced lab occupancy due to COVID, Meinkoth and her colleagues developed a "Clinical Skills Lab." Utilizing an unused room at the animal teaching hospital and an alternating weekly schedule, they were able to enhance hands-on learning.
"This allowed them to refine and practice in slow motion on manikins what they learned on live animals during the first week," she said. "At the same time, the group of students who practiced in the Clinical Skills Lab during the first week had the opportunity to apply during the second week what they learned in SimLab to the client-owned animals treated in the clinic during their second week of rotation."
Research
Innovation allowed major research efforts to continue across campus and across disciplines. OSU Vice President for Research Dr. Kenneth Sewell said researchers had to make adjustments but continued to be productive in impressive ways.
"Working in shifts in their labs, installing plexiglass dividers between workspaces, research teams traveling to field sites in separate vehicles, human subject researchers moving in-person interviews to virtual spaces, and even adapting research efforts to pandemic-related topics are some of the many ways that OSU researchers have coped with the challenges," he said.
"Most indicators of research continuity will take many more months to assess, but one indicator we can immediately examine relates to new research grant proposals submitted to funding agencies in the past six months." From April through September of 2020, OSU researchers submitted proposals for grants totaling $123.4 million. During the same six-month period over the past three years, researchers have averaged $124.7 million in grant proposals.
"So although the pandemic may be slowing our research down a bit, our wonderful faculty, staff and student researchers are showing their resilience and persistence to keep the OSU research enterprise strong," Sewell said.
The Show Must Go On
From the stage to rehearsal rooms, OSU's performing arts programs faced unique obstacles. But, as the saying goes, the show must go on.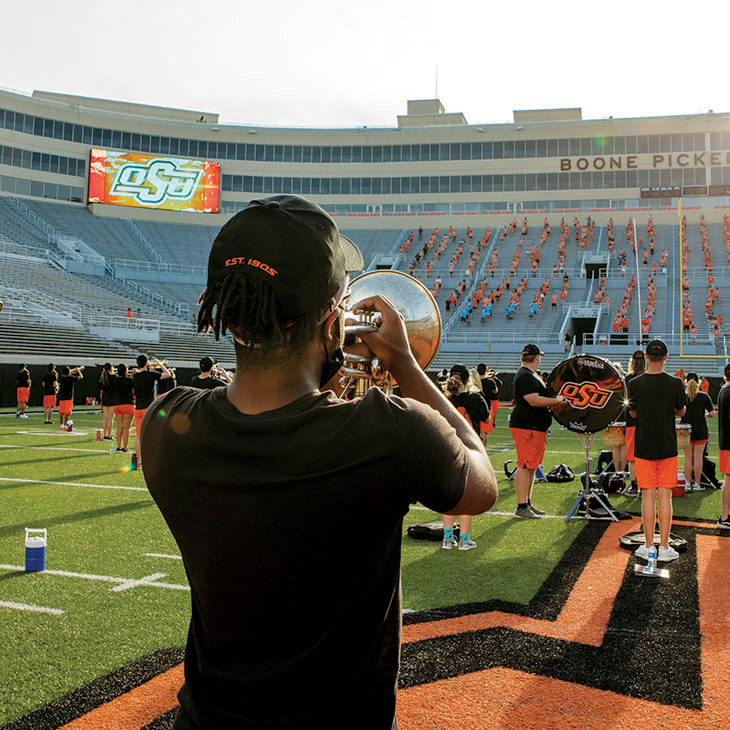 In the Greenwood School of Music, the creativity and tenacity of planners and faculty members made the seemingly impossible possible.
All instructional rooms were arranged for physical distancing, acrylic barriers were installed to mitigate the spread of aerosols, air purifiers with HEPA filters were installed in all instructional rooms and practice rooms, "airing out" procedures were adopted to give those air purifiers time to work, private lessons were limited to larger rooms, and large ensemble formats were reduced.
Bell covers were distributed for brass and wind instruments and singers were provided with specialized masks. Vocal ensemble rehearsals were relocated to larger spaces, such as Bennett Chapel and First Christian Church, where distancing was possible.
Dr. Jeff Loeffert said it's unfortunate that the anticipated opening of the new Greenwood Music Building will coincide with the pandemic, but he has seen faculty members find ways to provide meaningful experiences for students.
"We can be certain that our students will have vivid memories of this school year throughout their lives," he said. "When our students look back at this year, they will remember instructors who were committed to helping them achieve at their maximum potential despite the difficult circumstances. Really, what better lesson could there be? We do not find a path to success — we create a path to success. Our aim is to serve our students, and even a pandemic will not stop us from meeting our instructional mission."
Broadway is still dark, but the OSU Department of Theatre and Dance found innovative ways to carry on, including a radio-style recreation of the famous Orson Welles War of the Worlds broadcast. Department head David Kersnar said students and faculty met the challenges of the pandemic without a blink.
"Artists are problem-solvers by trade, so we divided up our year-long program into fall and spring seasons to address the up-to-the-minute needs of our times and focused this autumn on a series of fun, engaging and even socially relevant offerings," Kersnar said.
The Distances series focused on bringing new voices to the table while creatively staging great entertainment. The department also launched a new channel on the O'Colly OMG app to allow more people to tune in.
With limited seating to allow for distancing, OSU Opera presented The Wonderful World of Sondheim, which was also livestreamed via OStateTV. Meanwhile, The McKnight Center for the Performing Arts celebrated its one-year anniversary with creative adaptations and new offerings, such as the McKnight at the Movies series.
Marilynn and Carl Thoma Executive Director Mark Blakeman said the pandemic could not stop The McKnight Center from pursuing its mission to inspire and transform lives through artistic excellence, shared creative experiences and impactful learning opportunities.
The McKnight Center was able to reopen in the fall with socially distanced performances. Utilizing enhanced cleaning and safety protocols, the iconic venue hosted more than 60 concerts and private events.
"We know how important the arts are during times of uncertainty, and we're constantly innovating to continue to inspire our audiences," Blakeman said.
Beyond the Classroom
Beyond the classroom, the lab and the stage, other beloved aspects of the OSU experience were reimagined. While the 100th anniversary celebration of America's Greatest Homecoming had to be postponed, many other aspects of campus life continued to bring the Cowboy family together.
Student Union Activities Board President Adriann Crawford said it wasn't easy, but the Student Union Activities Board continued to play an uplifting role in students' lives.
"In the past, most of our events were these big night events that attracted large groups, but now our events are what we call walk-by events," she said. "We've had some of the biggest attendance numbers that we've ever had. A part of this is because of the fact that with walk-by/daytime events we get a crowd of students we normally wouldn't reach."
Looking forward, she said SUAB has learned some lessons it can carry into the future, even when COVID subsides.
"I feel like SUAB and myself have actually learned a lot about what students at OSU enjoy and how to plan an event for that," she said. "Like I mentioned earlier, right now we are getting better attendance numbers and better feedback than we have ever gotten, and that's fantastic. It's making us think that even after COVID-19 is over that we should change how we approach events in general."
Other beloved programs, like Pete's Pet Posse, also adapted. The nation's premier university pet therapy program went digital in the spring as its four-legged stars took to making Zoom appearances in various meetings and conducting virtual sessions. That continued in the fall, and new wrinkles, like Book at Bedtime, a virtual story hour with Keith and Kendria Cost's dogs, Huxley and Darwin, were added.
OSU Career Services continued to support students with digital resources to enhance their job prospects, from online job fairs to résumé workshops and other skill-building programs. When internship opportunities started to dry up in the spring and summer, some professors found or created new opportunities for students.
Tilanka Chandrasekera, an associate professor in the Department of Design, Housing and Merchandising, helped to craft a new digital internship for aspiring interior designers. Greg Clare, an associate professor of design, housing and merchandising, was part of an effort to design three internship sections and an additional internship opportunity with Toronto-based Riipen.
Working with an 18-member departmental advisory board, he and Chandrasekera were able to help keep many students on track to graduate.
Looking Ahead
Despite all of the challenges of COVID-19, the future at Oklahoma State remains bright. Fall enrollment was up 360 students compared with the same time the previous year, and student retention is at an all-time high.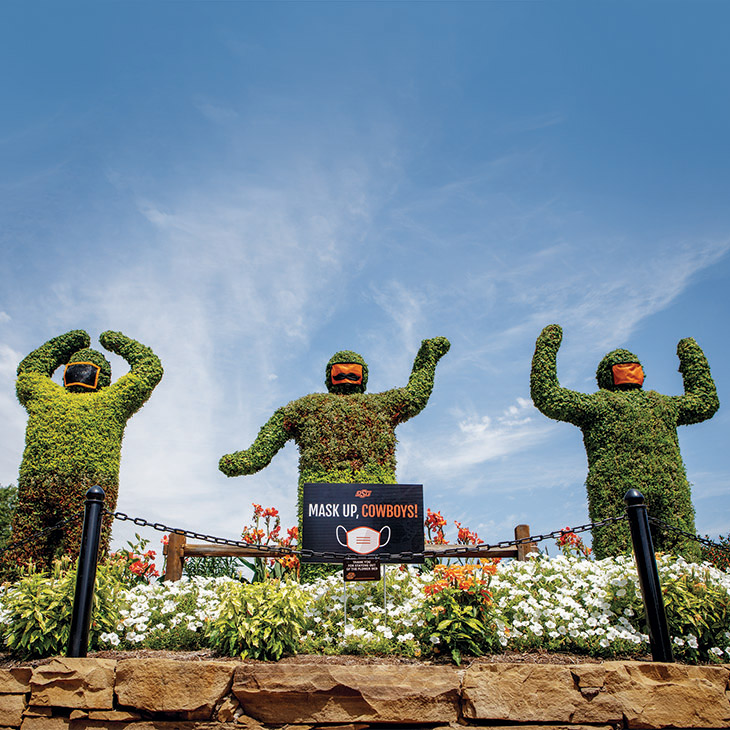 Still, the university continues to strive for better, from its labs and classrooms to the countless meetings that made reopening them possible. Facilities Management, for example, is looking at new measures for the spring, like new technologies to treat the air, more long-lasting aerosols and refining efficiencies.
"Not knowing what next summer will hold requires ongoing strategic planning," Chandrasekera said. "I look forward to an effective and welltested vaccine, but in the meantime, a leading academic institution in the Great Plains, we must continue planning for risk mitigation so that we don't impact our most critical resource — our students."
In the end, the measure of the university's success for the fall 2020 semester came from the students.
Sophomores Brittany Hicks and Brooke Puckett didn't expect their business calculus class to be in a gym. But they were pleasantly surprised with how the university has responded to the pandemic.
"I think OSU did a good job of balancing everything," Hicks said. "They didn't have a lot of options, and they made it work. I wouldn't have known what to do, but the university did a good job of using its resources to allow students to come back to campus."
Puckett said she has friends at other schools who haven't been able to attend in-person classes. She's thankful that wasn't the case for OSU.
"It would be hard, not only for kids returning to school but especially freshmen, not getting to build relationships with their teachers or even other students," she said. "I think [OSU's response] has been great.
"I trust OSU to make the right decision. Other universities have closed down completely or canceled all sports. I'm proud of OSU for sticking with it and finding ways to give us a somewhat normal experience."