Due to the ongoing COVID-19 pandemic, the OSU Alumni Association made the difficult decision not to host the 2020 edition of Homecoming. This decision had an impact on alumni across the country who make the trip to Stillwater every year to celebrate their alma mater, but alumni were not the only group affected.
OSU students are a vital part of each Homecoming, and the 2020 Homecoming Executive team worked hard to ensure current students were still able to celebrate their love for OSU and the Homecoming tradition.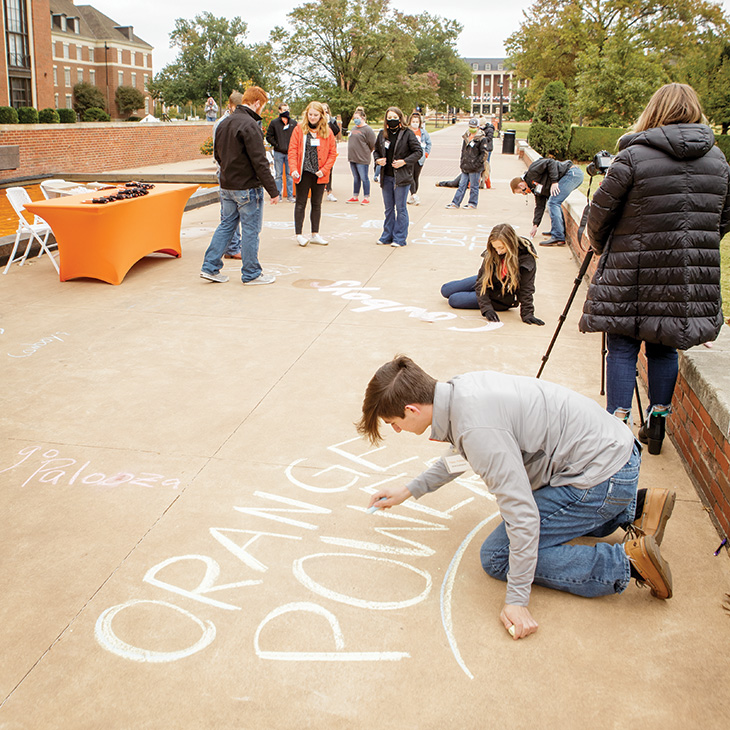 "During this time when opportunities for community are slim, the executive team was thrilled to fulfill that need through Pokes Palooza," said Clarissa Ratzlaff, 2020 Homecoming executive director. "These events not only provided moments of safe fellowship between students, but also represented who we are as Cowboys — when disappointments arise, we make the most of the situation and work to create something great."
The week kicked off on Oct. 25, with the tradition of dyeing the Edmon Low Library fountain America's Brightest Orange. The Homecoming executive team assisted with the dyeing process.
Students in attendance at the fountain dyeing also used chalk to fill the sidewalk around Edmon Low Library with support for the Cowboy football team, OSU pride and more. Students and organizations across campus were also encouraged to decorate their residence halls and other spaces to get into the Pokes Palooza spirit.
To continue the longstanding tradition of philanthropy around Homecoming, the Harvesting Hope canned food drive served as a way for OSU academic colleges and Greek chapters to select a local nonprofit and gather canned goods throughout the week.
The weeklong celebration closed with a special virtual performance by Thompson Square, a musical duo of international acclaim. With honors such as Vocal Duo of the Year for both the CMAs and ACM awards, their No. 1 hits include "Are You Gonna Kiss Me or Not" and "If I Didn't Have You."
"While this year was different than any other, I was encouraged to see students take this opportunity to celebrate our university and give back to the place that has given us so much," Ratzlaff said.