Current Issue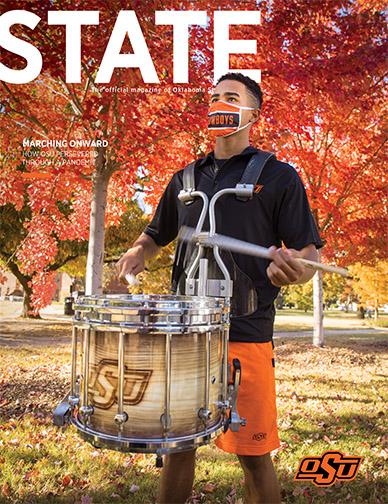 About STATE
STATE magazine is the official magazine of Oklahoma State University and is delivered three times a year (spring, fall and winter) as a benefit to current members of the Alumni Association. STATE symbolizes the changing atmosphere at OSU – dynamic, energetic and focused. Working as a team, the partners below bring Alumni Association members this award-winning publication that highlights the people, places and accomplishments of our great university.
Thanks to our partners!
Brand Management || Alumni Association || KOSU Public Radio || OSU Foundation || OStateTV
Join the Alumni Association to begin receiving a printed copy of our award-winning, full-color publication three times a year at your home or office.
Have you recently moved or changed your name? Do you have a different email address? Let us know so we can keep you informed.
The Alumni Association accepts class notes for birth and wedding announcements, career changes, award recognitions, and obituaries.