OSU-CVM's behavior service helps identify and treat behavior disorders in large and small animals
Friday, February 24, 2023
Media Contact: Kaylie Wehr | Coordinator, Marketing and Public Relations | 405-744-6740 | kaylie.wehr@okstate.edu
Like humans, animals experience anxiety, stress and can exhibit abnormal behaviors when in unknown places or around unfamiliar people.
Oftentimes with animals, those behaviors can be seen as unfixable, causing an owner to relinquish their pet to a shelter or have them euthanized. Veterinarians at Oklahoma State University's College of Veterinary Medicine are working to identify and create a plan to manage these behaviors.
Dr. Leticia Fanucchi, clinical assistant professor of behavior medicine, helps provide services to behaviorally challenged animals through the Department of Veterinary Clinical Sciences.
Many pet owners don't know their animals have behavior disorders because they don't exhibit the common forms — separation anxiety or aggression, Fanucchi said. The main reason people look for a behavior service is their pets have aggression issues. Aggression can be a symptom — not a diagnosis — of either a medical condition, pain or behavior disorder.
The clinical signs of an anxiety disorder often are behaviors people don't relate to behavior disorders, instead, they think it's a funny or weird action their pet does. For example, repetitive behaviors like biting the air, hunting or chasing imaginary flies, fear of lights and reflections or a voracious appetite where the dog scarfs all the food down without chewing.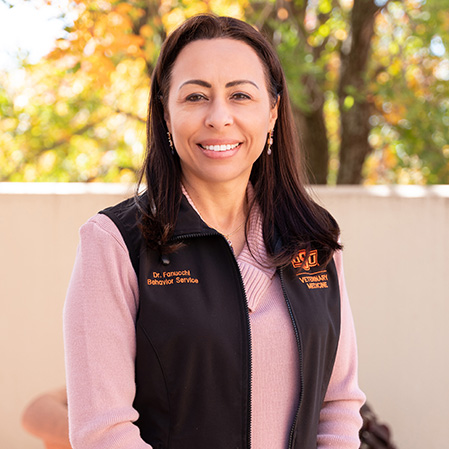 "I never see cases that have one thing only," Fanucchi said. "It's always a variety of signs that people didn't know were behavior problems and that's normally related to anxiety and anxiety is a medical condition. It's not a training problem.
"We need to address this as a medical condition because not only can it be primarily behavior, but there are several medical disorders that can cause behavioral problems. If we don't address them medically, we're not going to see the success or the results that we want."
The trick to preventing behavior disorders is starting when the pets are young, Fanucchi said. The Boren Veterinary Medical Teaching Hospital offers a puppy package that includes desensitization to medical procedures, where they learn to not fear the physical exam.
"We teach the clients how to work with them at home, which is a safe environment, by desensitizing them to nail trims, temperature taking, the stethoscope, things that we have to put in their faces and shining a light in their eyes," Fanucchi said. "So all those things that are scary here in the hospital, can actually be worked on at home. And then when they come here, it's nothing new."
Fanucchi graduated from veterinary school at Universidade Tuiuti Do Paraná in Brazil, in 2005, and moved to the U.S. to work at a private practice in Florida. She visited the American Society for the Prevention of Cruelty to Animals (ASPCA) headquarters in New York City and spent time with their shelter medicine and behavior department where she became fascinated with the connection between the brain and behavior.
"I had a pet of my own that had severe separation anxiety," Fanucchi said. "There were no specialists in my town, there was no behavior training in my vet school. So I kind of had to teach myself behavior and do my own research and look for solutions."
In 2010, she packed up her things and moved across the country from Florida to Pullman, Washington, to earn a Ph.D. in animal sciences with an affective neuroscience specialist at Washington State University.
In the third year of her doctorate, Fanucchi began teaching and when she defended her Ph.D., she received an offer to stay at the college as a faculty member and start a behavior service.
Five years later, Fanucchi left WSU to travel abroad working ER shifts and in general practice. Eventually, she scheduled shifts at OSU where faculty members discovered her interest in behavior and asked her to join the team.
At OSU, the majority of patients seen in the behavior service are dogs and cats, exotic species like parrots and occasionally horses.
Fanucchi rehabilitated racehorses for adoption while in Brazil and at WSU it was more popular to bring in horses, which allowed Fanucchi to work cases with the equine internal medicine specialist to increase her knowledge of their behavior.
The OSU behavior service has the potential to treat horses but has not seen the caseload, Fanucchi said. As she continues to build the behavior service, she hopes to start seeing more horse cases.
"It's something I want to offer here," Fanucchi said. "Most of the cases we see in horses are either aggression issues, they have a panic or they have aversion to veterinary procedures."
Horses can develop issues if they are traumatized early on and then they learn to hate procedures. They won't allow a full physical exam, an injection, drawing blood, oral medications or putting a halter on.
The other problems are obsessive-compulsive disorders where they exhibit head weaving, pacing, stall kicking, swallowing air or biting things.
Management plays a role in the behavior issues a horse may develop. For example, some horses show aggression when put in a pen with others if they were locked up in stalls for too long lacking healthy interaction with others.
For people wanting to know if their pet has a behavior problem or basic training problem, Fanucchi suggests reaching out to schedule a short assessment to identify if their pet can benefit from the behavior service. From there, the team can implement happy visits or create a nutrition or pharmacological plan to meet the pets' specific needs.
---
Photos By: Taylor Bacon, Story By: Sydney Trainor | Vet Cetera