OSU graduates first students from its joint degree program with China Agricultural University
Friday, May 19, 2017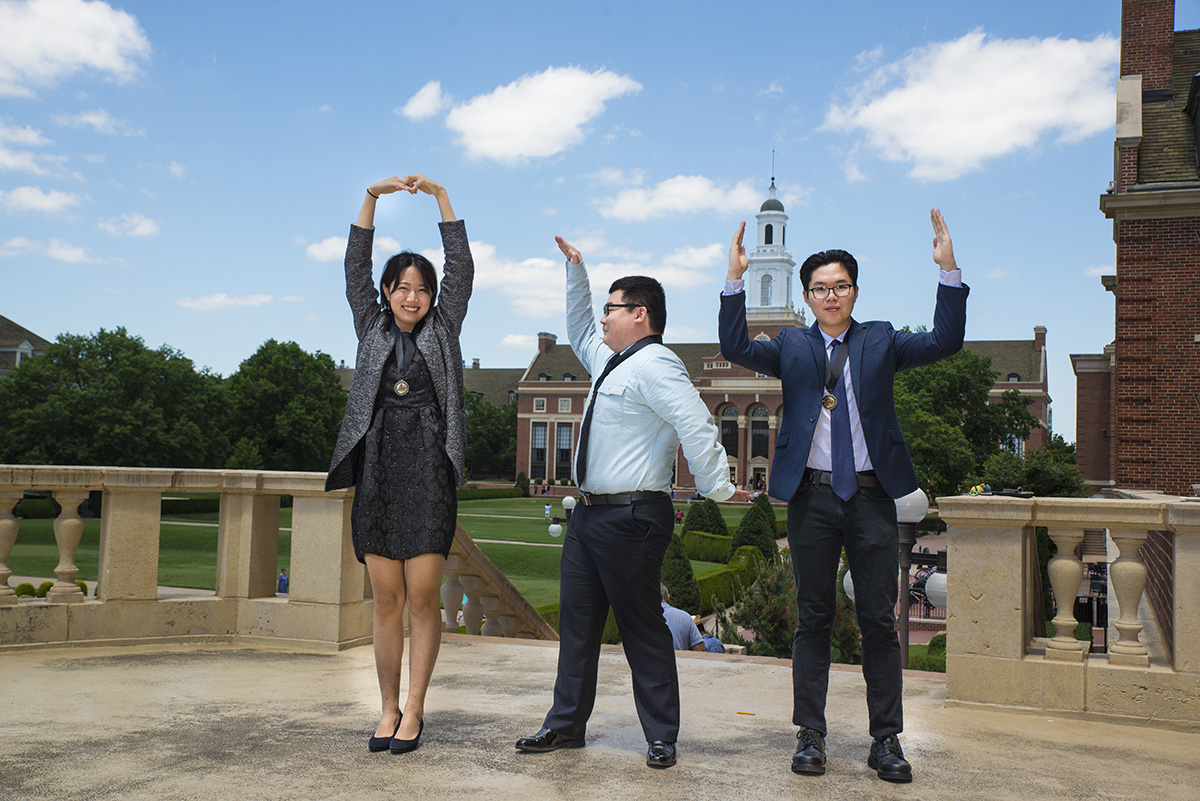 Call it pomp and circumstance, just with a Far East twist and Cowboy twang.
Participating in Oklahoma State University's undergraduate graduation ceremonies on May 13 were 28 Chinese students who graduated with a Bachelor of Science in Agribusiness, not only from OSU but also from China Agricultural University.
"These students are the first graduates of a CAU-OSU joint degree program approved in 2013, which includes two years of study at CAU and two years in the department of agricultural economics at OSU," said Mike Woods, agricultural economics department head. "The program provides students from each institution an opportunity to study in and benefit from the academic and cultural environment of both institutions."
The graduates began their studies as freshmen at CAU in 2013. They took two years of English-speaking classes at CAU and arrived at OSU for the fall 2015 semester. An additional 32 students began studying at OSU in the fall of 2016. A third group totaling 35 students is expected to attend OSU this fall.
"Approximately 80 percent of these students are now pursuing graduate degrees as their next endeavor," Woods said. "Some will be attending universities in the United States such as OSU, the University of California-Davis, the University of Miami and Cornell University, among others; some of the students are scheduled to pursue graduate studies in Australia and Japan."
CAU is ranked as one of the top national universities in China and is considered China's foremost university for agricultural studies and the origin of higher learning and research for modern day agricultural studies in China. As an internationalized university, CAU considers international exchange and cooperation to be a significant component of its mission. It has joint programs with universities and research institutions in 35 different countries and territories.
The CAU-OSU joint program began when OSU President Burns Hargis traveled to China and signed a general Memorandum of Understanding with CAU officials in December 2011. Hargis' visit generated a strong interest from CAU to partner with OSU in the general area of agribusiness. After further negotiations, the two universities signed an Educational Affiliation Agreement in 2013.
Joe Schatzer, OSU professor of farm management and undergraduate coordinator for the department of agricultural economics, was heavily involved with developing the coursework for the joint degree program. He traveled to China, sat in on their classes and worked with CAU staff on creating a syllabus.
Paving the road to success
Knowing the Chinese students would be arriving to start the Fall 2015 semester, the OSU department of agricultural economics hired Arakssi Arshakian in January 2015 to be the unit's international academic program coordinator.
Arshakian worked closely with a core group of department faculty to create OSU's part of the joint degree program. "From the beginning, our focus was on the students and how we could help them have the richest possible academic, cultural and personal experience," she said.
After all, there were sure to be challenges. The landscape of China is vast and diverse, ranging from the Gobi and Taklamakan deserts in the arid north to subtropical forests in the wetter south. The nation has four major mountain ranges, including the skyscraping Himalayas, while its Yangtze and Yellow rivers are the third- and sixth-longest in the world. China is also the world's most populous country, home to approximately 1.4 billion souls.
No shock then that Echo Zhuo was a bit surprised when she arrived in Oklahoma and first saw what to her were near-empty streets. "It was so different; nice but not what I was used to," said Zhuo, who grew up in Xiangyang, a city in mountainous northern China with a population of more than 5.5 million. Oklahoma as a state is home to just more than 3.2 million people.
But Zhuo adapted quickly – though the inherent violence of Oklahoma thunderstorms and tornadoes gave her a few pauses, she admits – and quickly fell in love with life on OSU's Stillwater campus, a process for which she credits the department of agricultural economics CAU-to-OSU joint degree program.
"We use a three-level approach with a particular focus at each level, working with the students before they arrive, while they are here going through the program and when they near graduation," Arshakian said.
Three steps, with a personal touch
Before the students even arrive, they become familiar with the department, OSU's College of Agricultural Sciences and Natural Resources, and the university in general through a freshman orientation class taught by one or more members of the OSU agricultural economics faculty, who travel to the CAU campus in Beijing.
The day after OSU's May 13 graduation ceremonies, OSU professor of agricultural marketing Brian Adam was on an airplane to China, off to teach the freshman orientation class at CAU. Three days later, Woods and Schatzer were overseas bound taking a group of OSU students to China on a two-week study abroad educational experience.
"The program has led to a very positive internationalization of the department and the College of Agricultural Sciences and Natural Resources," Woods said. "Both domestic students and transferring Chinese students have had great opportunities to grow and become more aware of the world."
Arshakian said the department sends weekly journals to the participating Chinese students while they are still at CAU with the intention of not only mitigating any forthcoming culture shock but also helping them stay excited about their participation in the joint degree program.
"Attending a major university can be a culture shock for any student, anywhere; even if you grew up in a small town in the same state and then find yourself in a larger, more hectic place," she said.
Arshakian secures housing arrangements for the students while Schatzer helps the students enroll in courses at OSU and provides what will become a staple of each student's experience as Cowboys: a willing ear, sage advice and caring attitude, from Schatzer himself and a host of his fellow faculty.
"Warm-hearted professors," Zhuo called them, who gave a special shout out to Brian Whitacre, agricultural economics professor and OSU Cooperative Extension Service rural development specialist. For Junhan "Jackie" Chen, who grew up in southeastern China's Guangdong Province, it was Brian Adam.
"My major is agricultural business," Chen said. "My grandparents used to run a corn-and-chicken farm that experienced hard times. I've long wanted to use my college education to see what I can do for the old farm. I find the way Dr. Adam and my other professors use down-to-earth and face-to-face field trips to teach us about American agriculture to be brilliant."
Chen especially appreciates Adam, not only for the agribusiness experiences provided but for the number of events the OSU professor arranged exposing the students to American culture.
"Everyone learned a lot, and we improved our English as well," Chen said. "The world has become a global marketplace, and though a country's specific policies may differ from one another, understanding other cultures is important to understanding why things work as they do and what opportunities may be there for you, your family and the region where you live."
Created from scratch, the program works seamlessly. When the students first arrive in Stillwater, they participate in a two-day departmental orientation as part of OSU Welcome Week. They learn about classroom courtesies, the rules for academic integrity, cross-cultural differences and campus resources.
After Welcome Week, the students are paired with a peer mentor who helps guide them and answers questions. For the Fall 2016 and Spring 2017 semesters, there were five peer mentors: two American students and three students who were among the first CAU students to study at OSU.
The peer mentors are required to meet with their assigned students for four hours weekly, write weekly reports about the meetings and meet with Arshakian to discuss what is going on at least once a week.
"There is an interview process for mentors, who take on significant responsibilities in terms of being there for their fellow students, which is why we also award scholarship stipends to them," Schatzer said. "We feel strongly that the experience should provide value to them as well as those they mentor."
The OSU College of Agricultural Sciences and Natural Resources has long been lauded – both across campus and by parents, members of industry and academic review boards – for its excellence in advising students.
"As we do with all our students, we tighten the focus still further as they near graduation," Adam said. "One way we measure our success is how our students succeed. The emphasis is on them."
The stuff of dreams made real
Point in fact: The CAU-OSU connection is a two-way opportunity, with American OSU students living and studying for a semester or more at CAU in Beijing.
"Agribusiness student Hannah McReynolds spent her sophomore year at CAU studying with her CAU-OSU classmates, and we currently have another student in our department, Jackie Elliott, studying at CAU," Woods said.
For Yicheng Liang, who like Chen grew up in China's Guangdong Province, the joint degree program has literally been "a dream come true," not only in terms of his education but for the people he has met and the memories he has developed through his experiences.
"In CASNR, people really care about you; about your study, your safety, your happiness and everything," he said. "I am especially grateful to Dr. Adam and Dr. Schatzer. I listened attentively during our orientation course at CAU but the one thing that surprised me most was I never expected the OSU Stillwater campus to be so beautiful."
The son of Qingzhong Liang and Caimei Chen believes his OSU experience has better prepared him for his next American adventure, attending graduate school at the University of California-Davis. "Forever Cowboys in our hearts," Liang said.
Tom Coon, OSU vice present of agricultural programs in charge of the university's Division of Agricultural Sciences and Natural Resources, said the CAU-OSU joint degree program represents the type of educational opportunity every student should experience, if possible.
"Today's marketplace is global," Coon said, echoing Chen's own statements. "Our students need to be capable to work in such an environment and understand how to engage with people of various backgrounds. Programs such as this ultimately benefit not only our students but all of Oklahoma, our nation and beyond."
The OSU department of agricultural economics is part of DASNR, which is comprised of CASNR and the university's two state agencies: the Oklahoma Agricultural Experiment Station system and Oklahoma Cooperative Extension Service.