OSU's James Trapp riding into the sunset after 41 years of public service
Monday, November 27, 2017
The new year will be bringing more than its normal share of change when Oklahoma State University's James Trapp retires in January after 41 years of public service, the last 11 years as associate director of the statewide Oklahoma Cooperative Extension Service.
"One of the first things that comes to mind is Dr. Trapp's efforts to use the centennial celebration of Cooperative Extension in 2014 to highlight the many ways Extension has helped people improve their lives and how we continue to adapt to the challenges people are facing," said Tom Coon, OSU vice president for agricultural programs. "The word 'impressive' doesn't quite do justice to the efforts he led."
Oklahoma's celebration far exceeded that of most states, and featured an historic Extension train reenactment, an educational fair showcasing interactive Extension programs, time capsules the size of credenzas that displayed memorable Extension activities at a number of high-profile media events, a Centennial Extension quilt made with tender loving care by sewing enthusiasts from across Oklahoma, and much more.
"So many people spoke loud and clear and from the heart about the value Extension programs provide to them," Coon said.
One of two state agencies administered by OSU's Division of Agricultural Sciences and Natural Resources, OCES county educators and area, district and state specialists develop research-based educational programs to help Oklahomans solve issues and concerns of importance to them, their families and their communities; promote leadership; and enable sustainable and wise use of resources.
"It has been my honor to serve as associate director of the Oklahoma Cooperative Extension Service," Trapp said. "For us, it's personal. We work for and side-by-side with the people of Oklahoma; be it individually, through public and private organizations or as part of community, county and regional thrusts. We measure our successes by how we help others to succeed."
Many Oklahomans, state communities and commodity groups have benefited from Extension programs that focus on increasing opportunities for agricultural enterprises; natural resources and environmental management; food, nutrition, health and safety education; and youth, family and community development.
"Extension has a significant positive effect on all of Oklahoma, urban and rural, directly and indirectly," Trapp said. "Our mission is to work to improve the quality of life for those we serve. It's been one of the great privileges of my career to work with our Extension faculty and staff, whether on campus at OSU or headquartered in local communities, to do that the best we were able."
Coon added leading Extension means being pulled in dozens of different directions at once. OSU Cooperative Extension has such a widespread effect that the demands come from everywhere: legislators; county commissioners; community leaders; university presidents, provosts and deans; 4-H parents; traditional and organic farmers; horse enthusiasts; livestock ranchers; urban planners; public and private organizations; and more.
"To lead as Dr. Trapp has done, with such calm confidence and broad support, is exceptional," Coon said. "All of Oklahoma is the better for his leadership and commitment to public service."
A steady course providing positive benefits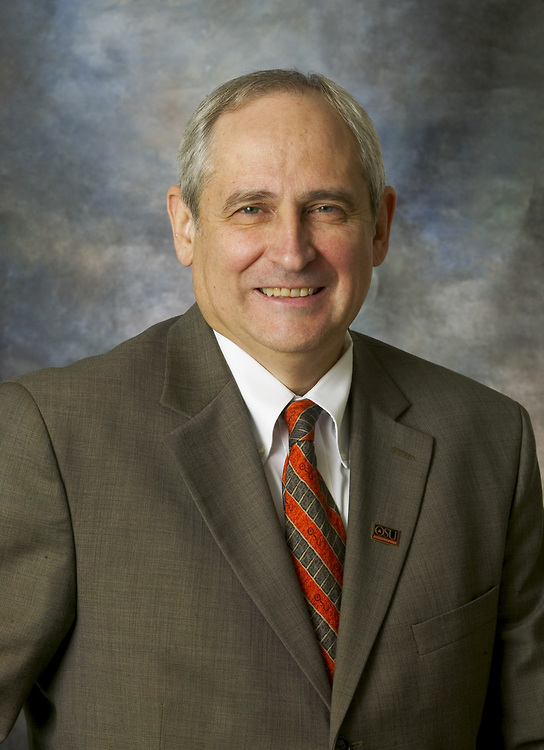 Public service and leadership always have been at the heart of Trapp's career choices. An agricultural economist by trade, Trapp joined the OSU faculty in 1976, rising through the academic ranks to become a Regents professor and eventually serve as head of OSU's department of agricultural economics, a position he held for six years prior to being named OCES associate director.
"I've benefited greatly from Jim's time as department head," said Mike Woods, current head of the department and another longtime OSU agricultural economics faculty member, as well as an alumnus of the department. "Jim made a lot of great hires, professionals who have not only had significant positive effects on our profession but who have consistently performed timely and relevant research projects that have been turned into cutting-edge educational programs, both in the classroom and in the field."
Woods, a former student of Trapp's from "way back when" who took the first OSU graduate course taught by Trapp, a multi-institutional offering with Michigan State University's Al Baquet, cited one of Trapp's own faculty achievements as setting the bar for what it means to be a member of OSU agricultural economics.
"As a faculty member, Jim was particularly well regarded in our profession for his research and educational programming relative to fed cattle markets," Woods said. "Jim is a systems guy, with a talent for teaching and enhancing one's awareness through simulations that take data and make it understandable from a practical point of view."
The ultimate example may be the Fed Cattle Market Simulator, more commonly known by literally legions of cattle industry fans – yes, fans – as the Packer-Feeder Game. The Packer-Feeder Game provides participants an opportunity to sharpen their fed cattle marketing and purchasing skills in a game-like environment grounded in a realistic market for fed cattle and live cattle futures.
"Participants role play as cattle feedlot managers trying to market cattle at a profit and as packing plant managers trying to buy cattle at a profit," Woods said. "Actions by players direct market prices. It's one of the best teaching tools ever devised. It's also a lot of fun."
Workshop length varies from four to about 14 hours. It is the latter that originally came as a bit of surprise to Trapp and his fellow Packer-Feeder Game developers: Livestock marketing economists Clem Ward and Derrell Peel of OSU and Steve Koontz of Colorado State University.
"Normally participants can't wait to get out of a workshop or meeting after spending the whole day there, but we couldn't get people to stop playing," Trapp said. "It's gained a measure of fame and is certainly something of which I am proud, not just because of its popularity but because people who play the game gain insights that can provide benefits to their operations and the cattle industry as a whole."
Adapting to change
Talk to Trapp for the any length of time and the likelihood is the topics of communication and trustworthiness will arise.
"You think about the early Extension workers and how they traveled from town to town on the railroad, giving educational programs to local citizens who would come out in droves to see and hear them," he said. "Then it was newspaper articles, pamphlets, newsletters and radio, and eventually moved into television and then online. It's all about giving people the information they need in the way they want it."
In an era where so many get their news via social media, a new challenge has arisen. Extension educational efforts are based on verifiable research and not old wives' tales, gossip or rumor.
"One of the great challenges today is gaining the trust of a whole new generation, many of whom have grown up having so much information thrown at them that it can be difficult to tell what is true from what is not," Trapp said. "That means Extension's mission is as crucial as ever, as well as the unbiased research providing the basis for any and all recommendations."
Trapp said if he retires leaving only one message then establishing a relationship of trust with new audiences while continuing to serve existing clientele is probably the most important.
The four-decades-long DASNR fixture plans to make his retirement an active one. Trapp still owns the family farm in Kansas and that means there is always work to do. He and his wife Carol, a longtime school teacher, also plan to travel.
"I've been fortunate in my career to go to many interesting places across the globe; Carol has ideas of where we should go and when it comes to farm life she tells me I try to fix things until I've proven I can't, so there are challenges sure to come," he said. "Growing up on a farm teaches self-reliance but also the need to accurately assess the level of one's knowledge and skill. I guess I will be attending Extension meetings as the need arises."
Trapp laughed and added, "No real change in my life, then, other than not having to come into the office after 41 years."
Joe Neal Hampton, president and chief executive officer of the Oklahoma Agribusiness Retailers Association as well as the Oklahoma Grain and Feed Association, believes Trapp's career of public service with the OSU Division of Agricultural Sciences and Natural Resources is worthy of acclaim.
"Dr. Trapp has been among those at the forefront who sought solutions to a lot of interesting and demanding issues facing Oklahoma agribusinesses and communities throughout his tenure," Hampton said. "People in agriculture and rural America have dreams. Jim Trapp had a hand in helping people meet their dreams, even if they themselves were not always aware of his role."
And that may be the best testament to a 41-year career one can have.