Living the Pete life
Friday, October 26, 2018
There's only one Pistol Pete.
Every self-respecting member of Oklahoma State University's Cowboy Nation knows that.
After all, the iconic image of the rugged mascot styled after the late Frank Eaton, a real-life cowboy, U.S. Marshal and gun slinger, is probably as recognizable as anything or anyone associated with the university.
But, even the most diehard Pokes may not realize there are actually two people behind the mask. Or, inside the head, as the case may be.
This year, the beloved mascot's 60th anniversary, is no different. But, in an interesting twist, Steven Vekony and Kevin Osborn not only share the unique experience of bringing Pistol Pete to life for OSU fans, but also claim deep ties to agriculture and the university's College of Agricultural Sciences and Natural Resources.
Vekony, in his second year as Pistol Pete, is a graduate of CASNR's agricultural education and animal science programs and currently is pursuing an MBA in OSU's Spears School of Business. He fell in love with agriculture thanks to his involvement with FFA, including serving on the state officer team during his freshman and sophomore years at OSU.
Meanwhile, Osborn, who is in his first year as the OSU mascot, is an undergraduate in agricultural education. The product of a farming family, he and his brother are following in their father's footsteps, raising wheat, cotton, alfalfa, Bermuda grass and cattle in Grady County.
"We both were brought up in CASNR," Vekony said. "It's cool to be able to share that, because Kevin and I knew each other a lot earlier than when we started being Pete."
Osborn also appreciates all the neat connections that have come along with being Pistol Pete. Perhaps nothing more clearly illustrates those connections than a photo snapped this summer of him outfitted as the mascot and standing in one of his family's wheat fields.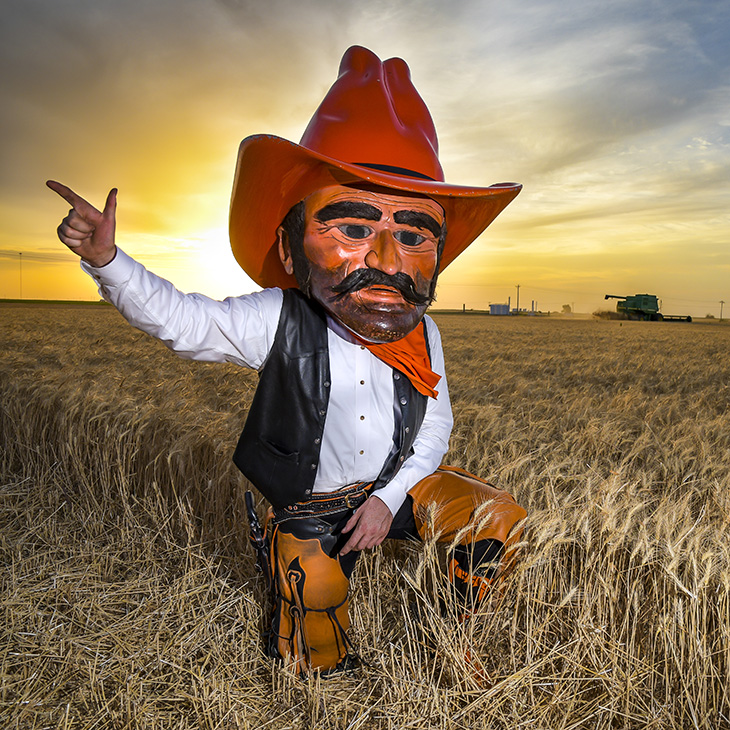 "It's a really cool connection, because if you think of Oklahoma State University, you think agriculture, and if you think of OSU, you think of Pistol Pete," he said. "Being able to represent both is just a truly a remarkable experience."
Being Pete
For most of his life, Osborn has dreamed of becoming Pistol Pete. He even once missed a day of class to try out for the role before finally landing the honor this year.
"I knew I wanted to be Pistol Pete for the longest time, to give back to this university because it's given me so much," he said.
OSU is a fixture in countless childhood memories for Osborn. His parents met at the university and his grandfather taught in CASNR's agricultural economics department. The Tuttle native spent lots of weekends with his grandparents in Stillwater, where images of the mascot were plentiful.
"I'd always see Pistol Pete plastered everywhere. Pictures, posters, just everywhere," Osborn said. "I thought, 'Man, that's just the coolest thing!'"
Vekony set his sights on becoming Pistol Pete four years ago after meeting Landon Stallings, who served as the mascot from 2013-15. Accompanying Stallings to appearances outside athletics events gave Vekony a glimpse of just how meaningful the experience could be.
"No matter if it's some of the most important days in people's lives, like weddings or birthdays, or if it's some of the hardest days in people's lives, like hospital visits, you know it was something that brings joy to a lot of people no matter what they're going through," he said.
All in
Part of Pistol Pete's role might be to brighten people's day, but life as the popular mascot requires a serious commitment. In addition to rallying the Cowboy faithful during athletic contests, the Petes divide and conquer about 700 appearances annually at birthday parties, gender reveals, business openings and other events.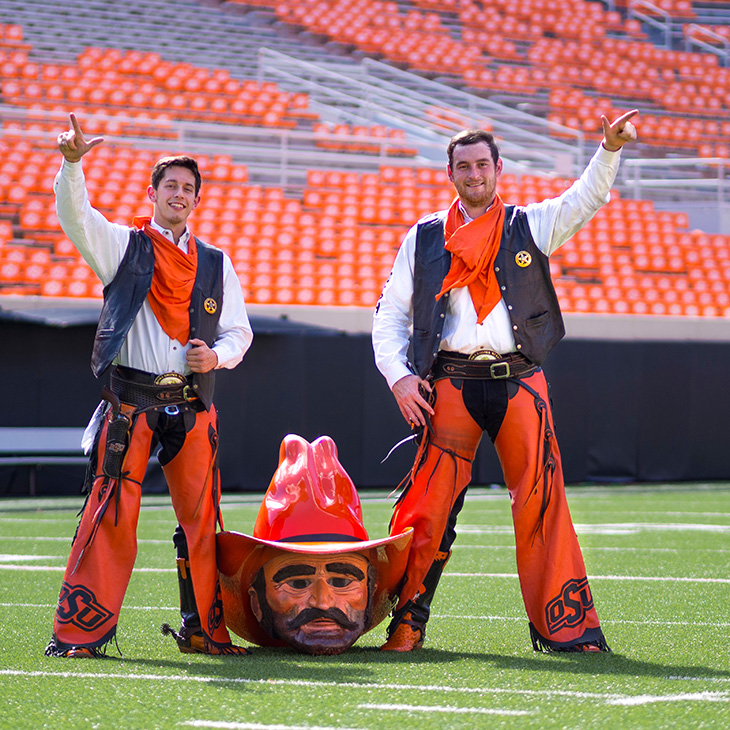 Such a demanding schedule often means the duo sacrifices their own social lives and family time as well as occasionally miss class to fulfill their mascot obligations.
"It takes a lot of planning. We're sending emails, writing invoices, figuring out what time we need to leave to go to an appearance in Tulsa," Osborn said. "I love every bit of it, but it takes a lot of planning for one event."
Of course, the gig does come with some cool perks, like being part of a fairly exclusive OSU tradition. Only 89 students have been chosen as Pistol Pete since 1958, when the university made the mascot official.
"It's kind of that tradition and brotherhood, which is huge," said Vekony, who along with Osborn, also belongs to a broader fraternity of some 750 other mascots from around the nation linked through the GroupMe texting app. "Everybody from college mascots like us to a couple Chik-fil-A cows and everything in between. It's crazy, but it's cool."
Being Pete requires more than an ability to ham it up and entertain crowds with whatever is on hand. It also calls for quick thinking. For instance, what if you run into a lady with wine in her hand and it spills on her white shirt?
Fully up to the task, though, both Vekony and Osborn insist their natural personalities are simply amplified when they're in mascot mode.
"When you put that head on, it kind of takes your personality and magnifies it by a hundred," Vekony said. "I'm a very goofy person as it is, but the fact that I can put that head on and people love me being goofy even more is pretty fun."
Deep roots and bright futures
As fun as this grand adventure has been, it isn't lost on either of the Petes that this is a once-in-a-lifetime experience with a firm expiration date.
"I'm seeing these logos around campus, and around Oklahoma period, and it's like, 'Man, I can't believe I get to do this.' This is such an honor, really," Vekony said. "I'll miss it a ton. I really have had some of the best memories of my life while I wear the head."
Both also are acutely aware of their place in the CASNR family and the world of agriculture.
Vekony said he pursued agricultural education as an undergraduate because of an ag teacher who had a huge influence on him.
"I love being able to connect with people, and I thought education was that avenue to influence other people like my ag teacher influenced me," he said. "They say 'never forget where you came from,' and for me, agriculture is where I came from, even though I didn't grow up on a farm. I still have those characteristics of agriculture rooted deep inside of me."
Though Osborn's enthusiasm for being Pistol Pete is as fresh today as it's ever been, he also is looking ahead to a life in agriculture.
"Family farms are a dying thing in the United States and I want to try to preserve the future of agriculture because I love it so much and it's led me to where I am today," he said. "It's really cool being a part of the CASNR family. It's really like a big family, a big extension of my family, when I see someone from CASNR."
Story by Leilana McKindra