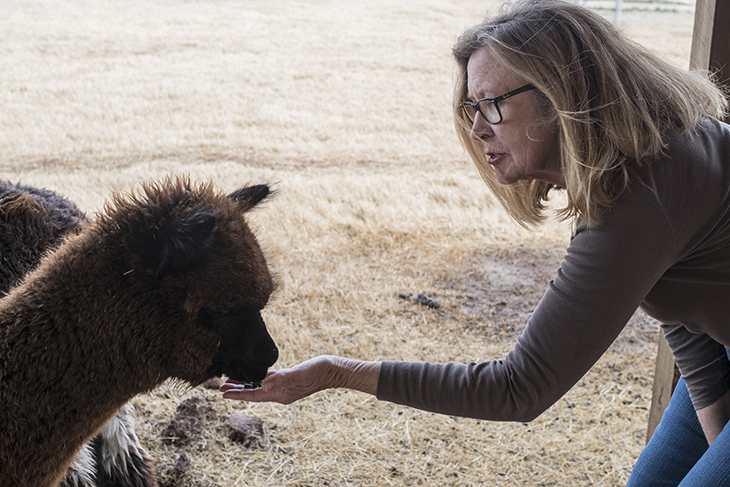 Lincoln County's Robinson family shows alpacas may offer Oklahoma ranchers new opportunities
Tuesday, July 3, 2018
Business is literally humming at Land-Run Alpacas near Agra, Oklahoma, for that is the sound Sheila and John Robinson's emotive herd of huacayas make, be they curious, content, worried, cautious or just plain bored.
"You do have to watch out for the spitting, though," said Sheila, who with her husband John started Land-Run Alpacas in 2015 after moving to rural Lincoln County from Edmond a few years earlier. "Alpacas are very communicative and you can learn to read their body language, but they will spit when they are afraid or want to show dominance."
Their furry tufts, long slender necks, engaging eyes and coy grins – yes, alpacas grin – make them memorable animals. As an agricultural enterprise, however, the big payoff may be that alpacas are shorn annually, producing a specialty fiber that has been described as stronger than mohair, finer than cashmere, smoother than silk, softer than cotton, warmer than goose down and better-breathing than thermal knits.
"We shear in April, and then I go through and pick out any foreign objects from the fleece; fortunately, that is not a big chore as we raise our alpacas in clean pastures free of things like stickers," Sheila said. "Often we can shear an animal and have pristine fleece right off the alpaca. You want lanes where the fiber is all the same length. We breed our animals for that length, as well as softness and density of fiber."
The Robinsons then send the fiber to Kansas to make yarn or drive to a drop-off point in Missouri where the fiber is sent to manufacturers all over the United States and makes its way into commodity products like socks. The commodity makers then sell the product wholesale back to the Robinsons, who can then sell it at retail prices.
John explained the making of American alpaca products still qualifies as a cottage industry. "On the commodity end, manufacturers have to clean out their machines when they're switching between fiber sources to ensure consumers are getting a pure alpaca product. For them, it's what's the bottom line cost of doing that."
Both John and Sheila said it would be nice to have more manufacturers available, and to have some closer to home than the current system where their fiber has to go all over the United States before coming back as products.
"White fiber is what most designers want because they can then dye it whatever color they want," Sheila said. "But there is a market for natural colors, particularly in America, resulting in a product free of dyes or additives. Me, I love the richness and subtlety of the natural colors."
Some of the larger ranches in the nation also have been getting into developing a market for alpaca meat. Alpaca meat is considered to be one of the healthiest and most flavorful meats in the world.
"It's quite tasty, rich in proteins and low in fat," Sheila said.
Alpaca meat is lean, tender and almost sweet. It is also reported to have the lowest level of cholesterol of any meat. Called the "meat of the Andes," alpaca meat is one of the oldest food sources of the Inca and pre-Incan civilizations, and remains a South American delicacy as well as important daily food source.
"The size of our herd is such that we don't really have to worry about culling decisions that would form the basis of being a meat producer, but as a whole alpaca production is expected to follow the business model of other livestock industries," John said.
Part of Lincoln County's livestock tapestry
Herd management at Land-Run Alpacas is still heavily reliant on traditional techniques, although the Robinsons are keeping a curious eye on recent developments relative to artificial insemination.
"Area cattle producers who have never met Sheila and John would find a lot of common conversational points with them," said Coy Linker, Oklahoma State University Cooperative Extension agricultural educator for Lincoln County. "Alpacas may not be cattle but they are livestock. The Robinsons are part of our diverse agricultural community. Yes, we have cattle, sheep and such, but we also have buffalo and, yes, alpacas."
Linker admits to being impressed with the level of mentorship in evidence between Oklahoma's alpaca owners, referring to them as a "welcoming bunch of people" and adding "they truly want everyone to succeed and hope that continued success will spur more growth and eventually bring into Oklahoma alpaca-related agribusinesses."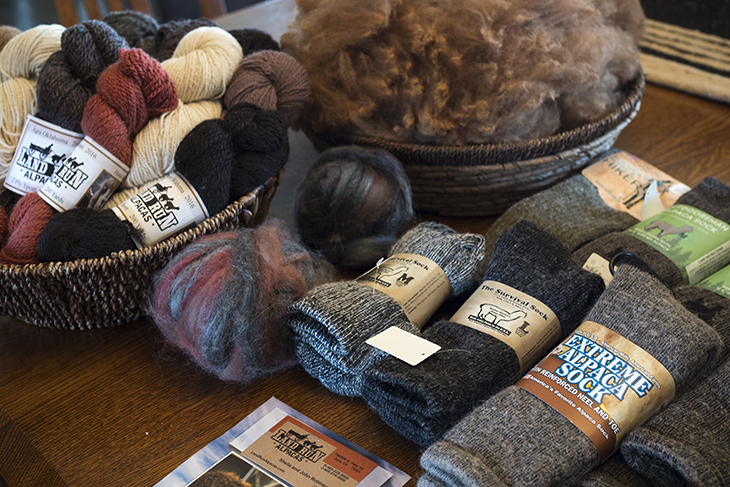 "One of the best things about the state's growing alpaca ranching industry is owners like Sheila and John are typically more than happy to have you come out, get a firsthand look at the animals and learn about what makes alpacas so great," he said. "They are really great ambassadors for Lincoln County, agriculture and rural Oklahoma."
A perfect fit in many ways, but not one either of the Robinsons would have projected prior to their relocation from the city. They had lived in Edmond for a number of years before deciding to move to the country, eventually buying land and settling in northern Lincoln County when their house was finished in 2013.
"Sheila has a big horticultural background but we were used to city life and so faced issues that wouldn't surprise anyone from a more rural location," John said. "Our pastures, as an example, had a lot of johnsongrass. We knew right off we needed to get rid of that stuff. Through research, our neighbors and the Extension office, we were able to get a handle on the management aspects of living on a ranch; what to do, what not to do, what worked and what didn't."
Today, their huacayas – the breed of alpacas they raise – graze on verdant bermudagrass pastures or chow down on bermudagrass hay. "They eat pretty well," John said. "So do we what with Sheila's extensive gardens and green thumb. Everyone is happy and well-fed here at Land-Run Alpacas."
To think it all began when John was out of town and Sheila decided to go to an alpaca show.
"I went to the show and met somebody who told me, "Isn't that funny, I know someone else in the alpaca industry and they have the same last name as you and the husband's name is also John," Sheila said. "A touch of fate, maybe? At the show they judged alpacas for conformation and fiber. I found it all so interesting. Then I went by the vendor booths."
At the booths she examined and touched all the fiber samples, thinking how incredibly soft they were. From there it was a trip to the barns for a close-up look at the animals themselves. There she saw a sign for JR Alpacas, a ranch with animals in the show.
"I thought, 'that must be the other John Robinson.' It was," Sheila said. "We spoke at length. Today, we're both in the same industry and our families are good friends."
Bragging points
Many a motorist has wondered about those "strange-looking beasts" as they drive past an alpaca ranch, often confusing them with llamas. Alpacas are members of the Camelidae family, which includes llamas, guanacos and vicunas from South American and Bactrian and Dromedary camels from Asia and Africa. Alpacas come in two types: Suri and the huacaya.
"The suri has fiber that grows long and forms dreadlocks," Sheila said. "An huacaya has a wooly, dense, crimped fleece giving it a wooly appearance."
Scientists believe alpacas were domesticated by the Inca more than 6,000 years ago. Due to the exquisite quality of alpaca fleece, it is thought the fiber was reserved mostly for the elite and nobility. In 1984, a small group of investors brought the first carefully selected herd into the United States and Canada.
"Alpaca fleece is a lot like sheep's wool but warmer and not itchy, plus it's water resistant and flame resistant," Sheila said.
The fleece's lack of lanolin makes it hypoallergenic and allows it to be processed without the need for high temperatures or harsh chemicals. Alpaca fleece meets the standards of the U.S. Consumer Product Safety Commission's rigid testing specifications as a Class 1 fiber for use in clothing and furnishings.
Sheila and John believe knowledge and good management is key to success, even with the many positive features provided by the alpacas themselves.
"Coy has been a great resource and we send our soil samples into the Extension office like clockwork," John said. "Part of managing livestock and ensuring the health of your animals is promoting the productivity of your land itself. If you've got bad pastures, your animals are not going to do well, no matter the type of livestock."
As for Linker himself, it is all in a day's work.
"People sometimes think their questions might be a bit weird or off-the-wall, but the beauty of Extension is there is always somebody in the system who can share the latest research-based information on just about any inquiry," Linker said. "No old wives' tales with us, just science."
The Oklahoma Cooperative Extension Service is one of two state agencies administered by OSU's Division of Agricultural Sciences and Natural Resources. It has a local presence in all 77 counties. The organization's county based Extension educators work side-by-side with county and community residents, leaders and organizations, and are able to call upon the expertise of area, district and state subject-matter experts as needed.