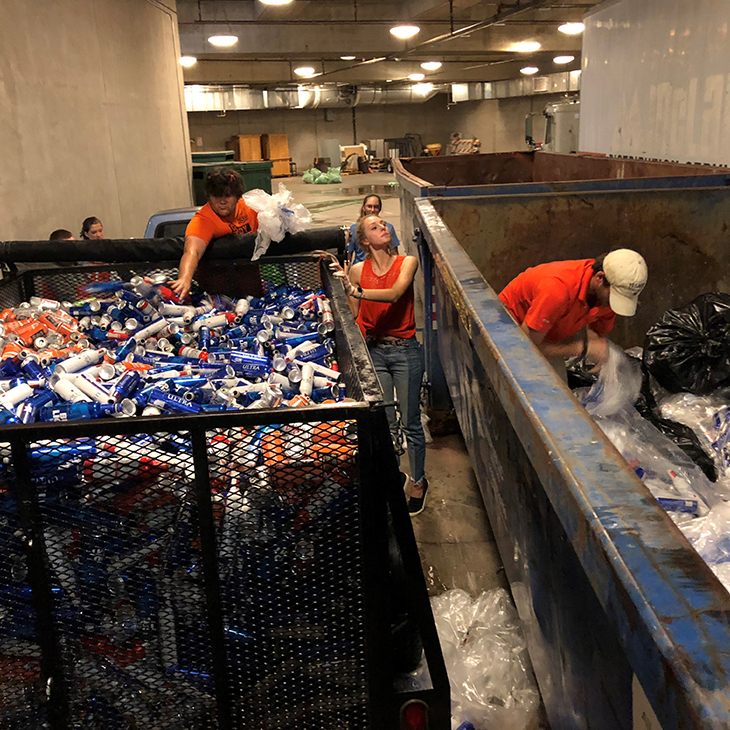 OSU students make an impact through tailgate recycling efforts
Thursday, December 20, 2018
Instead of celebrating an Oklahoma State University Cowboys football victory after the game, or lamenting a tough loss, some OSU students were doing their part to help the environment, and benefit Stillwater's Habitat for Humanity, as well.
J.T. Gragg, a junior in OSU's Department of Natural Resource Ecology and Management majoring in forestry, has served the last two years as the coordinator of the Tailgate Recycling Program, which was initiated in 2007.
"Tailgate Recycling is a program put on by the Student Government Association's Sustainability Committee. It's been happening for several years and has really taken off more since the 2016-2017 school year," Gragg said. "There is a staggering amount of waste produced on campus every game day. This season, we recycled nearly 3,000 pounds of aluminum just from tailgate trash. We sort the recycling in the underground area below the stadium where all the trash from the stadium goes after a game."
In addition to aluminum, the group also recycles glass and plastics 1, 2 and 5. All of the aluminum is donated to Stillwater's Habitat for Humanity for them to sell. The glass is taken to the City of Stillwater Collection Center and plastics go into single stream bins on campus.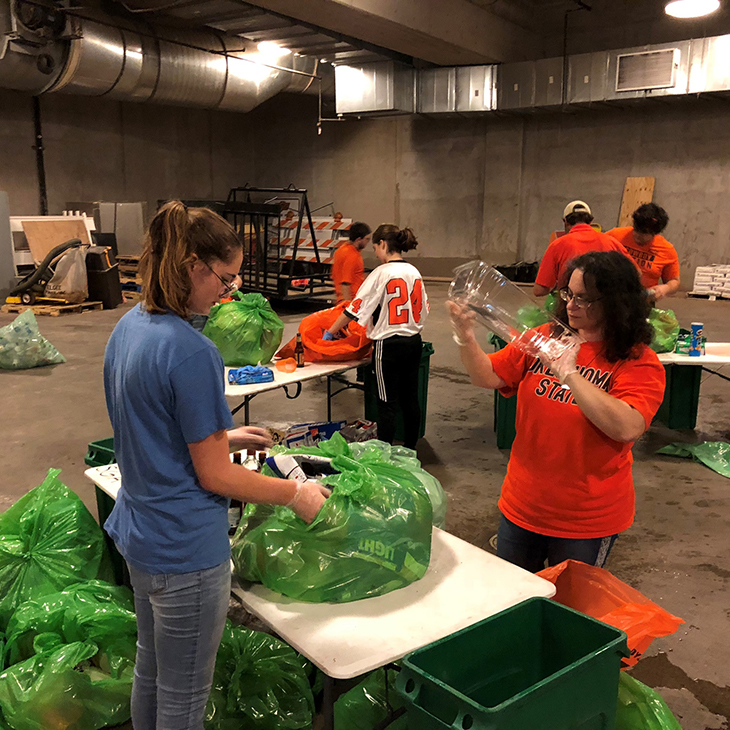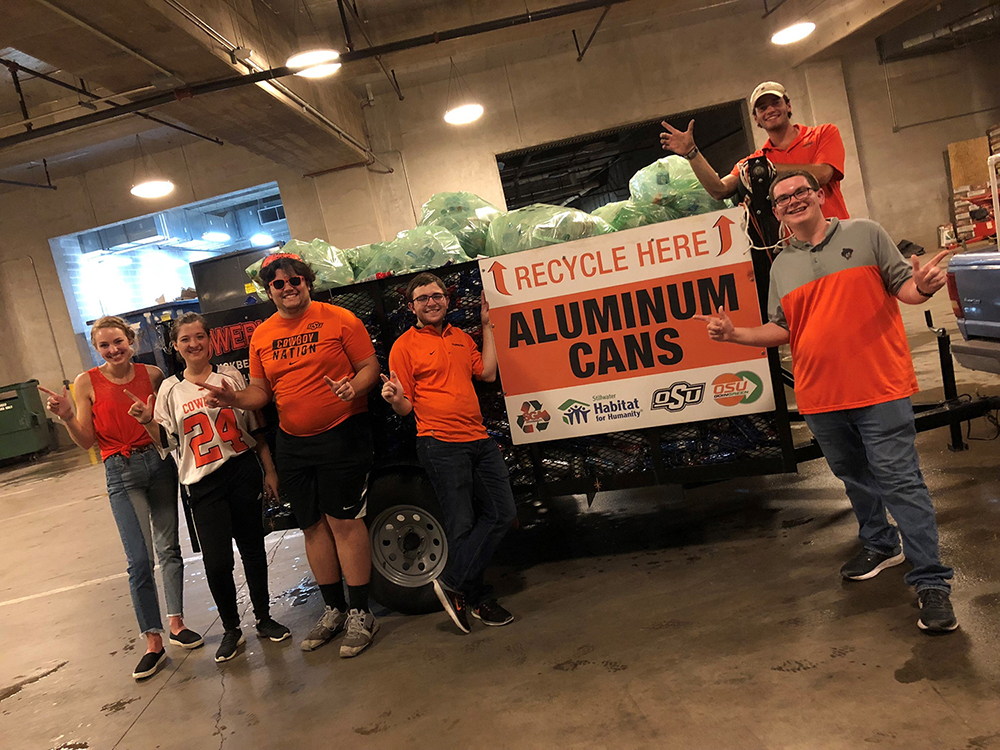 In his role as coordinator, Gragg said he is responsible for coordinating with the group's beneficiary, Habitat for Humanity, and OSU. On game days he was in charge of directing the volunteers and responsible for driving the trailer to collect the bags of recycling from tailgate sites.
Special green bags were distributed to tailgate sites prior to the games and football fans were asked to put their recyclable in the bags. While many of the tailgaters did follow directions, Gragg said there were still a lot of bags that contained items other than recyclables.
"It'd be much easier for all of the volunteers if trash wasn't included in the recycling bags, but we consistently found chicken bones, diapers and other trash mixed in with the aluminum, glass and plastics," he said. "Despite it being messy, by recycling aluminum, glass and plastics, we reduce our landfill load by redirecting items so they can be used again. The amount of aluminum that was recycled just this football season saved 45 to 60 barrels of oil compared to the same amount of virgin aluminum production."
Jennifer Muret, manager of Habitat for Humanity's ReStore, said the recycling efforts on campus are a great benefit to Habitat for Humanity.
"All of the funds collected from OSU's recycling program goes straight to operations," Muret said. "The ReStore covers all management and overhead expenses, so we can use these recycling funds to help build homes and we build about three per year."
Muret said she was happy with the number of recyclables donated to Habitat for Humanity this football season and enjoys the positive working relationship with OSU.
"All of the partnerships we have in Stillwater are important to our mission and we certainly appreciate what OSU does for us through the Tailgate Recycling Program," she said.
Any groups or organizations interested in collecting aluminum cans for Habitat for Humanity can contact Muret at 405-372-8100.
"Sorting through all of the bags we collect can be a lot of work, but I like what it's going toward," Gragg said. "We play music and dance while sorting, so it really can be fun, and we're doing something good for the environment."
Story by Trisha Gedon