Edmond's Kathy Noltensmeyer presented OSU Champion Award
Tuesday, October 29, 2019
Kathy Noltensmeyer of Edmond discovered her soulmate while attending Oklahoma State University in the 1960s, a relationship that enriched not only her own life experiences, but ultimately those of Oklahoma's farm families and agricultural industry as well.
Noltensmeyer's interest in and commitment to strengthening and enhancing agriculture were recognized during Oct. 25 ceremonies in Stillwater, where she was named a 2019 recipient of the OSU Division of Agricultural Sciences and Natural Resources' Champion Award.
She and her late husband Leo both grew up around agriculture, but they left their family farms to attend OSU as students. They met, fell in love, married and after graduation went on to have successful careers in business.
"Our faculty have shared how the Noltensmeyers had long been impressed by advances in technology and the positive benefits research has provided to agricultural producers and related agribusinesses," said Tom Coon, OSU dean and vice president of agricultural programs. "After Leo's passing in 2015, Kathy Noltensmeyer wanted to create a lasting legacy for both of them through the university."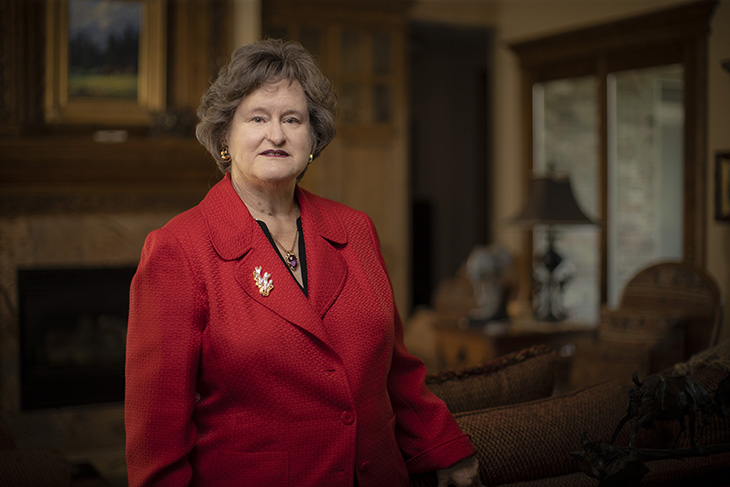 Reading about the untimely death of longtime OSU Biosystems Engineering Professor Marvin Stone helped Noltensmeyer realize she could help create the future of agriculture. Stone and his fellow division faculty John Solie and Bill Raun were the leaders in developing the renowned GreenSeeker technology, a groundbreaking precision agriculture sensor system that has provided cost-effective, performance-enhancing and environmental benefits to agricultural production.
A Regents professor with OSU's department of plant and soil sciences, Raun is extending the benefits of precision agriculture to those who need it most – in Oklahoma, throughout the United States and across the globe – thanks in part to the generous support of donors such as Noltensmeyer.
"Farmers, whether they live in rural America or in Central America, Africa or Asia, can build the GreenSeeker hand-planter using local materials," Raun said. "The planter increases yields through better seed management and fertilizer applications. The crops do better, input costs are reduced and the fields in which the crops are being grown are managed more sustainably."
That is exactly the type of win-win-win benefits the Edmond native wanted to champion and enhance when she established the Leo and Kathy Noltensmeyer Endowed Graduate Fellowship in Precision Agriculture. The fellowship's aim is to attract top-tier graduate students to further key research necessary for continued improvements in precision agriculture technology.
The OSU Foundation's Heidi Williams, senior director of development for the division, said Noltensmeyer was examining a number of potential programs and scientific fields when she first started looking to create a legacy gift at OSU, from agriculture to business to veterinary medicine.
"Kathy knew her gifts to agriculture would honor the generations of farm families like hers and that of her husband Leo, while also helping to promote the success of current and future farm families," Williams said.
While the now-retired Noltensmeyer is enjoying traveling, the Edmond resident has come to realize she will always have a home in agriculture.
"Kathy has really enjoyed getting involved in the areas she has supported and the campus visits she has done annually," Williams said. "Recently, Kathy brought her grandchildren to campus. Kathy really wants to see the Noltensmeyer legacy continue here."
As part of that legacy, she has established the Leo and Kathy Noltensmeyer Endowed Research Professorship that will ultimately be upgraded to an endowed chair at OSU.
The division's annual Champion Award recognizes individuals who are not graduates of the OSU College of Agricultural Sciences and Natural Resources but who have brought distinction to the division and demonstrated a continuing interest in and commitment to agricultural sciences and natural resources.
Noltensmeyer is an OSU alumna, having graduated from the College of Arts and Sciences in 1966 with a degree in speech pathology. Her career took her through many vocations, from a speech pathologist to an advertising agency writer, to mortgage banking.
MEDIA CONTACT: Donald Stotts | Agricultural Communications Services | 405-744-4079 | donald.stotts@okstate.edu