OSU honors Clint Roush with agriculture alumni award
Tuesday, October 29, 2019
Custer County's Clint Roush leads a life of diversified stewardship: of the land, with generations of students and for the agricultural industry itself, where he served as a champion of cooperatives for many years.
Roush's lifetime contributions to Oklahoma agriculture and embodiment of Oklahoma State University's land-grant mission of helping people solve issues of importance to them, their families and their communities, were recognized during Oct. 25 ceremonies in Stillwater, where he was named a 2019 recipient of the OSU College of Agricultural Sciences and Natural Resources Distinguished Alumni Award.
"Clint is a really impressive guy who is a recognized leader in our agricultural industry, higher education and rural Oklahoma," said Mike Woods, longtime head of OSU's department of agricultural economics before his retirement this summer.
An agricultural economics alumnus who earned his bachelor's, master's and doctoral degrees at Oklahoma State, Roush's diverse career includes 14 years teaching agricultural finance, farm financial planning, business management and strategic farm planning at OSU and Southwestern Oklahoma State University.
One of Roush's students was Damona Doye, the current OSU associate vice president of the Oklahoma Cooperative Extension Service, one of two state agencies administered by the university's Division of Agricultural Sciences and Natural Resources, as is the college.
"He had us putting into practice what we learned, in and outside the classroom," Doye said. "I remember an exercise where I went home and, over the course of several weeks, worked with my parents to develop a cash flow statement for our operation."
Real-world practicality was at the top of Roush's educational mission, an outgrowth of his own life experiences. He and his wife Pam [Steiner Roush] are fourth-generation farmers, and a consistent theme of Roush's teaching has been to impart ways to manage risk and make informed decisions that put agricultural operations in the best position to succeed.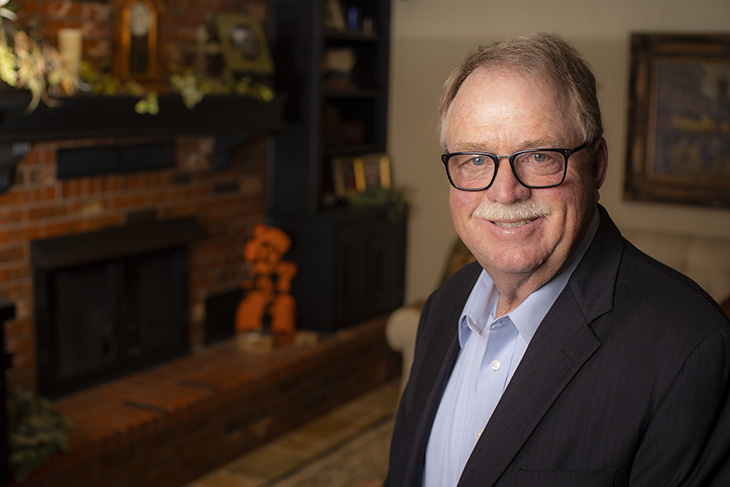 Woods credits Roush as being among those who were instrumental in the creation of OSU's Bill Fitzwater Endowed Cooperative Chair and Oklahoma Farm Credit Chair in Agricultural Finance, both of which have a significant positive impact on the agricultural economics department and division programs.
"Clint has always been very passionate about education and improving Oklahoma agriculture," said Rodney Jones, OSU agricultural economics professor and holder of the Oklahoma Farm Credit chair. "Those two things kind of meld into a singular aspect with this chair, which has a mission of training people to work in agricultural finance and farm management."
Roush has explained his leadership as simply being an outgrowth of what he was taught by his parents Harold and Essie Roush, as well as individuals such as Tuffy Howell, his FFA advisor and vocational agriculture teacher; John Goodwin, his first advisor at Oklahoma State, and James Plaxico, retired head of the university's department of agricultural economics.
Roush's work on the risk committees of U.S. AgBank and CoBank, and ultimately on the successful merger of the two, improved the long-term interests of stockholders, farmers and ranchers. He also was instrumental in the merger of three Farm Credit entities that became Farm Credit of Western Oklahoma.
"He has held so many leadership positions in the state and in the agriculture industry," Jones said. "He has really left his mark, both in Oklahoma and throughout the region."
In 2016, Roush received the Governor's Outstanding Achievement Award in Agriculture and was inducted into the Oklahoma Agriculture Hall of Fame.
Today, Roush is still farming and ranching, but with an eye on the future, as always, practicing what he preached as an educator to generations of students and financial lender to agricultural producers.
MEDIA CONTACT: Donald Stotts | Agricultural Communications Services | 405-744-4079 | donald.stotts@okstate.edu