OSU honors David Waits with 2019 Champion Award
Tuesday, October 29, 2019
David Waits of Stillwater was honored as a 2019 recipient of the Oklahoma State University Division of Agricultural Sciences and Natural Resources' Champion Award during Oct. 25 ceremonies at OSU.
The award recognizes individuals who are not graduates of the OSU College of Agricultural Sciences and Natural Resources, but who have brought distinction to the division and demonstrated a continuing interest in and commitment to agricultural sciences and natural resources.
"David Waits has worked at the interface between technology innovation and the application of those innovations to agricultural production through his career," said Tom Coon, OSU dean and vice president of agricultural programs.
Waits saw a need to reduce the inefficiencies in conventional crop production practices while farming during the 1970s and 1980s. A downturn in the economy inspired him to return to Oklahoma State to complete his undergraduate degree in economics, young family in tow.
"While at OSU, David learned about developing innovations in satellite technology that could permit very precise record-keeping on soil, nutrient and crop traits of agricultural fields," Coon said. "That inspired him to stay at OSU after earning his economics degree in 1986 and pursue a master's degree in geography, to learn more about how the technology could be adapted to agriculture."
After earning his master's degree at OSU in 1988, Waits earned a doctoral degree in geographic information systems from Texas Tech University. He then worked as a NASA contractor on tools to apply satellite technology to land management practices, and eventually found his way back to OSU, serving as an assistant professor in the department of geography for five years.
He continued his pursuits of what is now called "GIS applications" to farming operations and decided to take his ideas to the private sector in 1994. Hiring a number of his former students, he launched Site Specific Technology or SST Software, based in Stillwater.
"They built a software platform that allowed agricultural producers, consultants and land managers to look at data, manage data and make recommendations based on the data," said Brian Arnall, OSU Cooperative Extension precision nutrient management specialist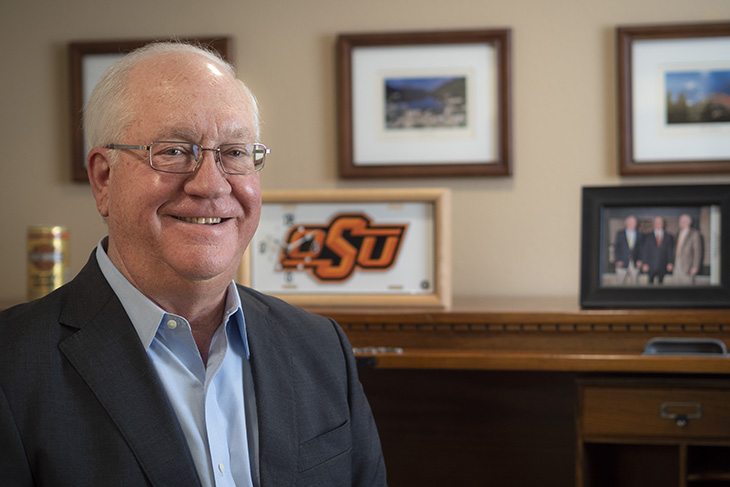 The ideas of Waits and his staff were at the leading edge of GIS applications and SST quickly became an industry leader.
"They helped revolutionize the agricultural industry, bringing high-tech to the field," Coon said.
After remaining in the forefront of precision agriculture for more than 20 years, SST was purchased by Proagrica in 2018. Proagrica is an international company that serves customers in more than 180 countries. However, its former SST operations remain in Stillwater, under the leadership of David's son Matt, an OSU agricultural economics alumnus who serves as the president of the Americas region for Proagrica.
"Dad is retired now and having fun," Matt Waits said. "He spends time riding Harleys with his buddies. Lately, he has been buying old jeeps."
He added it was his father who led the company to success, even more than the technology.
"He is a great leader, someone who inspires everyone around him," Matt Waits said. "Everyone wants to work with him, for him, to help him fulfill his vision."
The elder Waits has earned multiple leadership, innovation and service awards throughout his career, including the Precision Agriculture Legacy Award from his peers.
His appreciation of Oklahoma State's land-grant mission has been expressed through philanthropy and support of several OSU colleges, general university scholarships, the Edmon Low Library, the Rancher's Club and Cowboy athletics. He served as president of the OSU Research Foundation from 2013 to 2018.
MEDIA CONTACT: Donald Stotts | Agricultural Communications Services | 405-744-4079 | donald.stotts@okstate.edu