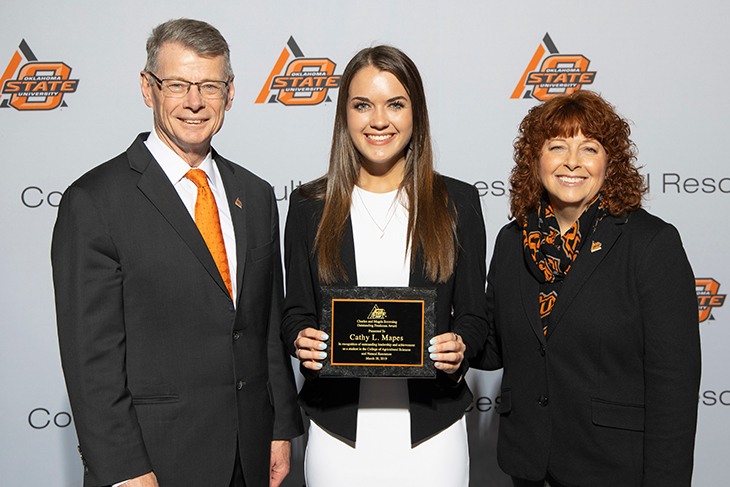 Alva's Cathy Mapes named CASNR outstanding freshman
Wednesday, April 3, 2019
Cathy Mapes from Alva, Oklahoma, recently was named Oklahoma State University's College of Agricultural Sciences and Natural Resources Charles and Magda Browning Outstanding Freshman for 2019.
Mapes is an animal science major and a 2017 graduate of Alva High School. She is the daughter of Jeff and Michelle Mapes.
The Brownings established the Outstanding Freshman award to recognize both the academic excellence and outstanding leadership activity during a student's freshman year at OSU. It is awarded at the end of a student's sophomore year for their efforts as a freshman in CASNR. Charles Browning served as dean and director of OSU's Division of Agricultural Sciences and Natural Resources for 17 years.
Mapes' campus involvement includes serving as a Leader of Excellence in the OSU Department of Animal and Food Sciences, Student Alumni Board member for the OSU Alumni Association and recently served as a member of the 2018 Homecoming Steering Committee. During her freshman year, she was a member of the President's Leadership Council and served on the Freshman Representative Council.
"During my freshman year, I stepped out of my comfort zone and developed into an independent, selfless leader," Mapes said. "The sea of orange has inspired me to become the well-rounded individual that I am."
Mapes was a member of the National Society of Leadership and Success, Outstanding Freshman Dinner attendee, and National Society of Collegiate Scholars nominee. She has also been recognized on the Dean's and President's Honor Rolls.
"Since her first day at OSU, Cathy has been engaged in CASNR and has worked to stay connected on campus," said Cynda Clary, CASNR associate dean of academic programs. "She is a bright and academically talented individual with a great work ethic and a humble attitude. I look forward to seeing what she will accomplish by the time she graduates."
Mapes maintains a perfect 4.0 GPA alongside serving her community in various capacities such as mentoring students at Richmond Elementary School and serving as a Small Group Leader for the Oklahoma FFA Alumni Leadership Camp.
CASNR believes in the value of hands-on education and the importance of having a well-rounded student experience. The college's award-winning faculty members are dedicated to developing students and are passionate about adding value to the total educational experience. With 16 majors, a variety of study options, plus more than 60 student organizations, CASNR is committed to expanding minds and inspiring purpose. Learn more at casnr.okstate.edu.
By Mandy Taylor