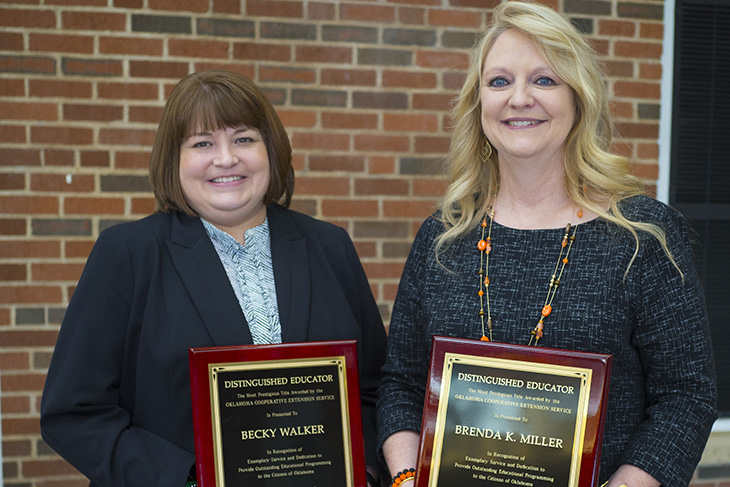 Brenda Miller honored with Oklahoma Cooperative Extension Service educator award
Wednesday, January 23, 2019
Brenda K. Miller, a 28-year veteran of the Oklahoma Cooperative Extension Service, was recently named a 2019 recipient of one of the statewide organization's preeminent honors: The Distinguished Educator Award.
Miller has served as Oklahoma State University Cooperative Extension family and consumer sciences program specialist for the state's northeast district since 2004, joining the district office after serving as Okmulgee County Extension family and consumer sciences educator from 1990 to 2004.
The Oklahoma Cooperative Extension Service is one of two state agencies administered by OSU's Division of Agricultural Sciences and Natural Resources, and is a key part of the university's state and federally mandated teaching, research and Extension land-grant mission. The agency has a presence in all 77 counties, working at the local, regional and statewide levels.
"In her role as district program specialist, Brenda empowers Oklahoma Home and Community Education leaders by providing training in leadership, Internal Revenue Service and Oklahoma tax requirements, and other process skills that have helped OHCE be one of the state's premier grassroots organizations working with Extension to help Oklahomans improve their quality of life," said Jan Maples, Okfuskee County Extension family and consumer sciences educator.
Maples also cited Miller's ability to empower and encourage OSU Cooperative Extension county educators, adding that Miller's "purple notes of praise" and practical tips help FCS educators be more productive, inspire them to take on leadership roles and expand their professional development to tackle new challenges on behalf of stakeholders in their counties.
"Her district and statewide in-service training sessions help us feel we're better able to hit the ground running with county based educational programs, as well as work together more smoothly in multi-county cooperative collaborations," Maples said. "She is instrumental in coordinating educators with state Extension specialists to carry out pilot projects and new statewide programming and marketing efforts."
A prime example of Miller at work is the five years she spent collaborating with OSU Cooperative Extension district specialists and county educators in five counties to facilitate a Children, Youth and Families at Risk After-School Program for Native American youth in rural communities. Miller's responsibilities included establishing and maintaining collaborative partnerships with Oklahoma school systems, Indian communities, tribal and other youth-serving agencies; hiring, training and managing staff; and providing educational programs for the youth.
"The best thing about working for OSU Cooperative Extension is that I get to help people trying to make their lives better while doing something I love doing," she said. "For me and so many others in Extension, it's a way of life."
As an FCS district program specialist, Miller worked with OSU Cooperative Extension county educators, lending institutions, realtors, insurance agents, Consumer Credit Counseling officials, community leaders, local government agencies and community action agencies to design, present and evaluate Homebuyer Education classes.
While at Okmulgee County, Miller was particularly well-known for providing FCS programming with an emphasis on money management to low-income individuals and families, membership in the county coalition that conducted child abuse awareness and prevention programs, and working closely with the OSU Cooperative Extension Community Nutrition Education Program, even taking on additional responsibilities whenever vacancies occurred at the county level.
Get Miller to talking and she can share any number of stories, including many that are inspirational and a testament to the significant positive effect Extension can and often does have, such as when she and Doug Maxey, Okmulgee County Extension agricultural educator, created a fishing clinic for youth with special needs as an outgrowth of their 4-H programming.
"This program helped us reach a new and underserved audience and allowed our 4-H members and adult volunteers to help youth with special needs have a fun day of fishing," Miller said. I believe the 4-H members and volunteers gained just as much if not more than the participants."
Oklahoma 4-H is the official youth development arm of the Oklahoma Cooperative Extension Service.
Miller has a long history of engagement at every level in the Extension system, from residents and community leaders to collaborating partners in public and private organizations. Among those with whom Miller has worked include the Arthritis Foundation, Center for Disease Control, Integris Hospitals, OSU Medical Center, OSU Health Sciences Center, Organ Wide Guys and the Federal Reserve Bank of Kansas City.
She remains a tireless advocate of OSU's land-grant mission of helping Oklahomans solve issues and concerns of importance to them, their families and their communities, including leadership roles in Epsilon Sigma Phi, the professional organization of Extension professionals; Oklahoma Extension Association of Family and Consumer Sciences, as well as its national counterpart; the Oklahoma Association of Extension 4-H Agents, and its national counterpart; and Cooperative Extension's Family and Consumer Sciences Ambassadors organization; among others.
A Cowboys alumna, Miller earned her bachelor's degree in vocational home economics and community service from OSU in 1986. She earned her master's degree in family sciences from OSU in 1987. Miller earned an associate of science degree from Connors State College in 1984.
Miller served as a vocational home economics teacher at Dewar High School and Wilson High School prior to joining OSU Cooperative Extension in 1990.