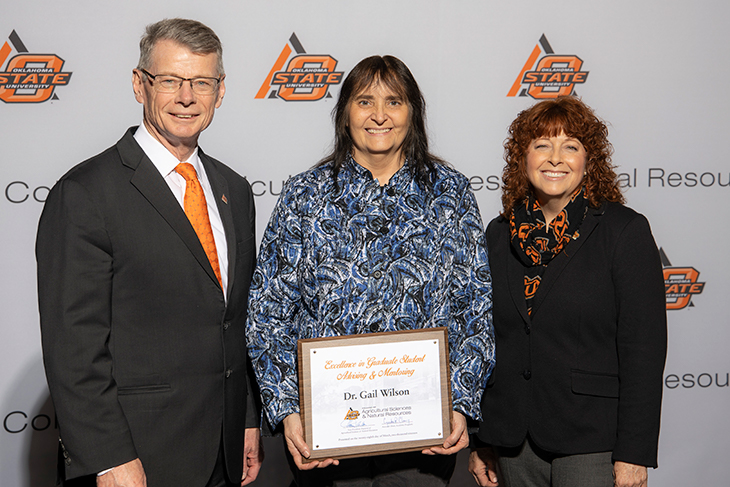 Wilson honored with Excellence in Graduate Student Advising and Mentoring Award
Thursday, May 30, 2019
Gail Wilson, Sarkeys Distinguished Professor in the department of natural resource ecology and management at Oklahoma State University, was recognized with the Excellence in Graduate Student Advising and Mentoring Award at this spring's College of Agricultural Sciences and Natural Resources Scholarships and Awards Banquet.
The award recognizes and promotes exceptional graduate advising and mentoring.
"Dr. Wilson is committed to mentoring her students in professional development as well as research development," said Cynda Clary, associate dean of academic programs for the college. "She treats her students with respect, holds them to a high standard and helps them achieve success in and out of the classroom. Dr. Wilson wants her students to be well-trained researchers who make a difference in the world."
Since Wilson began her work at OSU in 2007, Wilson has advised 16 graduate students, eight doctoral students, and also served on 30 graduate committees. In addition to mentoring students, Wilson served as her department's graduate coordinator for seven years.
"Since I arrived as department head in March 2016, I have been extremely impressed with Dr. Wilson's research approach, her talent for developing research ideas and forming collaborative teams, her willingness to 'go the extra mile' on those team efforts, her dedication to her students, and her high level of enthusiasm for what she does," said James Ansley, department head of natural resource ecology and management. "This enthusiasm obviously has a very positive effect on her graduate students, as many of them freely express their appreciation for Dr. Wilson."
Wilson's research program aims to prepare her students to be the next generation of scientists while teaching them skills they will use beyond the classroom.
"As a mentor for students in my research program, my overall goal is to increase their capacity to succeed in life, providing them with the necessary skills and abilities to excel in their future careers," she said.
Wilson's mentorship continues long after her students complete their degrees. As stated by a former student, "Dr. Wilson has been and will continue to be a foundational force in my academic and professional career. Her excellence as an advisor, to undergraduates and graduates alike, has benefited an incredible number of students in the college."
CASNR believes in the value of hands-on education and the importance of having a well-rounded student experience. The college's award-winning faculty members are dedicated to developing students and are passionate about adding value to the total educational experience. With 16 majors, a variety of study options, plus more than 60 student organizations, CASNR is committed to expanding minds and inspiring purpose. Learn more at casnr.okstate.edu.
MEDIA CONTACT: Melissa Mourer | Agricultural Communications Services | 405-744-3737 | melissa.mourer@okstate.edu