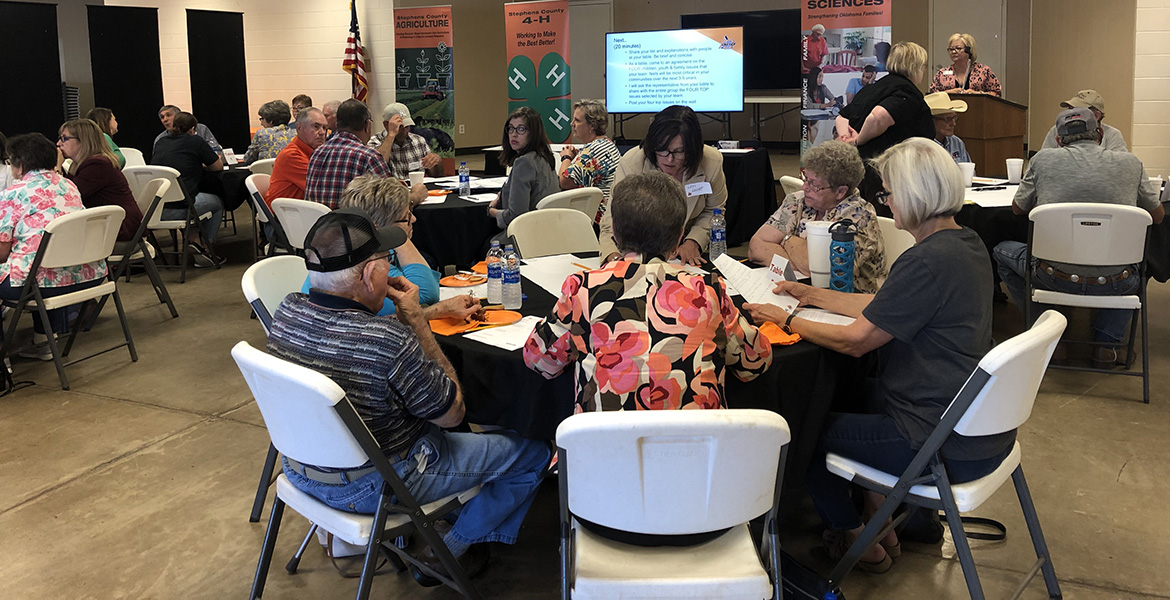 OSU Extension addresses top economic and family issues
Thursday, July 16, 2020
Oklahoma State University Extension is taking note and preparing to address top concerns and issues facing Oklahoma businesses, agriculture and families.
Community engagement meetings took place in 16 counties across the state to hear first-hand from Oklahoma residents what they believed to be top concerns in their communities and how OSU Extension can help address these issues.
Damona Doye, OSU Extension associate vice president, said the overall goal was to listen to Oklahomans and gain a better understanding of community concerns.
"We highly value this input from our communities in helping us direct future Extension programming to address these top issues," Doye said. "The process introduced us to new community partners and informed us of how they think about the area in which they live and work. The listening campaign continues to shape our programming decisions, even as we have adapted to responding in new and different ways during the pandemic."
Doye said more than 400 people from across the state participated in the community engagement forums. Locations were selected with different cultures and concerns in the hopes of getting a variety of new ideas to better integrate OSU Extension in the communities served. OSU Extension has a presence in all 77 counties and serves every resident of the state.
She also said this process allowed OSU Extension to reach out to potential new partners who did not know much about the organization and to help educate and inform them of Extension's mission and listen to their novel ideas.
The top issue that came up during the community forums include:
Workforce education and development
Local economic growth
Healthy living
Conservation efforts to improve water, soil, energy and natural resources
Family life skills
Education and engagement with policymakers
Security of future farming
"We sought geographically different regions of the state for our community engagement forums in the hopes of getting divergent points of view and we certainly did," said Mike Stout, OSU Extension family and consumer sciences specialist. "Forum participants were specifically asked about issues related to families, youth and children, as well as broad questions about each community. Though the responses were varied across the state, there were standout issues that most agreed upon related to the sustainability of their communities."
The forum results were summarized in a series of handouts found on the OSU Extension Community Forums website. Sites that hosted a forum are using their results to engage the community in action planning around the identified issues and action ideas. Trainings for follow-up engagement activities were offered to Extension educators so they have the ability to engage their communities authentically and effectively. More information is available in this follow-up video.
OSU Extension is a science-based educational resource located in all of Oklahoma's 77 counties with the mission of improving the lives of all Oklahomans. OSU Extension has been a source of valuable, research-based information for more than a century, and brings the knowledge and leadership to communities to help solve local issues and concerns, promote leadership and manage resources. Programming focuses on agricultural enterprises; natural resources and environmental management; food, nutrition, health and safety education; and youth, family and community development.
MEDIA CONTACT: Trisha Gedon | Agricultural Communications Services | 405-744-3625 | trisha.gedon@okstate.edu