Safely making herb or garlic infused oils at home
Thursday, August 6, 2020
Everyone enjoys foods that are rich in flavor. Cooking with oils infused with fresh herbs or garlic can be a big help in achieving that culinary experience.
However, until recently only commercially produced, infused oils were safe to use if stored at room temperature for more than a few days, said Barbara Brown, Oklahoma State University Extension food specialist.
"Making them at home for long-term room temperature storage wasn't recommended due to possibility of developing botulism toxins, which are deadly," Brown said. "As we progress with science, researchers have discovered a way to safely make infused oils at home."
Herbs that researchers have now deemed safe for making infused oils at home include basil, rosemary, oregano and garlic. While the garlic must be used by itself, the three herbs can be used alone or in combination for a variety of flavors.
Brown said there are specific directions to follow to ensure the safety of any infused oil made at home for long-term shelf storage. At its heart, cooking is a particular kind of chemistry.
"The garlic and herbs must be acidified before being added to the oil because botulism toxin will not develop in an acid medium," she said. "Other methods of infusing oil at home result in a product that must be used within two to four days at room temperature or no more than three months in the refrigerator. Acidifying the garlic or herbs allows you to store the product long term."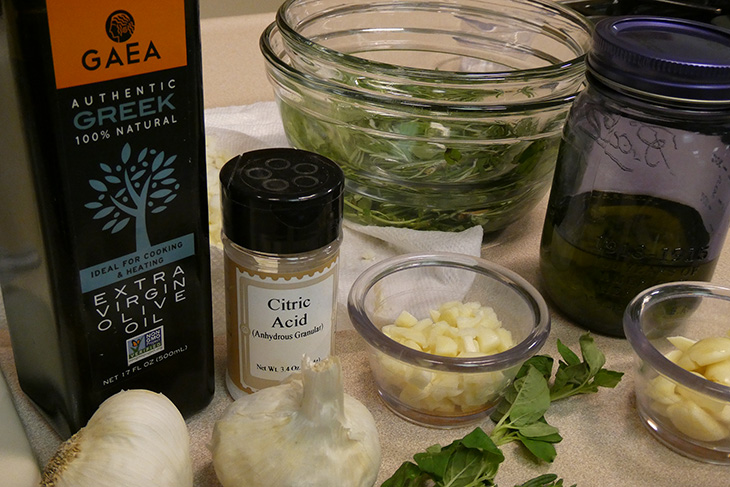 Citric acid is used in the process and is readily available where canning supplies are sold, in pharmacies, grocery stores and health food stores. Brown said other acids such as lemon juice and vinegar have not been tested and cannot be substituted for the citric acid. Garlic and herbs must soak at room temperature for at least 24 hours in the citric acid solution of 2 cups of water, 1 tablespoon granular citric acid, and either 8 ounces of garlic bulbs or 2 cups of fresh, chopped garlic, rosemary or basil.
"Be sure to chop the garlic into about quarter-inch pieces. The citric acid solution will not properly penetrate whole garlic cloves, which will increase the risk of botulism toxins forming," she said.
After soaking, remove the garlic cloves and pat try. Also remove the herbs from the acid solution, drain well and gently pat try. The herbs and garlic are now safe to place in an oil of your choice. Keep in mind the fresh herbs will lose some of their color during the acidifying process.
"Olive oil complements the flavor of herbs and garlic, but if you prefer more of the herb flavor, consider using a milder oil such as canola," Brown said. "Both olive and canola oils are lower in polyunsaturated fatty acids than many other oils, so they become rancid more slowly."
To make the infusion, use one part acidified garlic or herb to 10 parts oil. Infuse oils at room temperatures for one to 10 days. The intensity of the flavor will increase over time. Brown said that once the oil has reached the desired flavor, remove the garlic or herbs. While there is no harm in leaving them in the oil, the flavor may become too strong.
It is a good idea to protect the infused oil from heat and light, which causes deterioration. Brown suggests using a dark-colored bottle in which to store the oil. Also, make sure the bottles are clean and of food grade.
"The infusions can safely be stored at room temperature, but the quality will be better longer if you keep it in the refrigerator or freezer," Brown said.
To learn more about infusing oils at home, check out this Oklahoma Gardening video segment scheduled to air on local OETA television channels at 11 a.m. Aug. 8 and 3 p.m. Aug. 9. More informational gardening videos are available on the Oklahoma Gardening website.
MEDIA CONTACT: Trisha Gedon | Agricultural Communications Services | 405-744-3625 | trisha.gedon@okstate.edu