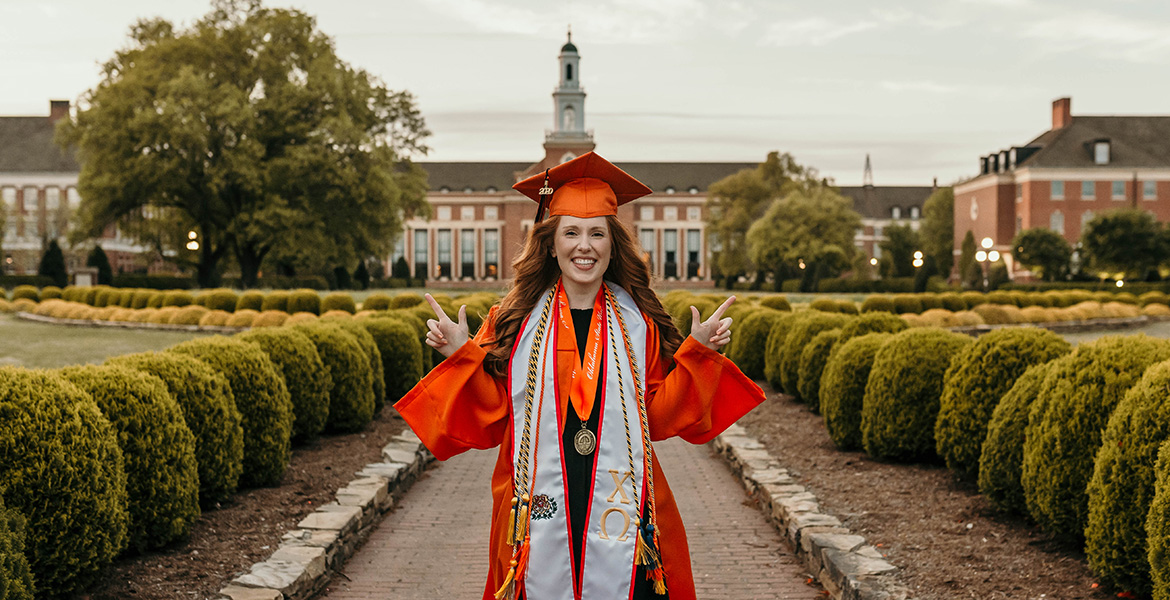 Carvalho named Ferguson College of Agriculture Outstanding Senior
Friday, May 1, 2020
Mckenzie Carvalho from Maxwell, California, was recently named Oklahoma State University's Ferguson College of Agriculture 2020 Louis and Betty Gardner Outstanding Senior.
Carvalho is an agribusiness and agricultural communications major. She is a 2016 graduate of Maxwell High School and is the daughter of David and Mary Carvalho.
The Louis and Betty Gardner Outstanding Senior Award is the highest award given to a senior in the Ferguson College of Agriculture. The Outstanding Senior receives a bronze sculpture, scholarship, and represents the Ferguson College of Agriculture by wearing an orange cap and gown as the college gonfalon carrier at commencement. Carvalho will get to participate in this tradition during the Class of 2020 graduation ceremonies in Stillwater on Dec.12. The award is supported by an endowment established by Brent and Kent Gardner, both previous recipients of the award, in honor of their parents, Louis and Betty.
During her time as an undergraduate student, Carvalho has served OSU and the Ferguson College of Agriculture in various capacities. She is a member of the Ferguson College of Agriculture ambassador team, the OSU Student Foundation, Student Alumni Board, and Mortar Board Honor Society. In addition to her campus involvement, she also completed an undergraduate research project in the OSU Department of Agricultural Economics.
"From the moment I walked in the front doors of Ag Hall as an incoming freshman, the Ferguson College of Agriculture family began investing in me," said Carvalho. "Faculty, staff, alumni and students helped me find opportunities to get involved, travel and gain work experience. My self-motivation coupled with a strong support system allowed me to develop personally and professionally. I gained the self-confidence, knowledge and skills needed to prepare for a career serving rural America."
Carvalho's commitment to academics also allowed her to be named a Lloyd Noble Scholar in Agriculture, a Ferguson College of Agriculture Legislative Intern, and she received the President Student Leader Award from the Oklahoma State University Student Government Association. She was also recently selected as an OSU Senior of Significance.
"Mckenzie is such a special person. Her commitment to service and her ability to lead by example and bring out the best in others has made a lasting impact on our college," said Cynda Clary, Ferguson College of Agriculture associate dean of academic programs. "She is an intelligent, organized and caring individual and is an ideal representation of how far a student can go through hard work and dedication to her college career."
The Ferguson College of Agriculture believes in the value of hands-on education and the importance of having a well-rounded student experience. The college's award-winning faculty members are dedicated to developing students and are passionate about adding value to the total educational experience. With 16 majors, a variety of study options, plus more than 60 student organizations, the college is committed to expanding minds and inspiring purpose. Learn more at agriculture.okstate.edu.
MEDIA CONTACT: Melissa Mourer| Agricultural Communications Services | 405-744-3737 | melissa.mourer@okstate.edu