Spontaneous combustion a possibility with wet hay
Friday, September 4, 2020
News reports of the Braum's facility fire in Tuttle being caused by wet hay may have people wondering how something wet can combust, but it is all a matter of chemistry.
"Strange as it may seem at first, wet hay is more likely to spontaneously catch fire than dry hay," said Josh Bushong, Oklahoma State University Extension area agronomy specialist for western Oklahoma. "Excessive moisture is actually the most common cause of fire in hay bales and stacks."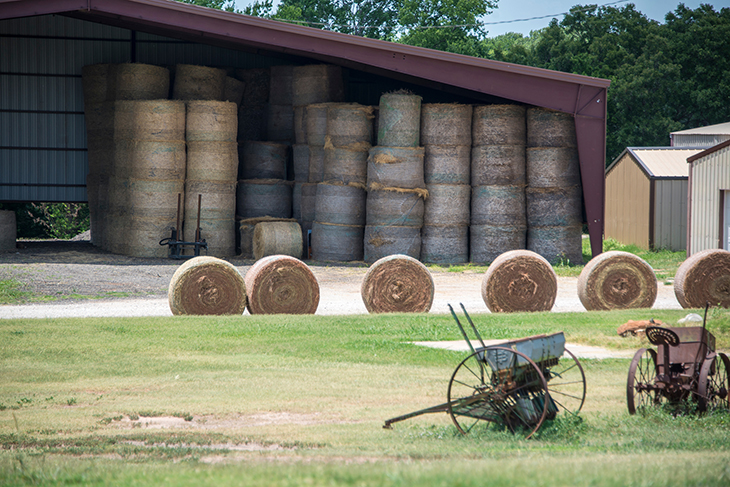 High-moisture hay initially heats up as the plant material continues to respire after harvest and microorganisms such as fungi and bacteria break down complex carbohydrates. Hay also serves as insulation, so the larger the bale or stack, the less cooling that occurs to offset the heat. When a bale or stack's internal temperature rises above 130-175 degrees Fahrenheit, an exothermic chemical reaction can start and cause the temperature to rise still further, even to the point of ignition at 448-527 degrees, causing combustion.
Some heating can occur in any baled hay if forage moisture content is 15% or higher.
"Depending on forage moisture at baling and how hay is stored, excessive heating and molding can occur," Bushong said. "The time required from heating to combustion can vary from a few days to 10 weeks, depending on conditions."
OSU Extension recommendations include the following:
Check hay regularly. If a distinct musty odor is present, chances are the hay is heating up.
If hay heating is suspected, insert a probe into the haystack to monitor the temperature. A probe can be made from a 10-foot piece of pipe or electrical tubing: Drive the probe into the haystack and lower a thermometer on a string into the probe. Insert the probe in several parts of the stack and leave the thermometer in place for 10 minutes at each site.
Monitor high-moisture hay bales for several weeks prior to stacking or storing them inside.
Producers who suspect a fire could develop should spread hay bales in an area away from other feed and buildings. Be aware of safety protocols and the science behind them. Temperatures above 175 degrees in hay signal a fire is imminent. The smell or sight of smoke means a fire is burning somewhere in the hay bale or stack. Also, hay treated with preservatives containing ethoxyquin and butylated hydroxytoluene produce deadly hydrogen cyanide gas at about 240 degrees.
"Call your local fire department as soon as possible, even if it is just to alert them of a potential problem," Bushong said. "It doesn't take much for fire to get out of control, so every second can make a significant difference in the amount of damage done."
OSU Extension is one of two state agencies administered by the university's Division of Agricultural Sciences and Natural Resources and is a key part of OSU's state and federally mandated teaching, research and Extension land-grant mission.
MEDIA CONTACT: Donald Stotts | Agricultural Communications Services | 405-744-4079 | donald.stotts@okstate.edu