Kay County Extension helps out local government with communications assistance
Tuesday, July 28, 2020
Kay County Extension saw a need and stepped in to facilitate several local government meetings when the coronavirus pandemic shut down in-person interaction earlier this year.
The local Oklahoma State University Extension office used its university license to host multiple County Excise Board and Equalization Board meetings on Zoom and broadcast them live on Facebook in April, May and June.
"It was very beneficial, especially with all the chaos we were going through at the time," said Susan Keen, Kay County assessor. "The video and audio quality of the remote meetings was excellent, which was important as we have several board members who are in their 80s and 90s. People were able to call in and ask questions. We were able to respond. It was like everyone was there without physically being in the same room."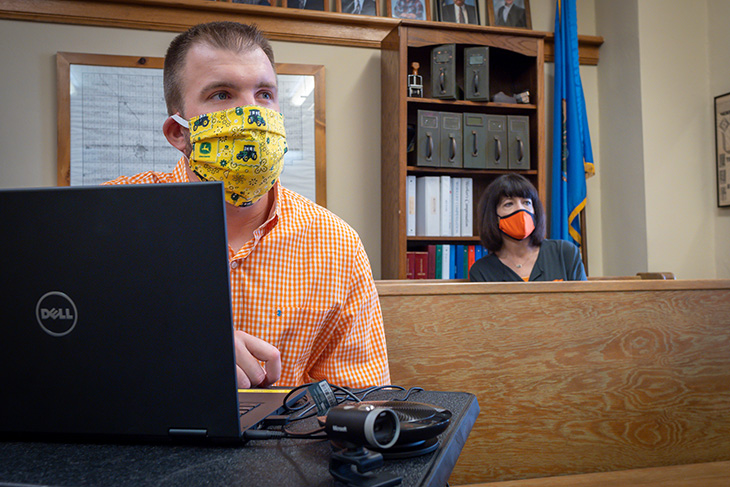 Blackwell resident J.C. Estes, chairman of the Kay County Excise Board and Equalization Board who turns 92 this year, said he was pleasantly surprised as the experience proved to be far superior to teleconferences he had been a part of in the past.
"I was a bit hesitant at first, but Kay County Extension made it fairly easy doing what we needed to get done," Estes said. "I'll confess that I'm glad to be working face-to-face in the same room with everyone again. Hopefully we won't have to close down again."
The Kay County Extension Office is comprised of Family and Consumer Sciences Educator and County Extension Director Brenda Medlock, 4-H Educator Liz Nicholson, Agricultural and 4-H Educator Shannon Mallory and Administrative Support Specialists Maribeth Ratliff and Carole Stephens.
It was March 16 when it was decided the Kay County Courthouse needed to close to the public.
"I asked Shannon if he would be willing to help people in the courthouse who might need to conduct Zoom meetings and he graciously accepted the task," Medlock said. "I volunteered our services at the very next commissioners meeting. Our Extension staff is always willing to step up and meet the needs of the county."
Visit Kay County Extension's Facebook page for more information on the many programs offered to local citizens.
OSU Extension is one of two state agencies administered by the university's Division of Agricultural Sciences and Natural Resources and is a key part of OSU's state and federally mandated teaching, research and Extension land-grant mission.
MEDIA CONTACT: Donald Stotts | Agricultural Communications Services | 405-744-4079 | donald.stotts@okstate.edu