Summer fruit festivals return in support of rural communities
Friday, July 2, 2021
Media Contact: Gail Ellis | Communications Specialist, Copywriter | 620-515-2498 | gail.ellis@okstate.edu
The McLoud Blackberry Festival and Porter Peach Festival are two much-anticipated events returning in full force this summer after scaling down in 2020 due to the pandemic.
Learn more about growing peaches and blackberries in Oklahoma by accessing Oklahoma State University Extension fact sheets.
McLoud Blackberry Festival, July 9-10
In the late 1800s, the township of McLoud celebrated the first train to pass through town with an inaugural picnic.
Over the next few decades, community members decided to combine the annual picnic with a festival that celebrated the area's booming cash crop of wild blackberries. The fresh berries were sorted and shipped in McLoud by a local blackberry growers association. One special shipment was even sent by overnight air freight to President Harry S. Truman at the White House who responded by declaring McLoud the "Blackberry Capital of the World."
Although McLoud's blackberry growers association disbanded in the 1950s and the berries no longer are a cash crop for the area, the town's annual blackberry festival continues to grow. In recent years, the event has attracted more than 30,000 festival attendees. In 2020, organizers modified the weekend event to a drive-thru format where visitors could purchase fresh berries and jam. Local businesses suffered with the scaled-down version of the festival but hope to bounce back this year. The event includes a blackberry queen pageant, parade, live music, fireworks, a football field-sized carnival and several food vendors who all offer at least one blackberry-themed item on the menu.
"We have more food vendors this year than we've been able to fit in the past," said Melanie Krause, director of the McLoud Chamber of Commerce. "This year's festival is going to be huge. Everyone is itching to get out and get back to normal life, and around here, this is as normal as it gets."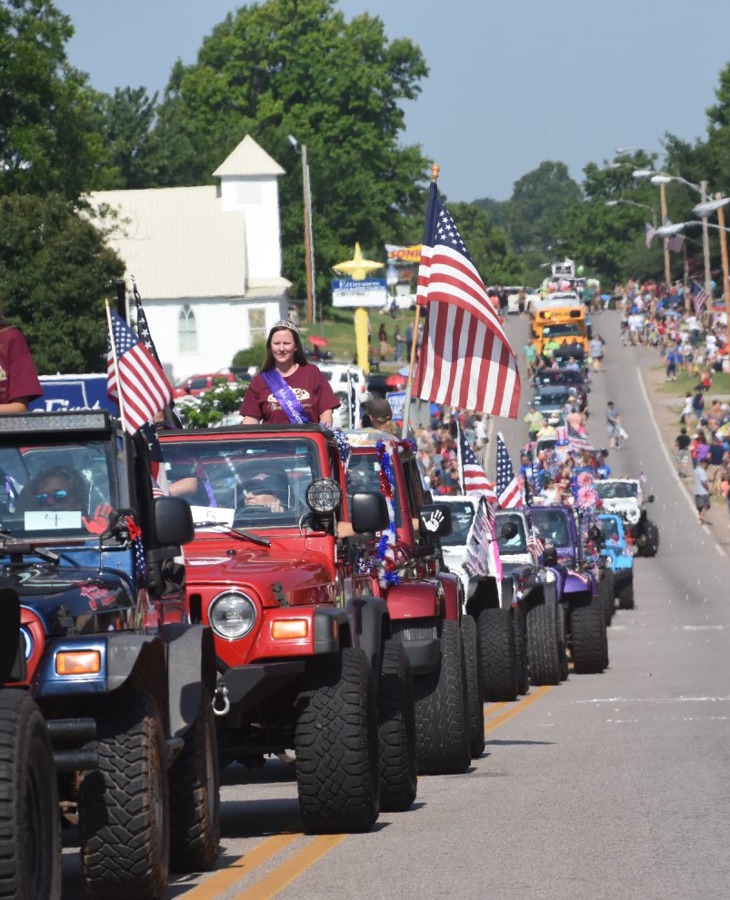 Krause said the community upholds the festival's tradition as one of the longest continuously running food festivals in the state. The McLoud Chamber of Commerce welcomes both locals and folks from out of state to experience the charm of small-town America.
"This is our town, and we're proud of it," she said.
Porter Peach Festival, July 15-17
This year's 55th Porter Peach Festival is bittersweet for locals and annual attendees; after a bumper peach harvest in 2019, the event was moved online in 2020. This year, the main orchard that supplies peaches for the festival was hit hard by a late spring freeze.
"Everybody is looking for fresh peaches because many orchards in Arkansas and Missouri froze out, too," said Alan Parnell, the festival chairman and OSU Extension director for Wagoner County.
In 2020, Parnell and the other event coordinators promoted the festival on social media with business features and a virtual scavenger hunt encouraging people to shop local.
"The financial impact of not hosting an in-person event last year was a reality check because the festival is where most local businesses generate revenue," Parnell said.
Although the peach crop may be a little lean in 2021, the festival plans to proceed with its full agenda of activities including a 5K run, culinary contest, car and bike show, parade, live music, talent show and food vendors. Peaches from the Porter area of eastern Oklahoma are known nationwide, steeped in history much like McLoud's blackberries. According to the festival's website, at one time, Porter was home to eight commercial peach orchards, and Gov. George Nigh declared Porter the "Peach Capital of Oklahoma" in 1983.
"It's a huge agri-tourism event featuring an Oklahoma agricultural product," Parnell said. "Everybody is looking forward to the event, and we're expecting huge crowds."
Learn more about festival history and make plans to attend at https://www.mcloudchamber.com/2021-blackberry-festival.html and https://www.porterpeachfestivals.com/.