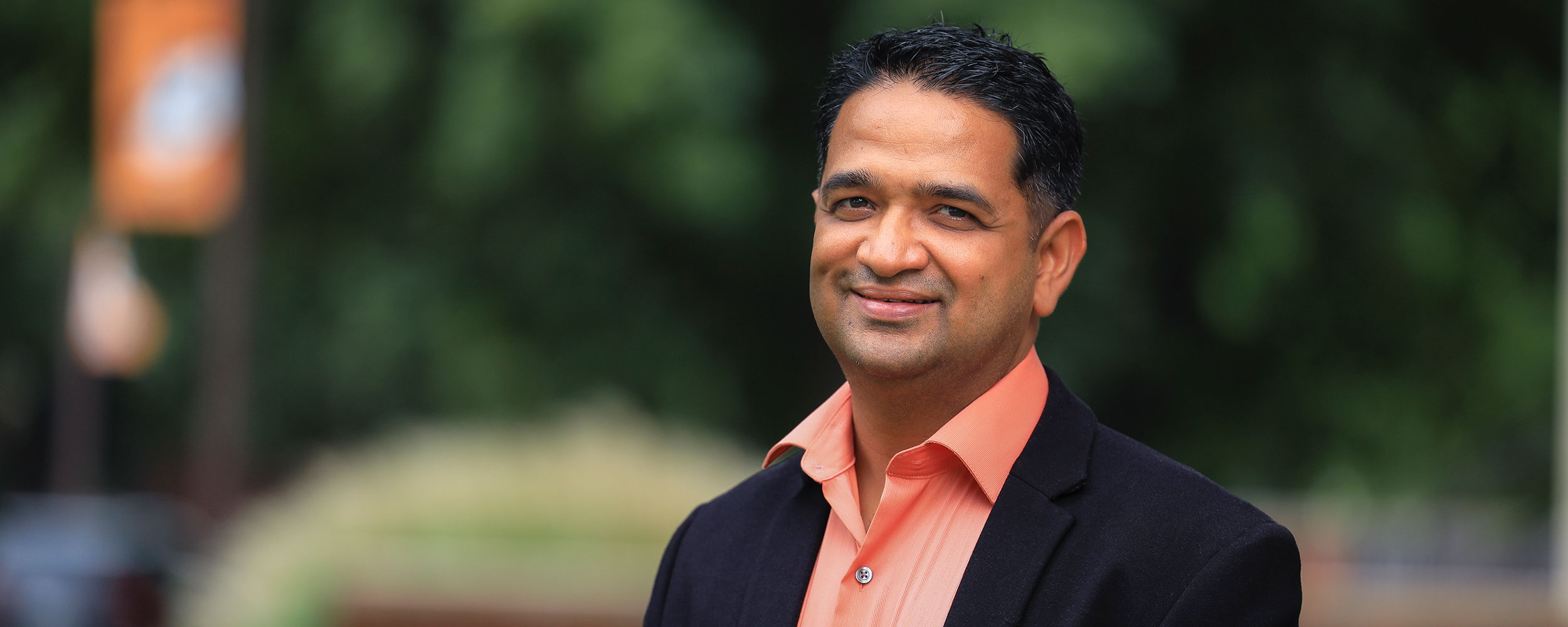 Joshi receives Ferguson College of Agriculture Early Career Award for Excellence in Teaching
Wednesday, September 8, 2021
Media Contact: Jami Mattox | Agricultural Communications Services | 405-744-8061 | jami.mattox@okstate.edu
Omkar Joshi, an assistant professor in the Oklahoma State University Department of Natural Resource Ecology and Management, has received the 2021 Ferguson College of Agriculture Early Career Award for Excellence in Teaching. The award recognizes and promotes exceptional teaching by a faculty member with less than five years of experience in higher education teaching.
Joshi has learned from several years of teaching that a little bit of effort can go a long way.
"My teaching philosophy includes making sure there is active participation in class," he said. "I do not look at my students as a homogeneous group. I try to have a customized communication with each of my students."
Cynda Clary, associate dean of academic programs for the Ferguson College of Agriculture, said she can clearly see Joshi's commitment to students through investment in his own personal development.
"That's the hallmark of a good teacher – not just teaching, but focusing on what students are learning," Clary said. "He's put the time into developing effective teaching skills and ensuring his students are learning what they need for their future careers."
Jim Ansley, professor and head of the OSU Department of Natural Resource Ecology and Management, said Joshi employs innovative techniques in the forestry capstone course he teaches.
"He is exactly the kind of instructor we want at Oklahoma State University," Ansley said. "He provides the students with an integrated problem-solving experience. He fulfills the Division of Agricultural Sciences and Natural Resources goal of adding scholarship to teaching responsibilities."
Madison Gore, a graduate student in NREM, said Joshi makes his lectures fun and captivating.
"As an undergraduate student, I really liked his teaching style because he engaged with students throughout his lectures by asking questions and wanting to know their opinions on the lecture topics," Gore said.
Thomas Kuzmic, professor of forestry in NREM, said Joshi is a talented and motivated scholar in the truest sense.
"He absolutely is student focused," Kuzmic said. "He certainly devotes considerable effort in developing timely and challenging learning opportunities for his students. He is a very pleasant and congenial individual and very eager to interact with others in our learning community."
Joshi has impacted many students' lives through his attention and care to their learning experiences in his short time at the Ferguson College of Agriculture, Kuzmic added.
"It has been five awesome years at Oklahoma State University," Joshi said. "I think I have given my best to become a good teacher, and this award motivates me to become an even better teacher."
Story By: Tanna Frizzell | tanna.frizzell@okstate.edu