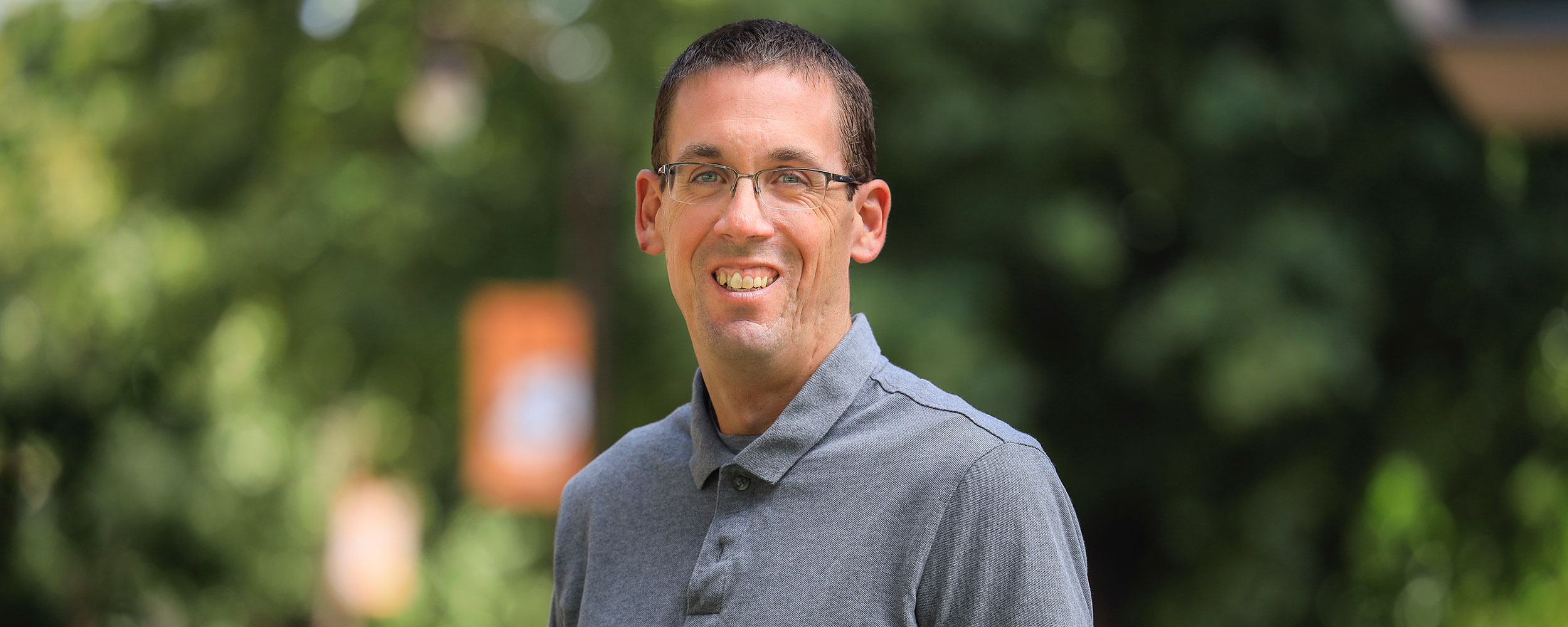 Loss receives Ferguson College of Agriculture Excellence in Graduate Student Advising and Mentoring Award
Wednesday, September 8, 2021
Media Contact: Jami Mattox | Agricultural Communications Services | 405-744-8061 | jami.mattox@okstate.edu
Scott Loss, an associate professor in the Oklahoma State University Department of Natural Resource Ecology and Management, has received the 2021 Ferguson College of Agriculture Excellence in Graduate Student Advising and Mentoring Award.
Loss pushes students to be better both in and out of the classroom. As an undergraduate and graduate student advisor, he tailors his mentoring to each student based on their stage of education, professional and personal background, and career goals.
"When I was in graduate school, I didn't like the idea of dedicating 100 percent of my life, inside and outside of the classroom, to my research project," Loss said. "There are long days and nights of work, but there is also this thing called a work-life balance. I teach my advisees about this because it doesn't get any easier after graduate school."
He is passionate about teaching and mentoring and said the award inspires him to support students.
"It keeps me motivated and excited to continue investing in what I view as a really crucial part of education here at OSU," Loss said.
Cynda Clary, associate dean of academic programs for the Ferguson College of Agriculture, said Loss has been a tremendous value to the department and the college.
"Dr. Loss helps students make the connection between the research they are doing and the impact it has on their future careers," Clary said. "His students are better having learned from him, and they see great success in their careers."
Jim Ansley, professor and head of the OSU Department of Natural Resource Ecology and Management, said Loss is exactly the kind of graduate advisor and mentor that OSU students need.
"Dr. Loss' program is on the cutting edge of research innovation in very unique topics," Ansley said of Loss' focus on human and wildlife interactions. "He challenges his students to approach research in that way."
Georgia Riggs, a master's student in NREM, said the research she's conducted under Loss' guidance has helped her grow as a professional and scientist.
"I will leave OSU feeling prepared to continue work in my field," Riggs said. "I cannot speak highly enough of Dr. Loss' advising and mentoring abilities. It has been a true honor to work under him in multiple roles as a mentee, student and colleague."
Loss is extremely knowledgeable, approachable and patient; he encourages his students to work hard and be ambitious, but he also communicates the value of work-life balance, Riggs added.
"Dr. Loss provides opportunities for growth for his students, but he also gives support when needed," Riggs said. "He is in regular contact with us and is always available and willing to help at other times. I feel encouraged and listened to as his student and mentee. I have grown so much as a researcher and professional under his guidance."
Loss said he hopes his students recognize he is there to provide support not only for their academic pursuits, but also outside of their research and graduate school needs.
"I hope my students know I am there for them when they need insight or feedback or troubleshooting advice related to their research," Loss said, "And that I give time and effort to thinking about them beyond their research, to their career goals and aspirations, and helping them achieve those, too."
---
The Ferguson College of Agriculture emphasizes hands-on learning and a well-rounded student experience. The college's award-winning faculty members are dedicated to developing students and are passionate about adding value to the total educational experience. With a diverse set of majors and study options, plus more than 60 student organizations, the college is committed to expanding minds and inspiring purpose. Learn more at agriculture.okstate.edu.
Story By: Tanna Frizzell | tanna.frizzell@okstate.edu