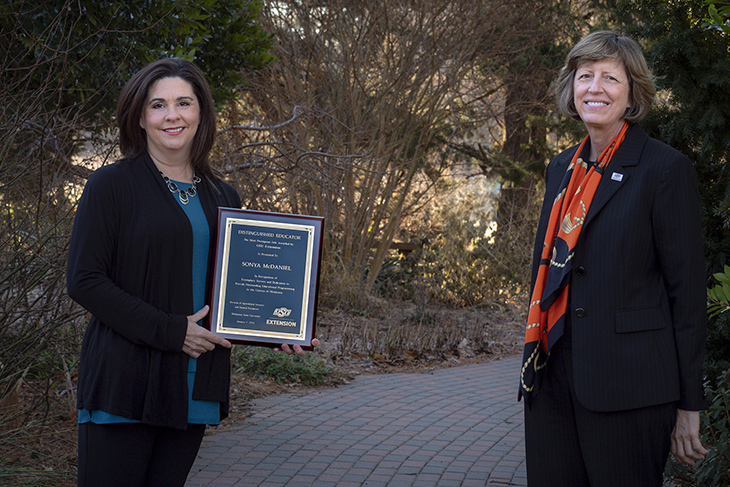 Pottawatomie County's Sonya McDaniel earns prestigious Oklahoma State University Extension honor
Friday, January 15, 2021
Oklahoma State University Extension named Pottawatomie County Family and Consumer Sciences and 4-H Educator Sonya McDaniel its 2021 Distinguished Educator Award recipient on Jan. 7.
Ask Pottawatomie County residents about McDaniel – a fixture at the county office since 2001 – and many will cite the successful educational and quality-of-life programs she has developed. Example programs include:
Co-Parenting for Resiliency.
Eat Healthy, Be Active.
Dollar Decisions-Checks and Balances.
Character Critters.
Principles of a Healthy House.
Poverty Simulations.
Keys to Successful Aging.
Home Food Preservation.
"When I can reach people with information to help them handle everyday tasks and responsibilities, it is very rewarding and feeds my soul," McDaniel said.
McDaniel serves as adviser for the county's Oklahoma Home and Community Education program, assisting members with leadership for county projects, recruitment and general management. She also has served as coordinator for the State Women in Agriculture Conference, recognized for her ability to build and maintain positive relationships with clientele, community leaders and colleagues in OSU Extension and other public and private organizations.
"I knew when I hired her that Sonya was likely going to be one of our best educators," said Claude Bess, OSU Extension Southeast District director. "Not only was she smart and genuinely interested in people, she had a special way of connecting with everyone and somehow determining just what they needed."
McDaniel has served as Pottawatomie County Extension director since 2013. Her responsibilities include staff development and supervision, fiscal management and guidance ensuring compliance with OSU policies and procedures. The ability to promote teamwork, quality customer service and strong community-based educational programming are well-known McDaniel hallmarks, Bess said.
"Sonya has been instrumental in successful rural development initiatives and exhibited influential community leadership," he said. "She has made significant contributions to educational curriculum, publications and presentations at the local, district, state and national levels. Perhaps the most obvious testament is the way Sonya is routinely sought out by other OSU Extension field staff as a resource for their own programming efforts."
Her professional affiliations include leadership positions in the National Council on Family Relations, American Association for Family and Consumer Sciences, and Oklahoma Association for Family and Consumer Sciences.
McDaniel earned her Bachelor of Science degree in family relations and child development from Oklahoma State and her Master of Science degree in human development and family studies from the University of North Texas. She joined OSU Extension in 1999, first serving as FCS educator in Bryan County for two years before assuming a similar position at the Pottawatomie County Extension Office.
OSU Extension is one of two state agencies administered by the university's Division of Agricultural Sciences and Natural Resources and is a key part of OSU's state and federally mandated teaching, research and Extension land-grant mission.
MEDIA CONTACT: Donald Stotts | Agricultural Communications Services | 405-744-4079 | donald.stotts@okstate.edu