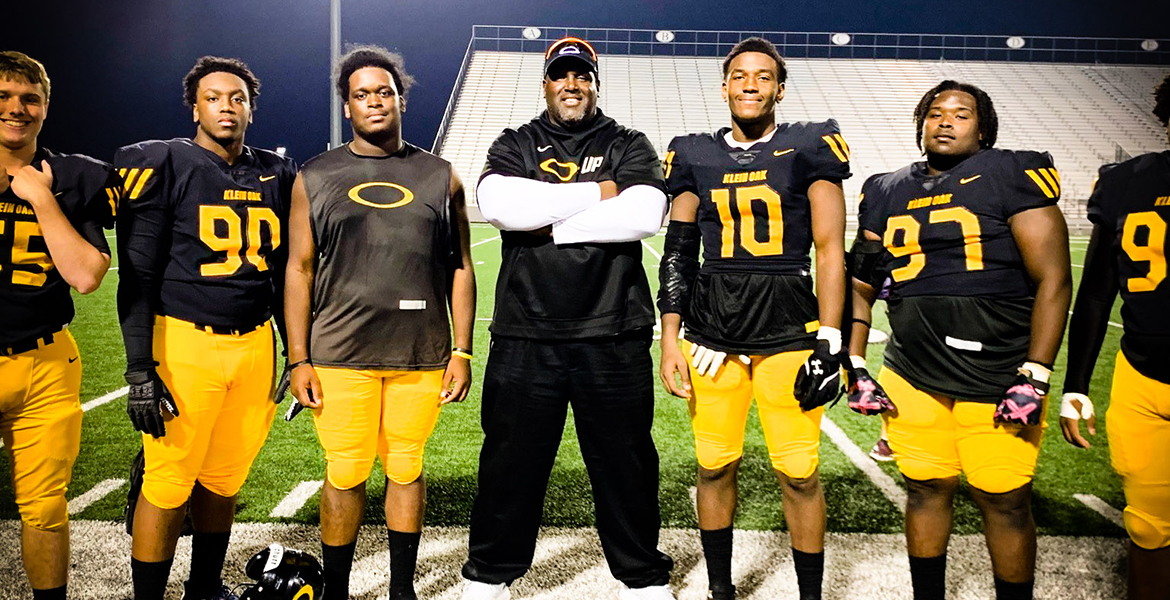 Former OSU footballer and CAS alum living the Cowboy spirit in Texas
Monday, December 14, 2020
In the late 1980s, CAS alumnus Derek Jones was playing high school football in Palestine, Texas, when OSU assistant coach George Walstad came down to recruit for the Cowboys.
"He wasn't looking for me I don't think, but I saw him and he saw me," Jones recalled. "At that time, [recruiters] couldn't really say anything to the younger athletes, so he gave me his business card, he smiled at me, and that's all he did. Smiled and walked away."
When it came time for Jones to pick a school a few years later, he chose Oklahoma State over Texas A&M, Texas and other big names because "O-State was always the place I really wanted to be," he said. And of all things, it was Walstad's business card that sparked Jones' deep interest in coming to Stillwater.
"His business card had Pistol Pete with a foiled finish on his pants. To me, that was really a rich thing," Jones said. "I didn't have much growing up, so it was like giving me a hope of getting out of the small-town mindset. It made me think there was more to life, more things to consider."
Jones received a scholarship to OSU where he lived at Bennett Hall, played tight end and graduated in Speech Communications. Although he had hoped to play in the NFL, he was "so physically beat up" at the end of his college career that he decided to take time off.
"It took a toll on me, playing on that level," Jones said. "I wanted to keep that dream of playing in the NFL, but I was just so exhausted that I knew at that time it wasn't going to be a reality. … When I didn't get drafted it gave me a chance to heal up — to start working out and doing things better because my body felt better. It was a blessing."
While he didn't play in the NFL, Jones was part of pro teams in Houston for a short time before jumping into the corporate world at Chevron.
"I stayed there for 10 years," Jones said. "I thought I would stay there for a lot longer, but I always missed football. It was something that was a part of me for so long. Chevron just happened to have layoffs — 10,000 employees here in the Houston area — and so I thought, 'All right, what do I do? Do I stay in the corporate world?' The money was great, the time was great, but I was really missing being around football."
With a new job at a radio broadcasting company in Houston, Jones started thinking more seriously about a career in football. "I didn't know what it was going to be, but coaching came to mind," he said. It didn't take long for Jones to get a high school teaching job near his home in Katy, Texas, where he now teaches business courses and serves as both a throws coach for track and field and the football team's defensive line coach.
"I talk to my students and players all the time, trying to show them how to achieve their dreams and goals and not give up," Jones said. "Coming from a small town, you have folks telling you that you're not going to be this, you can't be that, you won't do this, you won't do that. So to actually go to a place like Oklahoma State and have that school help you realize all the goals you set forth to do — and to now be in a position where you can put those into work — is definitely an exciting and encouraging thing."
Some of the support Jones received while at OSU came from strength coach Rob Glass and associate athletic director Marty Sargent, who both "continue to mentor me and to provide valuable information, just as they did while I was a student athlete," Jones said. "They still light up when we talk, which is so genuine and so OSU!"
And long before he came to Stillwater, Jones had his irreplaceable mother, Marguerite Jones.
"She was a great mom that worked two jobs to support me growing up," Jones said, who was an All-Region Band trumpeter in addition to playing sports. "Her tireless efforts allowed me to focus on being the best football player and track athlete that I could be. It allowed me to finish third in the state for shot put, receiving the bronze medal in Austin."
Jones has kids of his own now, who receive that same unwavering support. His sons, twins Trey and Derek Jr., are living out their college dreams at the University of Mary Hardin-Baylor, where they're studying pre-med and playing football like their dad. His daughters, Makenzi and Brinley, are still a few years away from college, but he said they may yet become Cowgirls.
"I finally got the chance to take my family to OSU and have them experience it, and the crazy thing is that they got hooked," Jones said. "Now they always want to go back and eat cheese fries. ... My youngest daughter always wears OSU stuff, and she sees herself as a Cowgirl."
As his kids continue to learn and grow, so does Jones, who has his eye on getting back into the collegiate football scene. "I'm not in my final spot, but I've had a good time getting to where I am," he said. "I'm looking forward to the next step knowing I have the tools to do that — tools I got at OSU."
"I think I exhibit Oklahoma State each day," Jones continued. "I want to give all of the information and experiences I gained at OSU to everybody. I want them to feel like they've been to OSU, that they've been in Stillwater, even if they never have. With the world as crazy as it is right now, I think it's a good thing to have a little sunshine. They talk about OSU being America's Brightest Orange, and I always want to bring that brightness and that joy to as many people as I can, while I can."
MEDIA CONTACT: Elizabeth Gosney | College of Arts and Sciences | 405-744-7497 | egosney@okstate.edu