Ethics Club win at regionals sets them up for second nationals appearance in three years
Monday, December 7, 2020
On November 14, OSU's Ethics Club beat out more than a dozen university teams from Texas, Oklahoma and Arkansas to clinch the regional championship title at the Association for Practical and Professional Ethics' Texas Bowl. The win qualifies them for nationals for the second time in the team's five-year history.
"We put in a lot of hard work, but we were still shocked to have done so well," said Daniel Trippett, the club's advisor and coach and a lecturer in the Department of Philosophy. "I was pretty confident that they had won at least two out of the three rounds. I could just see how poised and confident they were in their responses."
Because the Ethics Bowl was done over Zoom due to the pandemic, Trippett said his team made adjustments large and small to ensure a smooth, cohesive presentation. Virtual backgrounds in OSU orange and black helped unify the members at a glance, for example, and passing physical notes during arguments was replaced with more "coordination and strategizing ... to make sure we had a better idea of who was going to speak and what they were going to say," Trippett said. "Once they got in the flow of the round, it felt like the normal ethics bowl experience."
Topics for the competition ranged from mug shots in the media to civil war reenactments to COVID-19 patient treatment.
"It's different than a normal debate where one party or one person has to take on an adversarial role," Trippett said, explaining that opposing teams will often take the same side, but present additional perspectives and point out holes in the other team's argument.
"Beyond just learning a little more specifically about moral theories, it heightens your awareness of what's going on in the news," he said. "The Ethics Bowl is an opportunity to have a deep conversation about difficult issues."
That culture of discourse was a key motivation for Department of Philosophy head Dr. Scott Gelfand to start the club five years ago.
"One of the most important responsibilities we have as citizens is to inform ourselves about issues and learn to talk about them," Gelfand said. "Think about the divided society we live in now where people can't even talk to each other if they don't share similar political views. I can promise you that people on the Ethics Bowl team can talk to each other … even if they don't necessarily agree on political issues or moral issues. To talk to each other, to respect each other, to laugh with each other, to trust each other—that's beautiful."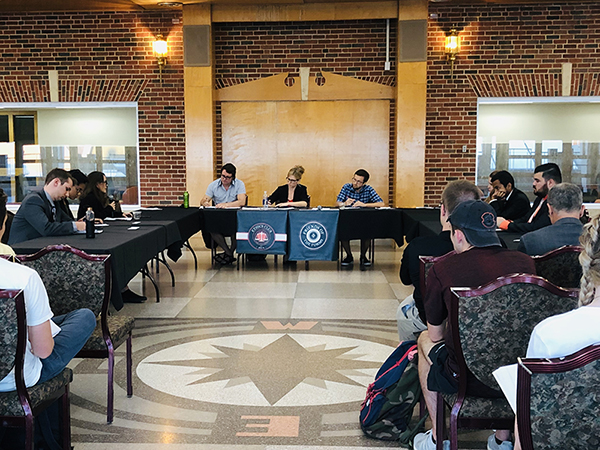 Trippett explained that while it can be helpful for students to have some background in ethics and philosophy, it's not required. Students in the club represent a wide range of OSU majors, from biology, psychology and engineering to sociology, journalism and political science.
"They're really evaluated on the clarity and the strength of their argument," Trippett said. "You have to clearly demonstrate you've anticipated what others who would disagree with you would say. That's the beauty of the Ethics Bowl and the club: getting all these different perspectives together and really hashing it out. You are forced to think about your own personal beliefs and views and try to build arguments that justify them."
The Ethics Club, which encompasses the Ethics Bowl team, is sponsored by the Department of Philosophy within the College of Arts and Sciences. It has about 10 active members who meet weekly to discuss cases "even if there's not a competition coming up," Trippett said. "They feed and they thrive off of that interaction with others."
"It gives me a lot of hope in the youth and younger people, just to see how deeply and how passionately they think about these issues," he continued. "They're learning not to view people who disagree with them in some sort of negative way; a person who disagrees is an opportunity to learn more and an opportunity to maybe reevaluate their own views. That's definitely a big goal—to encourage civil and ethical conversation with each other."
Gelfand credited Trippett with helping to maintain a high level of enthusiasm among the students, despite COVID restrictions, team member changes and lulls between competitions.
"Daniel thrives when he sees students building relationships with each other," Gelfand said, noting that Trippetts' unobtrusive coaching style fosters independent thought and team growth. "So often he'll tell me about how students are beginning to develop friendships and he has a smile on his face because he knows, as I know, that this is such an important part of the college experience."
"He may have pride that they won, but he has pride when they don't win," Gelfand added. "It's no less."
The club is preparing for the Ethics Bowl National Competition, another virtual event, scheduled for Feb. 27-28. Trippett said OSU is also planning to host a biomedical ethics competition shortly after Easter. In the meantime, the team is enjoying some well-earned attention.
"I was told this year that OSU is now being seen as one of the powerhouse teams in the region," Gelfand said. "And that's really a testament to Dan Trippett and the amazing students."
"I'm just really happy for our students," Trippett added. "I'm glad we're getting a little recognition for our hard work, because the students really deserve it."
MEDIA CONTACT: Elizabeth Gosney | College of Arts and Sciences | 405-744-7497 | egosney@okstate.edu