Geography grad becomes Air Force pilot
Thursday, September 30, 2021
Media Contact: Jacob Longan | Coordinator of Communications and Marketing, College of Arts and Sciences | 405-744-7497 | jacob.longan@okstate.edu
When 2nd Lt. Nolan Malloy first stepped onto Oklahoma State University's campus as a freshman, he never imagined he would use his geography degree to join the military.
Six years, dozens of flight hours and one commission later, he knows he is where he is meant to be. Malloy is an Air Force pilot stationed at Vance Air Force Base in Enid, Oklahoma, while he finishes his flight training, and he is thankful to OSU for helping him get there.
"My experiences at OSU prepared me well for a career transitioning into the military, even though it was kind of an unconventional route," Malloy said. "I wasn't affiliated with the military at all in college, and I'm really grateful that the people that I met there, once they figured out that was something I wanted to do, supported me 110 percent to go out and work toward accomplishing my dreams."
Malloy's dream of becoming an Air Force pilot is only a few years old, but he is already just weeks away from earning his wings. Reflecting on how he got from Stillwater to Enid, Malloy recognized his journey to the Air Force wasn't typical.
There are four paths to becoming an officer in the Air Force: one can enlist and work their way up the ranks, attend the competitive Air Force Academy, join an Air Force ROTC program while in college, or a college graduate can apply to attend Officer Training School. Malloy graduated from OSU with his degree in geography in 2019, applied to and graduated from Officer Training School and commissioned as an officer in October 2020. His journey started before that, though.
Both of Malloy's parents and two of his aunts earned degrees from OSU, and Malloy's mother, Mary, and aunt, Susie Masters, earned geography degrees. Because of this, Malloy was aware of the variety of careers one can have with an education in geography from an early age, and he knew what university to attend to study it.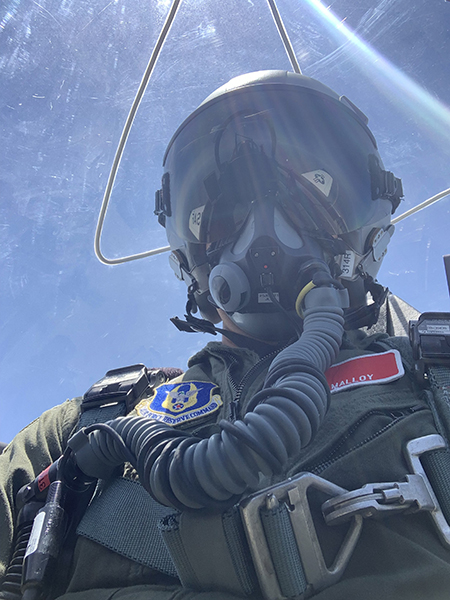 When Malloy came to OSU, he intended to go to law school afterward. By his junior year he had decided law wasn't for him, so he considered earning his master's in geography and becoming a teacher. The summer before his senior year, though, is when he found his calling.
Malloy's father was in the Air Force for 30 years and his mother flew planes during her time at OSU, so Malloy grew up around planes. The summer before his senior year, he decided he wanted to learn how to fly. He contacted Tom Wikle, a geography professor and certified flight instructor, and set up a discovery flight.
"Just from the first moment of getting into the air, seeing the ground rush away from you, it's kind of intoxicating," Malloy said. "I was like, well, this is definitely something I want to do."
Malloy worked with Wikle to earn his private pilot's license during his senior year. When Malloy decided to apply for the Air Force after graduation, he found a wealth of support in the OSU community. OSU's Air Force ROTC unit facilitated his tests, and Wikle wrote him a letter of recommendation.
Since joining the Air Force, Malloy has discovered just how useful his geography degree is for flying. There have been several occasions when Malloy's instructors have asked questions about maps or navigation and Malloy has been the only one with answers because of his geography background. He believes his education will help him go far in the Air Force.
Wikle remains supportive of Malloy's ambitions, and he said he's proud of Malloy for pursuing his dreams.
"I'm just so proud of him for deciding to do this," Wikle said. "And I think it's a fantastic example of what you can do with a degree in geography. We're so proud of the graduates of our geography program, and we're just really proud of him."
Wikle and the Department of Geography aren't the only people proud of Nolan for becoming an Air Force pilot.
Mary Malloy is also proud of the hard work her son put in to get to where he is right now.
"I have always had a love for aviation, and I am filled with admiration and pride knowing that my husband and sons are such dedicated aviators," Mary Malloy said.
As Malloy works toward earning his wings, he doesn't regret the path he chose to the Air Force and he's grateful for the people who have helped him get there.
Story By: Ellie Melero | emelero@ostatemail.okstate.edu