Global Studies and Poli Sci major Monique Walker named an Outstanding Senior
Monday, May 3, 2021
Media Contact: Jacob Longan | Coordinator of Communications and Marketing, College of Arts and Sciences | 405-744-7497 | jacob.longan@okstate.edu
In addition to her dual degrees in Political Science and Global Studies with a minor in Economics, Monique Walker is leaving OSU with a long list of accomplishments that includes being named one of the Alumni Association Outstanding Seniors for 2020-2021.
The Oklahoma City native said she was "honestly shocked" to find out that she had been chosen for the honor from a pool of 52 Seniors of Significance.
"I knew that the previously selected Seniors of Significance were filled to the brim with individuals who have made a notable impact on the lives of the students and staff at the university. All of them have accomplished amazing things," Walker said. "I am so honored to be recognized as one of these students and I am thankful for the opportunities OSU has given me to lead and serve during my time here."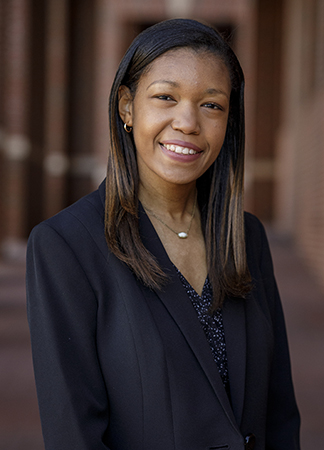 Walker has been involved in numerous organizations on campus, ranging from CAS Student Council to Cowboy Cousins (where she became a mentor and friend to international students) to Alpha Phi Omega, a co-ed community service organization where she served as Vice President of Membership and Vice President of Fellowship. Walker also took part in the Student Government Association's Multicultural Affairs Committee and the Student Union Activities Board and was a member of Phi Kappa Phi Honor Society, the National Political Science Honor Society, Pi Sigma Alpha, and the geography honors club, Gamma Theta Upsilon.
"I also completed a research project on the topic of the value of education in developing countries," Walker added. "I presented this research at the Geography Undergraduate Mentors Program annual conference this past fall."
Being so involved on campus made 2020 especially difficult for Walker with all the "unknowingness due to COVID."
"For the longest time we didn't know if we would be getting an actual graduation and many of us weren't able to experience several traditions for the last time as seniors," Walker said. "As of now, though, we will be able to have an in-person graduation that family members will be able to attend. The university has been very proactive with getting students vaccines, so I have been able to see family members I haven't seen in a while."
Along with everything she did in Stillwater, Walker also journeyed to Washington D.C. to intern at the Woodrow Wilson International Center for Scholars Africa Program and to South Africa in 2019 on a study abroad trip.
"While in South Africa I got to take courses that pertained to South Africa's political history and transitional justice," Walker said. "It was extremely eye opening to learn about these different topics while conversing with students from all around the globe. Within these classes I was able to think critically about real-world issues and cross-collaborate with international students to create informative presentations, which challenged my thinking in a number of ways."
With her time as an undergrad drawing to a close, Walker has set her sights on working "in the think-tank or NGO sphere doing research on sustainable development within underdeveloped countries," before eventually going back to school to get a master's in international affairs or global development.
Looking toward the future also had Walker reflecting on the past and what she would tell her freshman self.
"Don't be afraid to try new things, because you never know what will come out of it," Walker said. "Connect with your professors outside of classroom discussions. They are extremely knowledgeable and are a great resource when it comes to furthering your career or growing as an individual. And don't be afraid to challenge yourself inside and outside of the classroom."
Story By: Elizabeth Gosney | egosney@okstate.edu