Biochemistry and Microbiology double major Sergio Mares named an Outstanding Senior
Tuesday, April 20, 2021
Media Contact: Jacob Longan | Coordinator of Communications and Marketing, College of Arts and Sciences | 405-744-7497 | jacob.longan@okstate.edu
When senior Sergio Mares of Piedra Negras, Coahuila, Mexico, found out he had been chosen by the OSU Alumni Association as one of just 22 Outstanding Seniors for 2021, he was picking up ingredients to make salsa.
"I think I dropped a chili after reading the email," he said. "Don't worry, I bought the chili."
Mares — who moved to Stillwater at age 16 — will graduate with dual degrees in Biochemistry and Microbiology/Cell and Molecular Biology, along with minors in Spanish, Chemistry and Plant Biology.
As if earning multiple degrees wasn't hard enough, he also worked full time doing construction, painting and home remodeling during what proved to be a "financially stressful" 2020 due to the COVID-19 pandemic.
"I never thought that in my senior year I would have two demanding jobs," Mares said. "But now if you know anyone who needs their room painted or some drywall work done, don't hesitate to ask!"
In addition to doing research alongside Dr. Marianna Patrauchan in the Department of Microbiology and Molecular Genetics, Mares was also involved with The Oklahoma Louis Stokes Alliance for Minority Participation Program (OK-LSAMP), theRonald E. McNair Scholars Program, Omega Delta Phi Fraternity, the SGA Multicultural Affairs Committee, the Society for the Advancement of Chicanos/Hispanics and Native Americans in Science, and the Hispanic Student Association — that latter of which provided one his favorite OSU memories.
"When I was president of the Hispanic Student Association, I coordinated and brought a mariachi group to campus," Mares said. "As I was able to bring a speck of Mexico to Stillwater, I enjoyed personally inviting groups such as the Spanish Club, African American Student Association and the Graduate Student Association to see the performance live."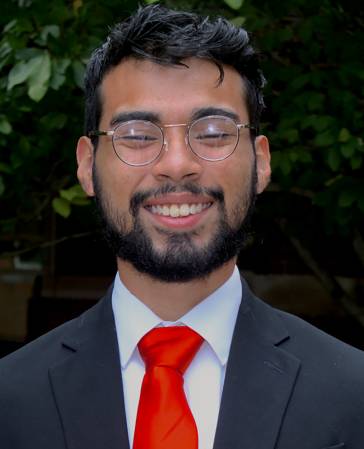 Mares made sure to build relationships not only on campus, but in the wider Stillwater community and beyond by serving as a translator for physicians at the Community Health Center, joining a University of Kentucky team to provide translation "between physicians and patiences in my own town of Piedras Negras, Coahuila," and volunteering at Stillwater Public Schools in the Manos Unidos program.
"[It] focused on surveying Hispanic families — mostly non-English speakers — to share their family's experiences and how best Stillwater Public Schools could accommodate them," Mares explained. "I would love for … people to see that there is potential to connect with the Stillwater community in a variety of different ways."
Looking back over his undergraduate experience, Mares said he would give some advice to his freshman self: "Challenge your ideas."
"As I entered OSU with a certain mindset, I was quickly thrown in situations where I was challenged to think for myself and struggle through my decision-making," Mares said. "College is all about the growth."
After graduation, Mares is headed to the University of California at Berkeley to pursue a Ph.D. in their Computational Biology program.
"I am beyond thankful for everyone who has supported me and advised me along the way," Mares said. "I am ready to do all that in the same way for future generations."
Story by: Elizabeth Gosney | College of Arts and Sciences graduate assistant