The Beauty of Bugs: How one OSU Ph.D. candidate blends science and creative writing
Friday, October 20, 2023
Media Contact: Elizabeth Gosney | CAS Marketing and Communications Manager | 405-744-7497 | egosney@okstate.edu
For Lauren Osborn, a doctoral candidate in creative writing at Oklahoma State University, spiders make the perfect muse for creative expression. Her love for spiders and writing kicked off an eclectic academic career focused on using creative writing for scientific study.
While working on her creative writing Master of Fine Arts, Osborn discovered a way to include entomology in her studies. As it turns out, the arts are a way to make science more accessible.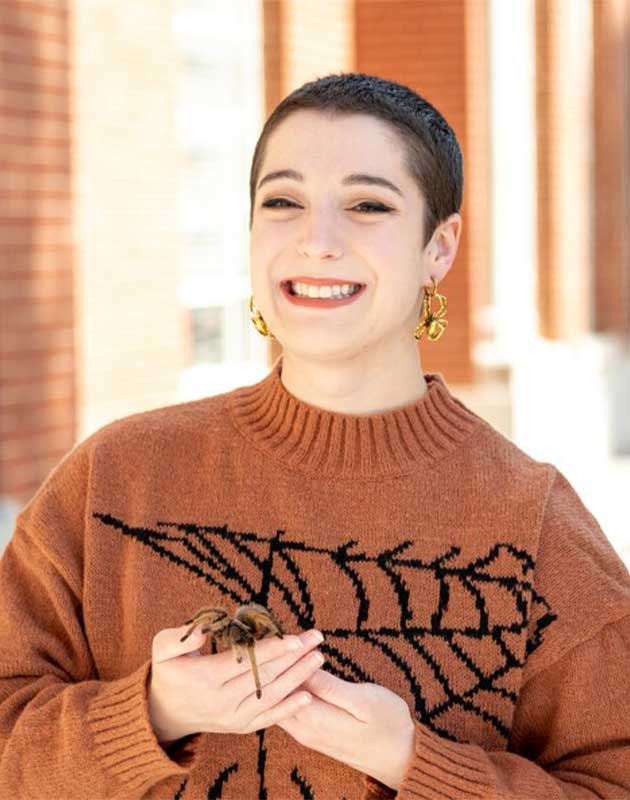 Osborn began her academic journey at the University of Alabama at Birmingham, where she studied behavioral psychology. There, she discovered the subfield of animal psychology and immediately wanted to study spiders.
"I love spiders and insects so much," Osborn said. "And so I was like, 'I think it would be really interesting to do spider behavior, like their thinking, their behavioral patterns.' That would be such a cool thing to research."
Unfortunately, Osborn found only a few Ph.D. programs that studied spider behavior, and those programs didn't favor her psychology background. So, she switched gears to focus on another passion.
"I decided to get my MFA in creative writing," Osborn said. "I love creative writing so much, and I'm good at it. It would be quick, only two years, so I could keep applying to Ph.D.s."
While earning her master's degree, Osborn worked in a psychiatric ward for children and teens. She used her psychology and writing expertise to help the patients. It was a difficult job, but Osborn said she is grateful for the experience.
"That's when I realized creative writing can help people," Osborn said. "It's a good way for both therapy and looking at things differently. I definitely think that helped me go into my Ph.D. with a mindset of, 'Let's use it as a tool,' rather than just writing our stories and publishing."
Eventually, Osborn decided to pursue a Ph.D. in creative writing and study entomology on the side. She was accepted to OSU, which was not a school she originally planned on attending.
"I didn't even know where it was on a map," Osborn said. "I was like, why OK State? I guess this is the place I'm going to choose and get accustomed to. And I found out this is where I needed to be the whole time."
At OSU, Osborn found the connections she needed. Her Ph.D. advisor introduced her to Dr. Wyatt Hoback, an entomology professor, and they got to work.
"I had a few ideas for assignments that could combine creative writing and entomology together," Osborn said. "So I gave it to Hoback, and he was like, 'I like this. Let's test it out with a small honors class.' We did, and the students seemed to really like it too."
The assignment asked students to describe close-up images of bugs in words that had nothing to do with bugs. Associating the insects with familiar language made them less intimidating. For Osborn, this idea applies to academic writing as a whole.
"So many people are just intimidated by academic writing, but I think if you make it sound fun and people think they can be more creative in that aspect, it's easier for people to get started," Osborn said. "So much of academic writing is creative. So, it's just reframing."
When she isn't working on her Ph.D., Osborn immerses herself in the literary community. She is the editor-in-chief of OSU's literary magazine, "Frontier Mosaic." Her goal for this semester is to get more students involved with the magazine regardless of their field of study.
"We need more interdisciplinary collaborations in general between all the colleges," Osborn said. "Maybe one day we'll really break down those barriers of the divide between art and science. Because they're the same thing, honestly. They both require curiosity, critical thinking, problem-solving skills. It's all the same stuff — it's just putting it into different practices."
Osborn exemplifies this idea with her Ph.D. work and her creative writing. She writes short fiction stories, many of which are published in various literary journals. Her work is surreal and heavily bug-centric, often including elements of magical realism. She takes familiar images and makes them completely unfamiliar, encouraging the reader to recontextualize those images.
"Probably 'Gossamer Girl' is my favorite short story that I've ever written and published because it's about spiders," Osborn said, who also recently had her piece "Exodus" published in 'The Adroit Journal.' "I'm a simple lady like that; I love spiders."
Throughout her experience, Osborn has learned that creative writing can be a valuable tool for learning. This has only reinforced her belief that art and science cannot exist without each other.
"In academia, the arts are shrinking," Osborn said. "People are putting less emphasis on their importance. I fear that one day it'll just disappear and then what? So, if we can find ways to make them more important to other majors and other academic places, hopefully the arts will never shrink up. Utilize it as a tool."
Learn more about Osborn's career or to read her published work here.
Story By: Jillian Eckert | jillian.eckert@okstate.edu