Flute professor uses CAS HAD Grant to record Vivian Fine album
Thursday, August 31, 2023
Media Contact: Elizabeth Gosney | CAS Marketing and Communications Manager | 405-744-7497 | egosney@okstate.edu
Dr. Erin Murphy, an Oklahoma State University Greenwood School of Music associate professor, has released an album of flute music with the help of a College of Arts and Sciences HAD grant.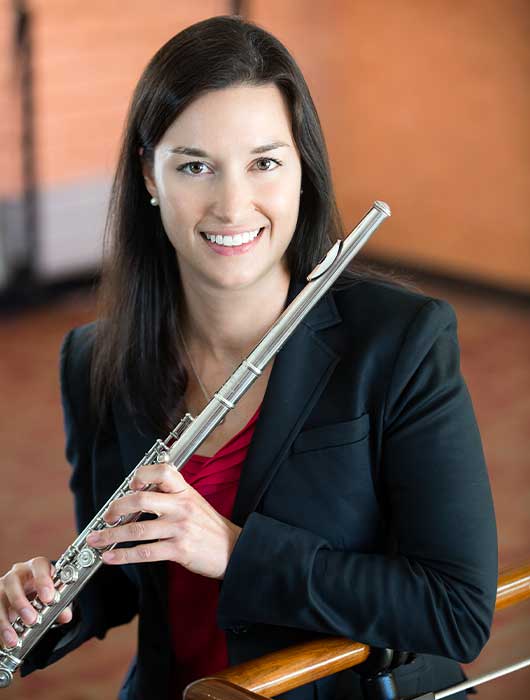 The Humanities-, Arts- and Design-Based Disciplines Grant funded the creation of the album "Dreamscape: Chamber Music for Flute by Vivian Fine," which contains six of Fine's compositions spanning from 1930 to 1993. The album was released by Albany records in June and is also available on digital platforms like iTunes, Spotify, Amazon and YouTube.
"The grant funds made this possible. From the recording, mixing, editing and production to the printing and manufacturing," Murphy said. "It also has supported the licenses and advertisement of the record for national and international markets."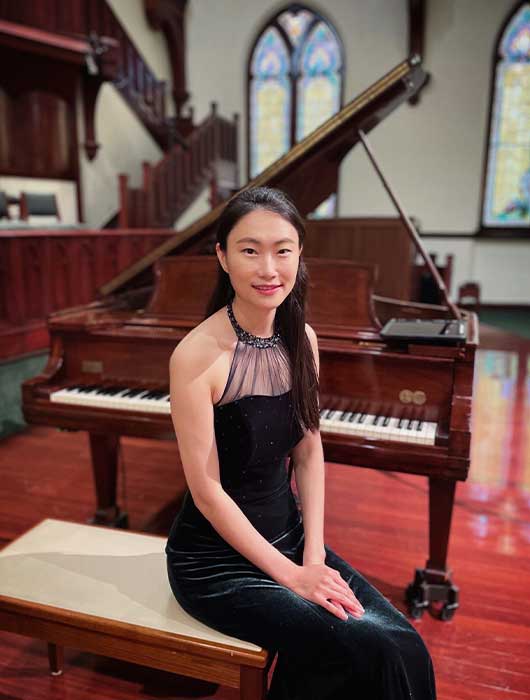 Visiting assistant professor Dr. Hyejin Cho was the pianist on the CD.
"I believe there are three core roles among many different hats we wear as music professors: performer, educator and scholar," Cho said. "The Vivian Fine project is attractive from all three directions. This project is consequential, creating an equal platform for female composers."
Murphy first became acquainted with Fine's music in 2013 when she helped form a chamber group while living in Chicago.
"Our cellist, Christopher, came to us with this Vivian Fine piece called 'Canticles from the Other Side of the River' that he had found while looking on the website International Music Score Library Project, which is full of public domain music," Murphy said. "A lot of music is on there because the composer passed away at least 100 years ago, and it's now in the public domain. But Vivian actually passed away in 2000 — her music is up there because her estate and her family want her music to be out there and used as much as possible."  
Originally from Chicago, Fine was a piano prodigy, receiving a scholarship to Chicago Musical College at age 5. She made her professional debut at age 16 and moved to New York at 18 to continue her studies. She eventually ended up teaching at Bennington College in Vermont. 
"Ever since I did my doctorate years ago, I have been really interested in the music of women composers," Murphy said. "I feel like we're doing better, but look at the statistics of major symphony orchestras in the world and what percentage of women composer pieces are being played. It's very small, less than 10% usually."  
After digging into the music of Fine, Murphy found several other pieces she wanted to perform and, if possible, record.
"Out of the six we did, five had never been recorded professionally," Murphy said. "There are a few live recordings out there, but no professional CD recordings have been released. As I learned more, I thought this composer was really fascinating and wondered what else was out there."  
Diving into Fine's work led to Murphy writing an in-depth article about the composer for Flutist Quarterly. "The Flute Music of Vivian Fine" was published in the Summer 2019 National Flute Association's journal.
While researching for the article, Murphy came across the never-before-recorded piece "Dreamscape." In addition to flutes, cello, piano and percussion, the piece includes a part for a lawnmower.
After talking with the album's sound engineer, Murphy decided to record the lawnmower portion separately from the other instruments and add it in later.
"I didn't even want to touch that — figuring out how to bring a lawnmower into a concert hall," Murphy said. "So before recording the piece in early December 2022, I got my husband to help with the lawnmower part. I said, 'Can you come out to the driveway with me and start the lawnmower a few times? And I'll record it with this hand-held recorder.'"
After conducting her husband through three takes — starting up, idling and cutting grass — Murphy was confident she had what they needed for the final version of their upcoming recording.  
Murphy explained that while "Dreamscapes" has unique components, they work together to create an approachable piece of music. 
"It has its own tonality within the constructs of the piece," Murphy said. "It doesn't sound like some modern music — like a random cat on a piano. It was planned, and things make sense in the context of the piece." 
Throughout the process of researching Fine and recording her music, Murphy reached out to one of Fine's daughters, Peggy Karp. Not only was Karp able to give Murphy archived recordings and CDs of Fine's work, but she also leant insight into Fine's upbringing and musical influences.  
"The compositions on the album span some 63 years, virtually my mother's entire career," Karp said. "They are arranged in chronological order, so listeners can hear both her compositional journey and the qualities that persist throughout — powerful rhythmic vitality, keen dramatic sensibility, great freedom and beauty of line and phrase."
As Murphy works to shine a light on Vivian Fine's work, she recognizes barriers to the performance of Fine's pieces.
"A lot of her music is basically in manuscript form, meaning it hasn't been made into standardized sheet music," Murphy said. "I think one of the challenges to performing her music is that it isn't as straightforward as looking at a standard sheet of music. Her writing is beautiful, but there's the added hurdle of reading the manuscript."
In the future, she hopes to make Fine's work visually accessible to artists to increase performances of Fine's pieces.
"I'd like to make editions that use music score writing programs so that it looks like the music that we read every day and less like manuscripts," Murphy said. "This will eliminate the extra level of trying to figure out what note might be beneath an ink smudge."
This project was Murphy's second HAD Grant. She has been able to record three CDs in her time at OSU and credits that to taking the chance to put yourself out there.
"It's about finding that research gap in the field and figuring out how we fill that gap," Murphy said. "My project can speak to not only educators and flutists but also the general public that doesn't know about these pieces. When you apply for these things [grants] sometimes you think, 'Well I'm up against someone that's curing cancer, so is this even worth applying for?' But like I tell my students, 'You can't get that thing unless you apply for it.'"
To learn more about Fine, visit her website. Discover more about the Michael and Anne Greenwood School of Music at Oklahoma State University here.
Story By: Erin Weaver, CAS Communications Coordinator | erin.weaver@okstate.edu