Geology's Jim Puckette receives two awards from American Association of Petroleum Geologists
Monday, November 13, 2023
Media Contact: Elizabeth Gosney | CAS Marketing and Communications Manager | 405-744-7497 | egosney@okstate.edu
Dr. Jim Puckette of the Boone Pickens School of Geology at Oklahoma State University recently received two awards from the American Association of Petroleum Geologists Midcontinent Sectional Conference.
Puckette was first honored with the Robey H. Clark Memorial in recognition of his years of service and numerous contributions to the science of geology.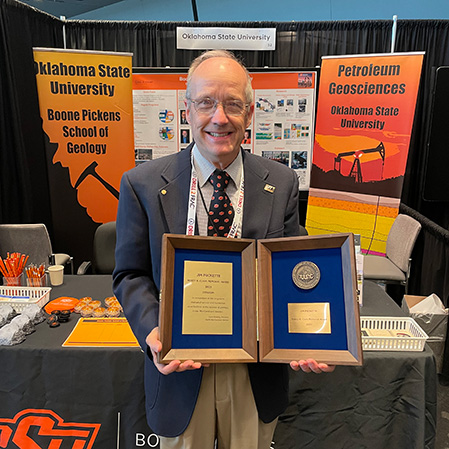 "This award was a surprise to me and I'm honored to be considered in the same group as Tom Cronin and Dub Peace, two successful geologists who also won the award," Puckette said. "As one who champions Oklahoma geology, the many years of presenting research results to the AAPG midcontinent section meetings and the midcontinent geological societies must have caught up to me."
Puckette expressed his desire for the Robey H. Clark Memorial Award to encourage other geologists to continue working in and studying the geology of Oklahoma and neighboring states.
"This award is for long-term service, so I hope students recognize how important service to and participating in professional organizations is to any career," Puckette said.
He added that it is crucial to work together as faculty, students and alumni to put OSU in a positive light through meaningful applied research in support of the industry.
Along with fellow researchers Brandon Stukey and Cory Godwin, Puckette also received the Roger L. Planalp award for best poster at the AAPG meeting. The poster's project was completed two years ago, but due to the frequency of the AAPG Midcontinent Section conferences, Puckette was just able to receive the honor on behalf of the team this October.
"I hope that accepting the Roger L. Planalp award for my co-authors will urge students and professionals alike to present their work and continue learning in the process by listening to and discussing science with other geologists," Puckette said.
To learn more about the Boone Pickens School of Geology, visit the department's website.
Story By: Adeola Favour, CAS graduate assistant | fadeola@okstate.edu