OSU, Catholic Charities team up to prepare Payne County inmates for the High School Equivalency Test 
Tuesday, August 8, 2023
Media Contact: Elizabeth Gosney | CAS Marketing and Communications Manager | 405-744-7497 | egosney@okstate.edu
Through a partnership between Oklahoma State University College of Arts and Sciences faculty and Catholic Charities of Eastern Oklahoma, Payne County Jail inmates are working to receive their high school diplomas.    
The High School Equivalency Test (HiSET) program at the Payne County Jail, which began in August 2022, brings OSU faculty into the facility to teach courses to female inmates in language arts, math, science and social studies. These courses prepare students to take the HiSET and ultimately earn the equivalent of a high school diploma — an opportunity never before offered at the facility.    
"The short-term impact of educating inmates in the jail is the morale and self-esteem boost," said Capt. Reese Lane, Payne County Jail administrator. "The longer-term value comes as they are discharged to re-enter the community. From better employment opportunities to writing skills to having the ability to read and understand simple instructions, every part of life is so much richer with an education."   
At the outset, OSU teaching associate professors Dr. Kathryn Weinland and Dr. Melissa Mills partnered to coordinate and teach social studies and math courses. They were soon joined by fellow teaching associate professor Dr. Eric Howerton, who headed up language arts classes. After the first six weeks, students took practice tests to measure their progress and showed significant improvement.    
"Watching our students' confidence grow has been really gratifying," Weinland said. "When each class starts, they seem unsure of themselves and a little overwhelmed, and then they transform into these hard-working students who ask questions and do the homework and accomplish more in the class than what they thought they could."   
Over the past year, the program has received funding from CCEOK, a CAS Community Engagement Grant and other generous donors. In March 2023, the Payne County Jail was officially established as a paper testing site for the HiSET test, which is administered by CCEOK.    
"Some of our students had tears in their eyes when we told them that the jail was an approved testing site," said Weinland, who serves as the HiSET program coordinator. "It really brought a new level of excitement and momentum for the women because they knew that they could have the chance to actually earn their diplomas while incarcerated."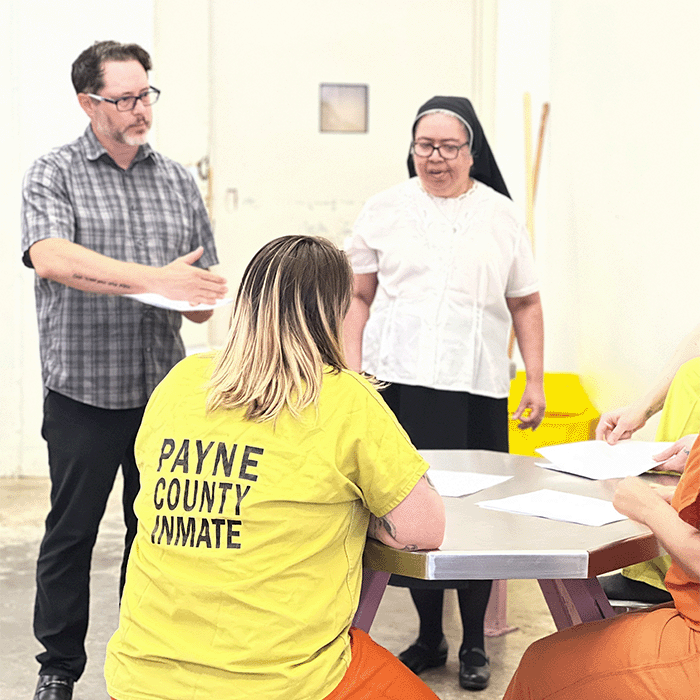 In May, Sister Catherine Martinez, CCEOK education site coordinator, traveled to the facility from Tulsa to administer the jail's first test.    
"This work with the women is a way to be present to a population that is often underserved and ignored," Martinez said. "Through our presence and our partnership with OSU, we are enabling women to have an opportunity for a better future for themselves. The tagline for Catholic Charities of Eastern Oklahoma is 'Love Changing Lives.' Working with the individuals at Payne County Jail is a practical way to live out this tagline because there is no better way to express openness, acceptance and God's love for another than to be present to them and assist them in creating a better future."   
In the year since its inception, the program has expanded to include OSU faculty and graduate students from the departments of Psychology, Math, English, History, Microbiology and Molecular Genetics, and Political Science. As courses begin this month, Weinland and the other volunteers are keeping OSU's land-grant mission at the forefront of their minds.    
"OSU's land-grant mission says in part that we seek to enrich the lives of the people in Oklahoma, and improving the lives of our community members who are incarcerated with an opportunity for much needed education is a meaningful fulfillment of our mission," Weinland said. "I firmly believe that empowering people who are incarcerated with education will directly benefit our community and our state."   
Story By: Erin Weaver, CAS Communications Coordinator. Contributions by Elaine Sweeney and Kathryn Weinland. | erin.weaver@okstate.edu