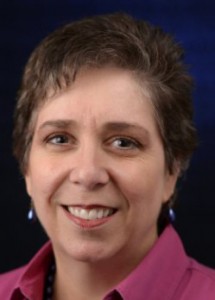 Oklahoma State University alumna Ann Dyer recently spoke with Watson Graduate School of Management Professional Development course students about driving change in a company and the soft skills necessary to do so.
Dyer obtained both her bachelor's degree and master's degree from OSU. She has 28 years of experience working at Accenture and is currently a managing director of the southwest region.
Her presentation focused on three ways of driving change in a company, do research, build the case for change, and build alignment for the journey. When discussing the research aspect of driving change, Dyer encouraged students to read up on the executive leaders they are attempting to do business with not only on company websites, but also on networking sites such as LinkedIn.
"It is important to know where they worked prior to their current position because it can show what type of person they are," said Dyer. "Do your homework because the more you know about the leadership, it will really help you build relationships and be successful."
As Dyer addressed soft skills, she focused on important aspects as knowing your leadership brand and be authentic, consistent and courageous. As explained by Dyer, one's leadership brand is made up of the person's voice, footprint, presence and legacy.
In her discussion, she expressed the importance of establishing a presence within the organization by increasing face-to-face presence and being aware of what you do when you walk in a room.
In closing, Dyer discussed the Social Style model and encouraged the students to know which quadrant they fall in and how to deal with people who fall in other quadrants.
First-year MBA student Sarah Gile found this part of the presentation useful.
"I loved how Ms. Dyer required us to receive outside input in order to determine our personality style instead of having us rely on our own opinion," said Gile. "She had a very humorous way of explaining reactions of each personality type."
"Ms. Dyer is a very successful management consultant, and I knew her wisdom about the importance of soft skills, especially as they relate to the consulting industry, would be very valuable to my students," said Ajay Sukhdial, professional development course professor. "Because Dyer is an alumna of the Spears School of Business, she is an especially relevant role model for my students."
For more information on OSU's Watson Graduate School of Management, visit http://watson.okstate.edu/ or call 405-744-9000.