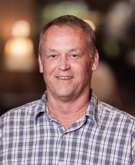 Oklahoma State University's Watson Graduate School of Management students learn many aspects of business in class. Jeff Smith, director of human resources at capSpire Corporation, recently shared advice on soft skills in a professional setting with students.
Smith is an OSU MBA alumnus and is also responsible for capSpire's college hiring process. capSpire is a global consulting and solutions company that solves difficult business and technology problems for commodity-focused organizations. His experience and position helped him provide insight to students about getting hired by corporations.
In a presentation called "Soft skill development to focus on now," Smith explains proper business etiquette and provides examples. He begins with the "set-up" describing the relationship of the boss and the subordinate.
"Soft skills do not just happen, they improve over time," Smith said.
Developing soft skills is a lifetime effort and is never ending. People can always improve their communication and professional skills.
"I learned why some people do not relate to me," Smith explains.
People do not always relate to each other because they are different. To react to this, people must understand and learn to recognize and adapt to weaknesses.
Next, Smith goes on to explain communications skills, and most importantly listening. He also talks about things to put into practice such as making eye contact and paying attention while not interrupting. Do not assume anything, and be genuinely interested in hearing from others rather than listening to yourself talk.
"Believe in the power of the network," Smith emphasizes.
Students listened to Smith's advice on soft skills, and had the opportunity to interact with him at lunch, and ask questions.
"It was great listening to Jeff Smith come speak with our class. He had some great insight about what it takes to get hired and be a valuable employee," Kaylee Gryzmala, OSU MBA student, said. "I had the pleasure of eating lunch with him afterward and received some wisdom and guidance for my future career."
While Smith provides great wisdom in business, he often suggests his favorite informational book to those looking to develop their soft skills.
"If you do but one thing, read Dale Carnegie's book, 'How to Win Friends and Influence People,'" Smith concludes.