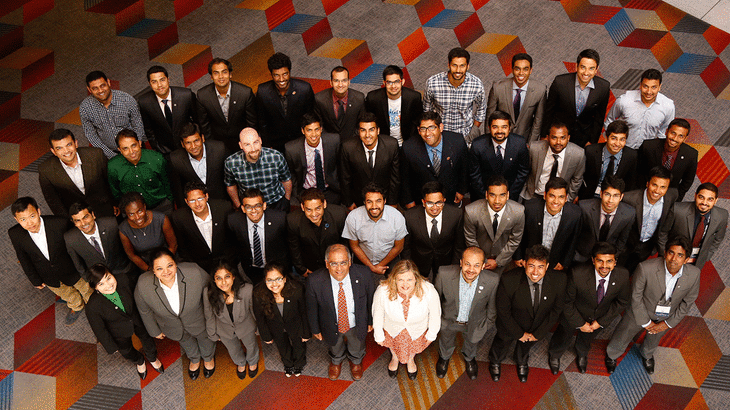 More than 45 Oklahoma State University students, alumni and faculty attended the SAS Global Forum 2016 on April 18-21 in Las Vegas. The conference, planned and sponsored by the SAS Global Users Group, brings together the best and brightest SAS users and experts from around the world.
OSU Spears School of Business students once again demonstrated­­­­ their excellence by earning some of the most coveted honors given during the SAS Global Forum.
The SAS Ambassador Award is the highest honor a student can receive with only 15 students worldwide being recognized based on their demonstrated ability to use SAS analytics research. This year two OSU students – Vinoth Kumar Raja and Mostakim Tanjil – received the SAS Ambassador Award.

"I am extremely proud of our students trained in analytics and data mining. Their phenomenal performance at the SAS Global Conference once again demonstrated they are among the best in the world," said Goutam Chakraborty, Ralph A. and Peggy A. Brenneman professor of marketing at the OSU Spears School and the director of MS in Business Analytics program as well as the director of Graduate Certificate Programs in Business Data Mining and Marketing Analytics.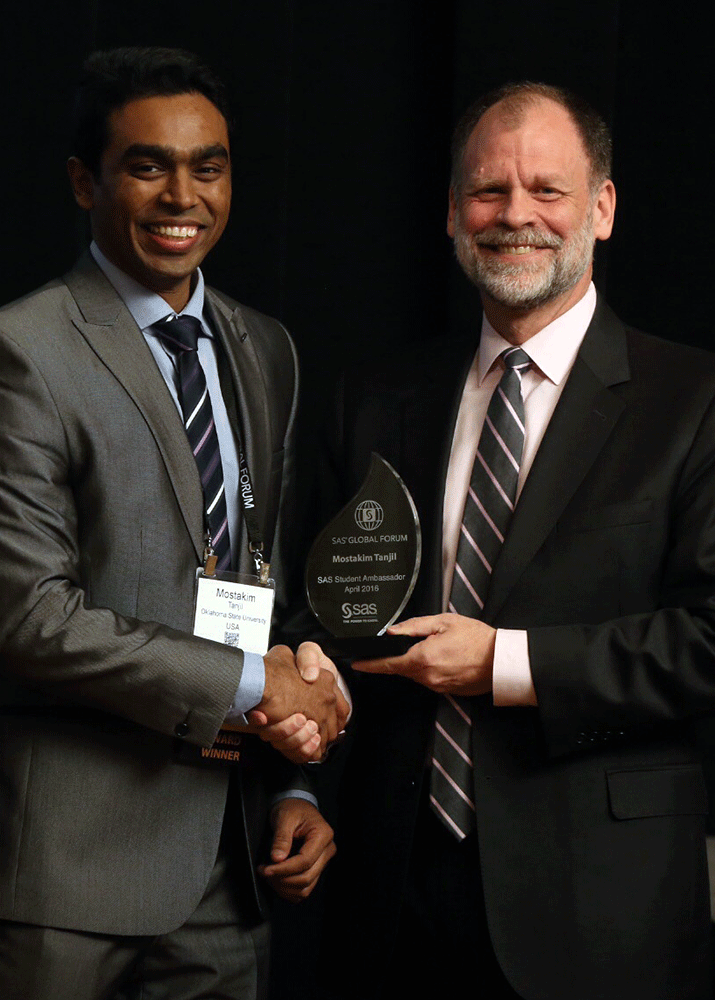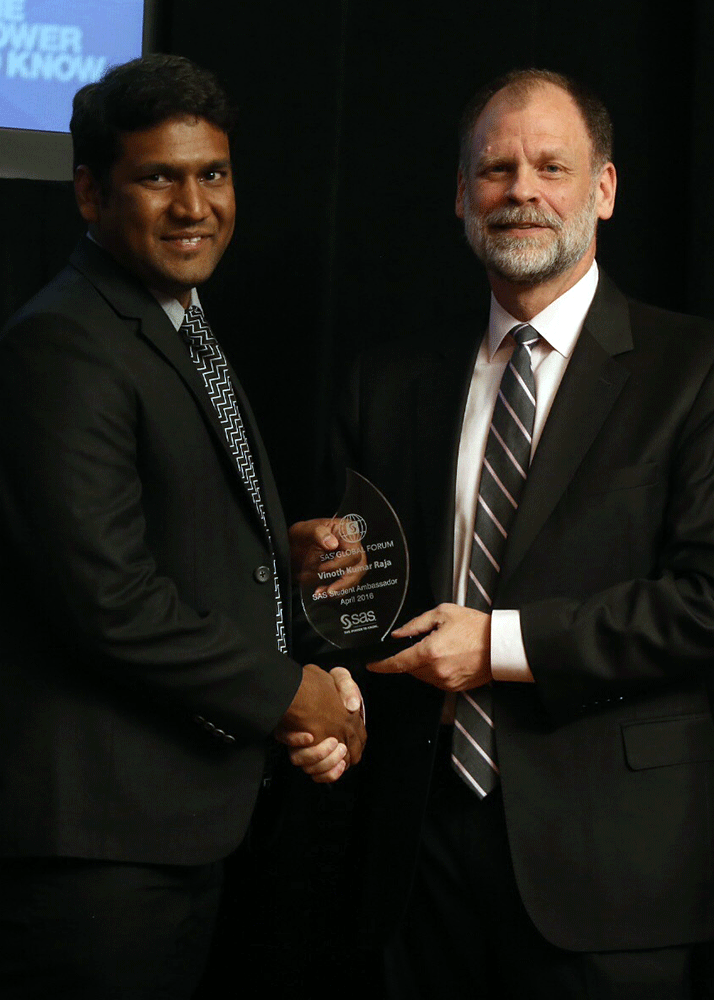 Chakraborty also chaired the academic summit at the conference.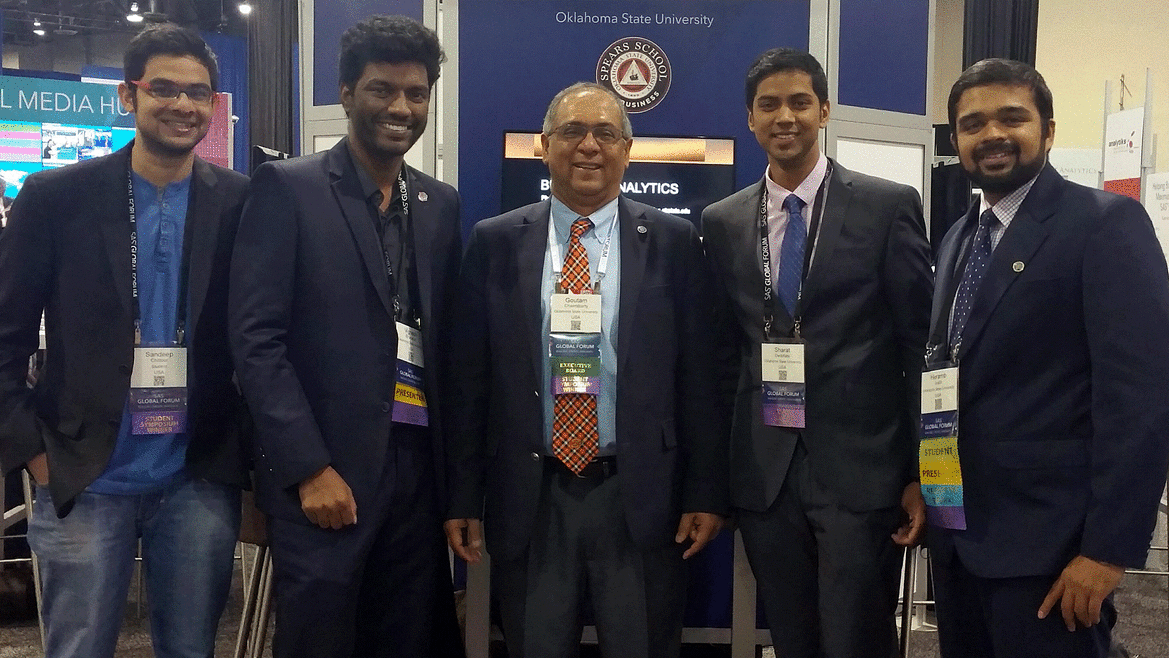 A team of OSU analytics students Sandeep Chittoor, Vignesh Dhanabal, Sharat Dwibhasi and Heramb Joshi­ finished second out of more than 50 student teams who competed in the student symposium.
Heramb Joshi also received SAS Scholarship award, given to 15 students each year for their paper and poster at the conference.
Many OSU students, faculty and alums presented papers on topics such as text mining, customer segmentation and predictive modeling at the SAS Global Forum 2016. The presenters and their paper titles include:
Vinoth Kumar Raja and Vignesh Dhanabal, Improving Performance of Memory-Based Reasoning Model by Using Weight of Evidence Coded Categorical Variables
Prithvi Raj Sirolikar and Ameya Jadhavar, Analysis of IMDb Reviews for Movies and Television Series Using SAS® Enterprise Miner™ and SAS® Sentiment Analysis Studio
Karush Jaggi, Debt Collection through the Lens of SAS® Analytics
Rhupesh Damodaran Ganesh Kumar and Kiren Raj Mohan, Predicting Rare Events Using Specialized Sampling Techniques in SAS®
Aditya Sharma, Text Classification Tool to Classify Procurement Materials into Material Groups Using SAS® Enterprise Miner™
John Harden, Lyric Complexity and Song Popularity: Analysis of Lyric Composition and Relation among Billboard Top 100 Songs
Divya Dadi and Rahul Jhaver, Effective Ways of Handling Various File Types and Importing Techniques Using SAS®9.4
Sharat Dwibhashi, Measuring Brand Sentiment Using Smileys
Mukherjee Soumil, Predicting the Influence of Demographics on Domestic Violence
Using SAS® Enterprise Guide® 6.1 and SAS® Enterprise Miner™ 12.3
Ravikrishna Vijaya Kumar and Shrieraam Sathyanarayan, Predicting Occurrence Rate of Systemic Lupus Erythematosus and Rheumatoid Arthritis in Pregnant Women


Akansha Gupta and Raja Rajeshawari veggalam, Survival Analysis of the Patients Diagnosed with Non-Small Cell Lung Cancer Using SAS® Enterprise Miner™ 13.1


Sagar Rudrake, A Text Analytics Approach for Unraveling Trends in Government Funding for Small Businesses


Maitreya Kadiyala and Karan Rudra, Arrest Prediction and Analysis based on a Data Mining Approach


Heramb Joshi, Using SAS® Text Miner for Automatic Categorization of Blog Posts on a Social Networking Site Dedicated to Cyclists


Saurabh Nandy, Comparative Study of PROC EXPORT and Output Delivery System


Praveen kumar kotekal, Predicting Response Time for the First Reply after a Question Is Posted in the SAS® Community Forum


Minh Pham, Application of Gradient Boosting through SAS® Enterprise Miner™ to Classify Human Activities


Saurabh Nandy, Improving Customer Relationships Using Targeted Surveys for Hoteliers


Woranat Wongdhamma, Diagnosing Obstructive Sleep Apnea: Using Predictive Analytics Based on Wavelet Analysis in SAS/IML®
Software and Spectral Analysis in PROC SPECTRA


Anirban Chakraborty, Using Analytics to Devise Marketing Strategies for New Business


Sri Harsha Ramineni and Koteswarara Rao Sriram, Forecasting the Frequency of Terrorist Attacks in the United States and Predicting the Factors that Determine Success of Attacks


Heramb Joshi and Aditya Sharma, Comparative Regional Analysis of Bacterial Pneumonia Readmission Patients in the Medicare Category


Josephine Akosa, Application of Data Mining Techniques in Improving Breast Cancer Diagnosis


Ram Poudel and Lynn Xiang, Predicting If Mental Health Facilities Will Offer Free Treatment to Patients Who Cannot Afford It


Mostakim Tanjil, Predicting the Current Market Value of a Housing Unit across the Four Census Regions of the United States Using SAS® Enterprise Miner™ 12.3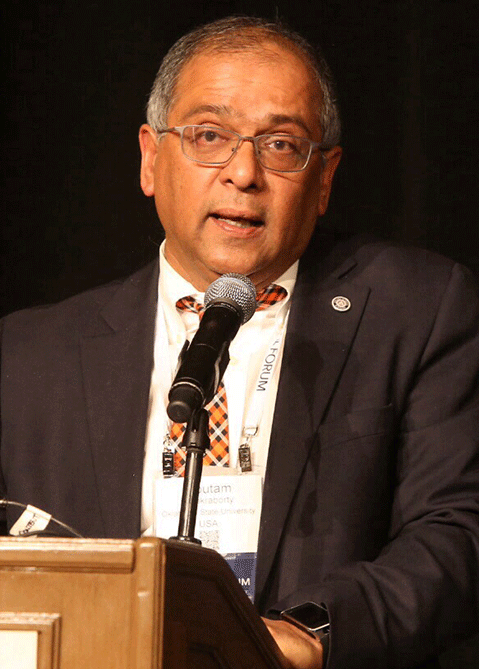 Developed in partnership with SAS®, OSU's MS in Business Analytics degree is intended for students with engineering, mathematics, statistics, science, information technology or business background with a passion for working with data to solve challenging business problems. It is an interdisciplinary program that offers hands-on application of data analysis along with a unique blend of coursework in Analytics, Machine Learning, Marketing, Statistics, Business, MIS and Industrial Engineering. In addition to the MS degree, students in this program may also earn certificates in Data mining, Predictive Analytics and Data Science jointly awarded by OSU and SAS®. The on-campus option is for full-time students, requires 37 credit hours and typically takes 21 months to complete. An online option is available for working professionals, requires 33 credit hours and typically takes 3 or more years to complete.
The SAS Global Forum offers unequaled educational and professional opportunities for attendees and provides a means for SAS software users to network and exchange ideas.
For additional information about OSU's various programs on analytics and data mining, visit http://analytics.okstate.edu, or contact Chakraborty at 405-744-7644 or by email: goutam.chakraborty@okstate.edu. For more information about SAS Global Forum 2016, visit http://www.sas.com/en_us/events/sas-global-forum/sas-global-forum-2016.html