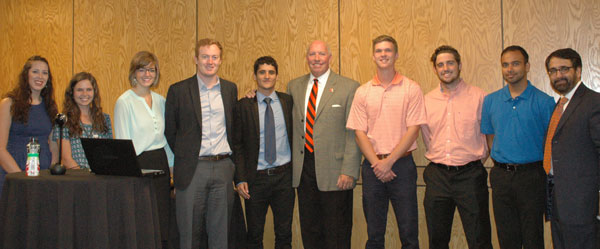 Michael L. Greenwood, Oklahoma State University Spears School of Business alumnus, spoke with Watson Graduate School of Management students September 23, 2016 and shared his background growing up in Tulsa, Okla., along with advice on some keys to success in his business career.
Mr. Greenwood is the founder and managing director of Carnegie Capital LLC, a financial advisory services firm. He received his degree in business administration with an emphasis in marketing and economics from Oklahoma State University in 1977, and then earned his MBA in 1980 from the University of Tulsa, graduating summa cum laude.
"It was very encouraging to hear from a previous student how his perseverance and never giving up attitude helped him to be successful in his career," Ratan Putla, MBA student, said. "I liked the way he did not lose hope but availed every opportunity he got, which actually made him more successful."
Mr. Greenwood is a generous supporter of both the university, serving as an OSU Foundation Trustee, OSU Student Foundation sponsor, Spears School of Business the Associates member, and the community, including the Stillwater United Way, Payne County Youth Services, the American Cancer Society, the National Multiple Sclerosis Society, and many more.
"I wake up every day amazed at where I am in life based on where I started," said Mr. Greenwood, who was honored in 2014 as a Spears School Tribute: 100 For 100 honoree on the 100th anniversary of business education at OSU and was inducted into the Spears School of Business Hall of Fame in 2015.
Mr. Greenwood shared what he has learned as some keys to a successful business career. First, he urges professionals to make the resolve to persevere. Second, he encourages everyone to find their passion. In college, he chose to pursue a degree in marketing at OSU because the degree plan covered a variety of classes. This gave him the most experience in different aspects of business.
Next, Mr. Greenwood spoke on how everyone should never stop learning. Students can learn many things in the classroom, but it is much different when those theories are put into practice in a real-life or business situation. Then, he emphasizes people should take time to make everything the best it can be because it does not matter how fast something is completed if it is wrong.
Finally, Mr. Greenwood encourages students to seek new opportunities. People should challenge and grow themselves in their position at work. You should develop yourself, not just rely on the company's plans for your development.
"I learned from his testimony that if we consistently keep to our way, despite ups and downs, we can eventually make it on life's journey," Putla said.
He knows he is successful in his job when others can look to him for advice.
"I made it a personal objective to be the go-to guy at every job," Mr. Greenwood explained.
A final important message from Mr. Greenwood is that he strongly believes happiness comes from paying it forward and he closed with one last motivational thought for students.
"You can do anything you want, it's up to you," Mr. Greenwood emphasized.