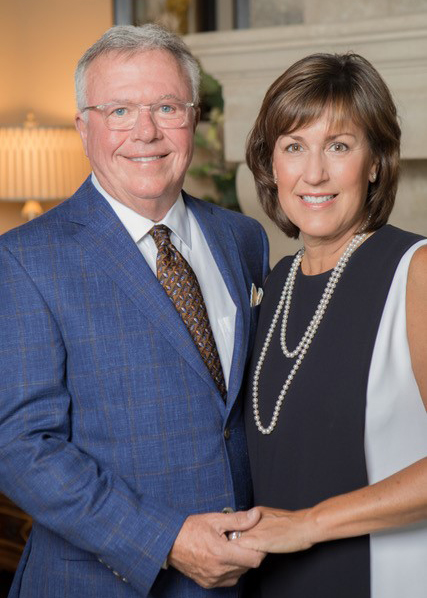 Oklahoma State University's Spears School of Business will recognize several distinguished alumni and a group of former coworkers who are making the difference in the lives of students at the 2017 Hall of Fame banquet at 6:30 p.m. on Nov. 3 at the ConocoPhillips OSU Alumni Center.
The annual banquet recognizes OSU graduates with distinguished professional careers who have given back to their communities and displayed leadership skills. Diane Tuttle, Steve Tuttle and the ExxonMobil Controllers Alumni Group will be honored as inductees into the Spears Hall of Fame, the highest honor awarded by Spears Business.
Also, Rob Haight, Craig Ireland and Brandi Surine will be honored as Outstanding Young Alumni at the banquet.
"For the past 52 years, we've been honoring some of our finest graduates and this year's honorees are certainly deserving to join this impressive group," said Ken Eastman, dean of Spears Business. "Both Diane and Steve Tuttle are an inspiration to all of us at the Spears School through their professional and personal success and the ExxonMobil Controllers Alumni Group includes eight ExxonMobil retirees (and their spouses) who are great examples of the impact a unified group can have when pooling their resources and working together."
Steve and Diane Tuttle are longtime supporters of OSU and Spears Business. A Tulsa native, Steve attended OSU for two years before he was drafted into the Army, serving from 1969 to 1971 as a military police officer in Vietnam. He returned to OSU following the war, earning a bachelor's degree in marketing in 1973.
He began his long career in the energy sector when he took a job with Mapco in Tulsa as a distribution representative after graduation. Steve joined NGL Supply Inc., in 1979, and he joined a couple of partners in purchasing the company six years later. They eventually took the company public, changed the name to NGL Energy Partners and saw it expand from 120 employees to nearly 3,000 over the next 2 ½ years. Steve retired in 2012, and spends much of his time supporting OSU, the Spears School and Cowboy and Cowgirl athletics.
Diane earned her bachelor's degree in business management in 1985 from OSU. After working various jobs for several years, she began her successful career in the natural gas liquids industry. Diane began her career at Cimarron Gas Companies, helped implement the start-up of a U.S.-based natural gas liquids trading company for Petro-Canada, and was recruited to help create the natural gas liquids trading division for ONEOK, and eventually became an energy trader. Diane moved to the natural gas division for ONEOK to renegotiate contracts with independent gas companies.
Since retiring, Diane is involved in volunteer work in a multitude of areas, including schools, church, civic and OSU. She has served as a board member for the Gas Liquids Distribution Association, was a member of the Oklahoma Energy Resources Board (OERB), the Heart Ball event chair for the American Heart Association, a council member for Women Impacting Tulsa, and council member and events team leader for Women for OSU.
The Tuttles have been longtime supporters of OSU, endowing a football scholarship while also giving to the basketball, golf and baseball programs. They are members of the President's Fellows, Proud & Immortal inductees, and most recently funded the Stephen and Diane Tuttle Accelerator in the new Business Building.
The Tuttles have three children – Justin Tuttle, who is married to Marissa Tuttle, living in Frisco, Texas; Natalie Belie, an OSU grad who lives in Tulsa, and Lindsey Belie, who lives in Madill, Okla.
The ExxonMobil Controllers Alumni Group includes Jim and Linda Alcock, Jim and Susan Heidebrecht, Tom and Suzanne Hill, Terry Hinshaw, Bill and Toni Stone, Stan and Kathy Strong, Rhonda Sweeney, and Alan and Paula Tye.
In 2004, these loyal OSU alums created the ExxonMobil Alumni Controllers Fund, taking advantage of ExxonMobil's 3-to-1 matching program, to create an endowed scholarship for OSU MBA students. Five years later, they took advantage of the Pickens Legacy Scholarship Match program, which when realized, the fund will grow to more than $2.5 million.
The fund is the largest endowed scholarship in Spears Business. In 2013, in addition to scholarships for MBA students it began assisting accounting students. To date, more than $230,000 has been awarded to 39 students from the scholarship fund. Also, the group is now funding a chair in ethics in Spears Business, and has made a donation to the new Business Building and the Eastin Center for Career Readiness. The group also supports other areas of OSU based on their individual passions.
Jim and Linda Alcock, Dallas (Jim earned a bachelor's degree in economics from OSU in 1964 and his MBA in 1965, while Linda earned a bachelor's in family resources and child development in 1965);
Jim and Susan Heidebrecht, Greenville, S.C. (Jim earned a bachelor's in accounting in 1959 and his MBA in 1963);
Suzanne and Tom Hill, Houston (Suzanne earned a bachelor's in business education in 1963, while Tom earned his degree from the University of Oklahoma);
Terry Hinshaw, Miami Beach, Fla. (he earned both his bachelor's and master's degrees from OSU in 1962 and 1963);
Bill and Toni Stone, Stillwater (Bill earned a bachelor's in general business in 1963, and Toni earned a bachelor's in English, '63, and master's in education, '67);
Stan and Kathy Strong, Houston (Stan earned a bachelor's in industrial design and Kathy earned a bachelor's in business and public administration, both in 1963);
Rhonda Sweeney, Houston (she earned a bachelor's degree in math in 1973;
Alan and Paula Tye, Edmond, Okla. (Alan earned both bachelor's and master's degrees in accounting from OSU, 1962-63, and Paula earned her bachelor's in psychology, family studies (counseling) and gerontology from Southern Nazarene University).
In 2001, the Outstanding Young Alumni award was established to recognize alumni who have provided significant service and achievement early in their professional careers. This year, three outstanding individuals will be honored.
Rob Haight received his bachelor's degree in accounting and management information sciences in 2004 from OSU. He is a member of BKD National Health Care Group and serves as assistant accounting and auditing director for BKD's Oklahoma and Wichita offices.
Haight has 12 years of experience providing accounting and audit services to not-for-profit and for-profit hospitals, continuing care retirement communities, foundations, governmental entities and insurance providers. He has served as an instructor for BKD's firm-wide internal training programs, including Camp BKD for new professionals and training for one-year and two-year professionals.
Craig Ireland's roots run deep in Stillwater and OSU. His dad, Tim Ireland, was a longtime Spears Business faculty member who retired in September. After earning bachelor's degrees in accounting, finance and commercial bank management from OSU, he worked for a national wireless communications company in Dallas. He also worked for Paradigm Air, Hilti Corporation, Compression Solutions and Southwestern Medical Center.
Ireland is employed as the chief financial officer for CEC Corporation, one of the oldest and largest Oklahoma-based multi-disciplinary engineering firms in Oklahoma.
Brandi Surine graduated cum laude from OSU in 2004 with a bachelor's degree in marketing. She is currently an associate vice president and enterprise architect at ISN in Dallas.
Since joining ISN in 2004, Surine has held various business development, technical and leadership roles within the organization. Her experience includes leading teams focused on contractor management for operators in oil and gas manufacturing, customer service and, most recently, product development. She has had the opportunity to speak to more than 100 classes and organizations at OSU to share ISN from a recruiting perspective. She has also served as a primary ISN representative at multiple OSU events in Stillwater, Chicago and London.
For more information about the Spears School Hall of Fame, please contact Rebecca Charbonneau at 405-744-1120 or Rebecca.charbonneau@okstate.edu.