Ph.D. Alumnus James Bishop visits Spears Business for an early Homecoming
Monday, October 30, 2017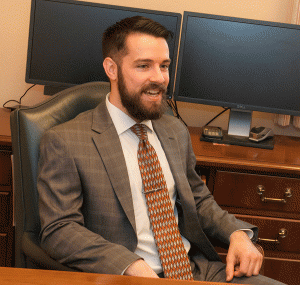 Homecoming was still one week away but Oklahoma State University economics alumnus James Bishop (Ph.D., 2016) made an early pilgrimage back to his alma mater at Spears School of Business in early October.
Born and raised on the big island of Hawaii, Bishop made his decision to come to OSU as an undergraduate student like he appears to make every decision, methodically and well-researched.
"I knew I was a National Merit Scholar, and when the scholarship offers started coming in, the very best offer was from OSU. So, that made my decision for me," he said. "I looked it up and the best LSAT scores came from economics and math majors, so I majored in economics."
And after a well-calculated decision as he was nearing graduation, he decided to not attend law school.
"I did my research, what my life would actually be like going to law school and my career after that, what being a being a lawyer would really be like. Also, bringing economics into it of course, the market for lawyers is quite saturated. It's hard to get a job."
Instead, Bishop decided to stay at OSU for five years at the nudging of professor Jim Fain, who informed him of available scholarship money if he stayed on as a graduate student.
This decision led to Bishop's post-grad career that culminated in a master's degree and Ph.D. in economics from Spears Business. Soon after graduation, Bishop would land what he would describe as his "dream" job as a research staff member.
"I ended up with a pretty fantastic job at the Institute for Defense Analyses (IDA) in Washington, D.C."
When asked how obtaining a Ph.D. in economics from Spears Business prepared him for his career today, Bishop reflected on how his studies at OSU sculpted his brain.
"It's about a way of thinking, it's thinking how can we be confident in cause/effect relationships, how people respond to incentives," he said. "Help people foresee the effects of their policies and make them aware that although something may sound good, you have to think in an economic mindset. What incentives motivate people, always factoring in new constraints."
In addition to crediting his economic-centric way of thinking to his years of learning at OSU, Bishop also had a very specific "real-world" example of how his studies have helped him in his career today. You can hear Bishop's infectious laugh as he peers off into the corner remembering back to an earlier time as an undergraduate student.
"Linear and non-linear programming, it was an undergrad math class and I had no idea when I took this course how relevant it would be," Bishop said. "Just now, I had to develop a framework to solve for the optimal workforce mix for medical professions in the military for IDA. It was a tough problem, a math problem… and then it hit me like that, a blast from the past. I used what I learned in that course (linear and non-linear programming) six years ago to develop the framework. So yeah, it really came in handy."
Although his job is located in the nation's capital, it was very important for Bishop to work for an employer that wasn't swayed by political ideologies.
"That is a central tenant of IDA, to be neutral, to let the data speak for itself and not be influenced by political objectives. That was very important for me in choosing this job, I wouldn't want to work for a place that conducts research for the purpose of advancing one agenda or another."
Bishop's former graduate advisor, professor John Winters, brags on his former student, protégé and friend.
"Part of his dissertation was accepted for publication in the American Journal of Health Economics," he said. "AJHE is a newer journal, but it is very selective and many expect it to eventually be the premier journal in health economics. I was James' chair and adviser. He was an outstanding student. He also had some of the best teaching evaluations we have ever seen from an economics graduate student instructor."
And the admiration seems to go both ways. When asked about his former professor and mentor Bishop says, "He is just unbelievably hard-working and well-published. I absolutely made a fantastic choice in making him my adviser."
Bishop beams his large smile and gets up from Winters' office chair to shake my hand and take off for lunch with Winters and others from his days at Spears Business. It's obvious from his excitement to be back in the hallways of the Business Building among his favorite professors, that Bishop really felt he was back home.