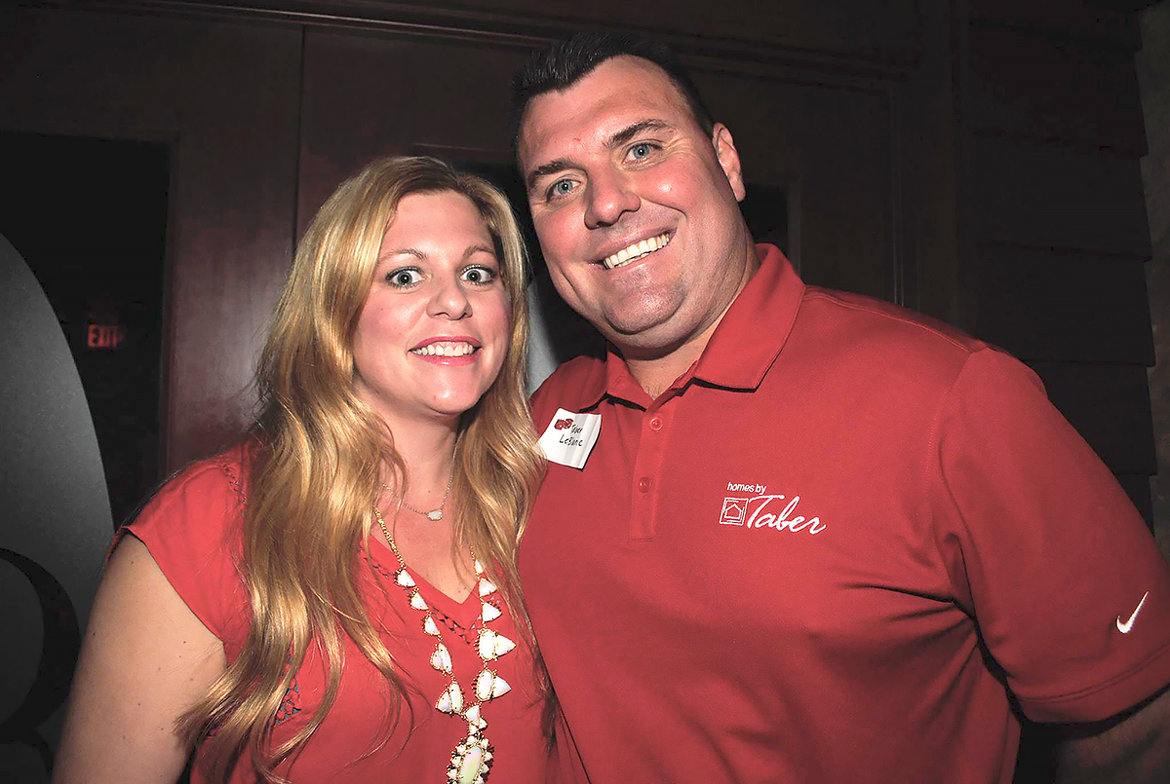 Oklahoma State University alumnus Taber LeBlanc is the man behind Oklahoma City home building industry leader Homes by Taber. And it was at OSU's business school that LeBlanc learned about leadership, marketing and achieving success in today's ever-changing business climate.
Born in Wichita, Kansas but raised in Edmond, Oklahoma, LeBlanc came to Stillwater on a football scholarship and graduated with a management and marketing degree in 1999. Shortly thereafter, he married his high school sweetheart and began the business that is known today as a market leader, boasts increasing profits and continues to expand with its consistent success.
We recently asked LeBlanc how his business degree from OSU helped him to become the successful entrepreneur he is today.
Tell us about your roots.
I grew up in Edmond, Oklahoma. My father was a geologist and my mother worked in retail. My father somehow remained in the oil business through the 1980s oil bust. I had a great upbringing and would not change it for anything. I was taught to work harder than everyone else. We were not poor, but we were very far from being rich. With Edmond having one of the highest per capita incomes in the state, many of my classmate's families had more of everything. They drove nice cars and wore expensive clothes. Seeing what others had allowed me to dream big. I knew that one day with hard work, I could have it too. In high school, I excelled in athletics and received a scholarship to play football at Oklahoma State. I was not a star football player for Oklahoma State, but my work ethic allowed me to be a starter all four years. I married my high school sweetheart immediately after graduating in the summer of 1999. In summer of 2000, we started Homes By Taber. We have four children ranging from the ages of 10 to 16.
Why did you make the decision to attend college at Oklahoma State University?
I attended Oklahoma State University because it was 45 minutes from my home town and because they offered me an athletic scholarship.

Who was your favorite professor/class? What is/are something you learned in the classroom that you still use everyday?
Dr. [Lee] Manzer was my favorite professor. My first class with him was Intro to Marketing. I remember he took attendance. Dr. Manzer did a great job of bringing his teachings back to real life scenarios he had while working at Proctor and Gamble. He made the class fun and I really enjoyed going to it.
He had one story about getting a Diet Coke for his wife. Every morning when she woke up, she had to have a Diet Coke. She would ask him to go to the store and get her a Diet Coke when she ran out, even if it was late at night. He said we would fuss and complain but eventually go get the Diet Coke. He learned that when he threw this temper tantrum, he would not get credit for getting the Coke. Although, she got her Diet Coke, she was mad at him and he was mad at her. The point of the story was if you are going to do something, don't complain, do it right away with a smile on your face and get credit for it. To tie back to business, if you are going to do something, do it right away with a smile on your face, or you will leave your customer unhappy although they receive their desired result. Our company is a customer service business. Our customers are buying their biggest investment and we don't take this lightly. I have told this story to every one of my managers. Everyone in our warranty department knows this as well.
What overall impact did your OSU business education have on the success of your business today?
Earning a management and marketing degree from Oklahoma State gave me a well-rounded education on business. I started my company at age 23 and ran everything myself. I did all the accounting, marketing, managing of subs, contractors, and sales. All of the management, marketing, accounting, logistics, economics, business law, and finance classes I took helped me get a head start on starting my company.
Did you know on graduation day this is the career you would end up with?
Throughout college, I had no clue what I wanted to do. I would think about this constantly. It felt like I went to college and should know my career path. My father was in the oil business and I saw the struggles of the '80s he went through, so I knew I did not want to be in oil and gas. My advice to those not knowing what you want to do is, it is OK. Your first job will not be your last. As you meet new people, opportunities will come your way and you will figure it out.
When the 2008 recession took place, a lot of businesses took a hit. Homes By Taber not only survived, but positioned yourselves to expand and become an industry leader. How did you do it?
When my father-in-law helped me start this business he said, 'You have to have money to get money,' referring to the banks. He also said, 'Don't quit your other job until you can support my daughter.' I listened to this advice and worked as a claims adjuster for three more years. By the time I quit, I had two employees and saved every dollar I made through the building company.
I call it the 2006 recession because in 2006 our sales plummeted 50 percent. It was a tough time. My biggest competitors were going out of business left and right. It was very scary. The first time homebuyers tax credit helped turn the market around. Luckily, my father-in-law gave me the advice to save money. I was able to weather the storm by having cash reserves. In business, you will hear over and over, "Cash is King" and it is true. Although my company was losing money, we were able to stay afloat by having cash reserves.
In late 2009, I received my builder's confidence back as our sales were growing. The problem was there was no banks were lending money. Instead of accepting that no one was lending, I grabbed a phone book and started with the A's and started calling all the banks in OKC. I received a lot of rejection. I just kept calling and meeting with bankers until eventually I received the additional credit lines I needed. This strategy allowed me to get a huge head start on my remaining competitors on buying lots on discount that the recession created.
We increased our sales every year from 2007 to 2014. Then out of nowhere, in late 2014, oil crashed. This caused our sales to plummet 30 percent from 2014 to 2015. Again, my father-in-law's advice from many years prior came into play and we made it through this downturn. We shifted our strategy during this time and increased or sales 25 percent in 2016 and are projected to have 40 percent increase in sales this year.
Saving cash is only one part of the equation. The other part is having a great team and a great company culture. Without my great team and the right culture, we would never have been able to accomplish what we have. I have aligned myself with the best managers and they have aligned themselves with the best employees. We have a very low turnover rate of employees and we take great pride in this. All of our departments are built around customer. All of our departments goals are to serve our customer and give them the best service with the best quality creating the most value. We are not the cheapest builder but we create the most value for our customers.
What books would we find on your night-stand table right now?
The two books I am currently working on are "So good, they can't ignore you" and "Presence". My favorite books to date that I learned the most from and have affected how I run my business are "Good to Great," "Turn the Ship Around," and "Extreme Ownership."