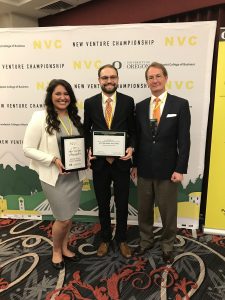 STILLWATER, Okla. – MITO Material Solutions, a company grown by a student from an Oklahoma State University classroom project, has been awarded a National Science Foundation Research grant for $224,988 to conduct research and development on a nano-additive that increases the durability of composite materials utilized in aerospace, recreation and automotive industries.
Haley Keith and her husband Kevin, graduates from OSU, founded MITO and serve as president and vice president. Richard Gajan, a Thoma Family assistant professor entrepreneurship in the OSU Spears School of Business, serves as CEO of MITO.
The additive was developed in OSU's Helmerich Research Center in Tulsa by Dr. Ranji Vaidyanathan. Haley adopted a business plan for MITO as part of a classroom project in the Creativity, Innovation and Entrepreneurship Scholars Program. The project grew into a full-fledged business that continues to gain traction, with this grant helping in the creation of two engineering positions at inception, while 200 employees are anticipated within five to seven years.
"MITO has never really stopped moving, but the SBIR award allowed us to finally put a lot more fuel in the tank," Haley said. "Our momentum in 2018 is continuously growing as this grant provides the funds for us to pursue the commercial development of our product with two full-time employees, while securing our Series A funding round."
Said Barry Johnson, Director of the NSF's Division of Industrial Innovation and Partnerships: "The National Science Foundation (NSF) supports small businesses with the most innovative, cutting-edge ideas that have the potential to become great commercial successes and make huge societal impacts. We hope that this seed funding will spark solutions to some of the most important challenges of our time across all areas of science and technology."
Once a business is awarded a Phase I SBIR/STTR grant (up to $225,000), it becomes eligible to apply for a Phase II grant, which could deliver an additional $750,000. Small businesses with Phase II grants are eligible to receive up to $500,000 in additional matching funds with qualifying third-party investment or sales.
"We're thrilled to get this prestigious award from the National Science Foundation," Gajan said. "This grant will help MITO grow and commercialize as we move forward with more advanced testing. We're very excited about the future that is ahead of us."
About the National Science Foundation's Small Business Programs: The National Science Foundation (NSF) awards roughly $200 million annually to startups and small businesses through the Small Business Innovation Research (SBIR)/Small Business Technology Transfer (STTR) program, transforming scientific discovery into products and services with commercial and societal impact. The non-dilutive grants support research and development (R&D) across almost all areas of science and technology helping companies de-risk technology for commercial success. The NSF is an independent federal agency with a budget of about $7 billion that supports fundamental research and education across all fields of science and engineering.
About MITO Material Solutions, LLC: Founded in 2016, MITO Material Solutions, LLC aims to solve the composite industry's biggest problems with nano-sized solutions. MITO Material Solutions, LLC has exclusively licensed the patented nano-particle additive from Oklahoma State University, and is currently conducting research and manufacturing in Stillwater, Oklahoma. The company expects to launch their first commercial product in late 2018, which is a nano-additive that will increase interlaminar toughness in composite parts.