Brian Callahan to be honored with Spears Hall of Fame induction
Wednesday, October 16, 2019
Professional success and service to OSU a hallmark of Callahan's career
Brian Callahan practically grew up on the Oklahoma State University campus. He moved with his family to Stillwater in the 5th grade when his dad joined the OSU faculty and where his mom worked as a nurse at the university health clinic. There was probably little chance that he would go to college anywhere else, but it didn't hurt that he was exposed early to an OSU business professor through basketball.
"Really, my first introduction to the business college was in 7th grade when Lee Manzer (emeritus professor of marketing) was my basketball coach," Callahan said. "I was the same age as his son, Bryndon, and we played on a team coached by his dad."
One of them went on to play basketball for OSU and it wasn't Callahan, who ultimately enrolled in the College of Business Administration. Not wanting to go into the family ranching business, he decided instead to study business, which set Callahan on a course to become a top executive of a hugely successful company started by a friend and fellow Cowboy alumnus. Many of Callahan's friends and colleagues agree that his success is due in large part to Oklahoma roots and an OSU education.
Callahan's dad, of course, also played a role in what he decided to study in college. Jarrod Callahan, then an animal science professor at OSU and today a member of the Board of Regents for Oklahoma A&M Colleges, encouraged his son to take the OSU introductory accounting class while still a senior at Stillwater High School. Callahan said he thinks his dad was testing him.
"I think he was trying to see what kind of a student I would be in a class with a lot of homework," Callahan said. "He encouraged me to study accounting, which he called the language of business."
It was at OSU, and while a member of the Delta Tau Delta fraternity, that Callahan met several people who would become close friends including Joe Eastin, a fellow Oklahoman and business student. Their friendship would have a major impact on Callahan's life a few years later when Eastin recruited him to join his business startup, ISN Software in Dallas.
Many of Callahan's OSU experiences have had lasting impacts on him including ROTC training and holding office in the OSU Student Government Association and Business Student Council and serving as vice president of Delta Tau Delta fraternity. Callahan graduated in 1994 with a bachelor's degree in business administration with a major in accounting and was named one of the business school's top-10 graduating seniors. He would later earn an MBA from the University of Oklahoma.
Following graduation and his participation in the OSU Army ROTC program, where he served as cadet battalion commander, Callahan was commissioned as a second lieutenant. In the Army he completed Ranger School and Airborne School.
"The ROTC motto is 'Mission First, People Always,' and I learned a lot about taking care of people as an Army officer," Callahan said. "I was only 22 at the time and you have a lot of young servicemen in the infantry that you take care of and there's obviously some challenges in that, but I learned a lot while developing those leadership skills."
Callahan was stationed for most of his military service at Schofield Barracks in Hawaii. A year after graduating from OSU, he married Angie Reding, who he met at OSU. She joined him in Hawaii after working for a time as a schoolteacher.
After attaining the rank of captain, Callahan returned to civilian life in 1998 and was hired by Koch Industries in Wichita, Kan., as a financial analyst. He next went to work for the Federal Reserve Bank of Kansas City in its Oklahoma City office where joining a management rotation program at the bank prepared him for advancement and more responsibilities. One promotion led to a move to the Fed's Kansas City headquarters where he became the senior manager of compensation and benefits. The future for the Callahans, who were by now raising two children, looked bright and secure. But in 2004 an OSU friend called with an interesting offer.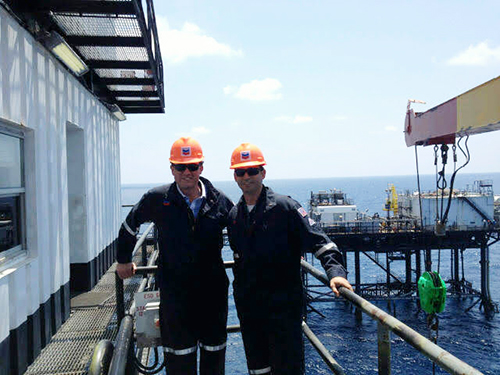 Joe Eastin, Callahan's fraternity friend and fellow OSU business student, was a founder of ISN Software in Dallas in 2001. Today, the global company administers a system it developed to manage contractors and suppliers and monitor health, safety and environmental compliance measures for oil and gas, mining, manufacturing, forestry, logistics, agriculture, construction and pharmaceutical companies. ISN employs more than 500 employees around the world, but in 2004 when Eastin called Callahan to see if he might be interested in joining the startup, the company had just 10 employees.
Callahan made a trip to Dallas to meet with Eastin and look over the fledgling company. He liked the company's innovative business concept and Eastin's vision, but he and his family were settled in Kansas City where Angie was pregnant with their third child.
"At first, I told Joe that I had a really good deal at the Fed and I turned him down," he said. "But he wouldn't give up. Joe said if you want to work for the Fed for 30 years there's nothing wrong with that, but this is an opportunity to be part of something that's going to be really special."
"Convincing Brian to join ISN was not easy, but I was very persistent, and I knew the company had just turned the corner and that we were sustainable and that we really had something," Eastin said. "I knew that if we had somebody of Brian's caliber with his work ethic that we were going to take it to the next level."
Following conversations with Angie and further encouragement from Eastin, Callahan accepted the offer and the family moved to Dallas in 2004. For the last 15 years, Brian has steadily risen through the executive ranks at ISN as the company expanded its technologies and products to an ever-broader range of clients and industries and now manages more than 70,000 contractors working for more than 600 companies. Earlier this year, Callahan was named ISN president and chief operating officer and he continues to travel the globe with Eastin and other company leaders building its business.
"I'm glad I did it," Callahan said. "It's been so fun to be a part of that growth. They say no risk, no reward and it's been rewarding to be a part of this."
Callahan said he owes OSU and the Spears School of Business as well as its alumni, faculty and administrators for much of his success. He and Angie, a graduate of the OSU College of Education, are grateful for OSU and give back to the university and Spears Business in both time and gifts, including contributing to the new Spears Business Building that opened in 2018.
Callahan said it has been especially rewarding to hire, mentor and work with OSU graduates at ISN over the years, several of whom have risen to become company leaders. His passion for OSU and helping Spears students led him to serve on the board of the Spears Business Eastin Center for Career Readiness, a program made possible by a gift from Joe Eastin that helps prepare business students to succeed in new careers once they graduate. He also serves on the Dean's Council Executive Committee for Spears.
"OSU is a large part of who I am, and I think I've been afforded some opportunities because of Spears and all the people I met there," he said.
The Callahan family, who live in Plano, Texas, includes son, Michael, a freshman at Lehigh University in Pennsylvania who plays on the school's football team, and a daughter, Kathryn, and son, Jake, who are high school students at Trinity Christian Academy in Addison, Texas.
MEDIA CONTACT: Jeff Joiner | Communications Coordinator | 405-744-2700 | jeff.joiner@okstate.edu