Roger Lumley's OSU service to be recognized with Spears Hall of Fame induction
Monday, October 21, 2019
Lumley proud of young professionals he's mentored along his career path
With more than 40 years of banking experience, you would think Roger Lumley would be most proud of the many successes he's had working with business clients in need of his commercial and investment banking expertise. But what Lumley is most proud of, second only to his family, is the impact he has had on the careers of young business professionals and students at Oklahoma State University.
"In all my years in business I feel like I've been successful and added value to the
lives of my clients and their businesses, but I think probably what my biggest accomplishment has been is making a positive difference in the careers of others," Lumley said.
With his retirement in 2019, Lumley has only increased his involvement with his alma mater. Along with continuing to work with students through a mentoring program he helped launch at the Spears School of Business, he also serves on the Watson Graduate School of Management MBA Advisory Board, and he continues to work with OSU administrators and faculty to introduce new educational opportunities for students.
The grandson of Welsh and English immigrants who settled in Kansas, Lumley was born and raised in Tulsa where his dad attended night school to earn a degree in accounting and who became an executive with a Tulsa insurance company. Much of Lumley's childhood was overshadowed by the health of his mother, who suffered from the effects of contracting rheumatic fever as a teenager and who passed away when he was 15.
"She had heart trouble for most of her life and I spent a lot of time in the hospital with her as a young kid," Lumley said.
Throughout his mother's long illness much of the responsibility for keeping an eye on the youngster fell to two older sisters. Lumley describes himself as an adventurous child and he proved to be a challenge for his siblings. But his teen years were also marked by forays into small businesses like a newspaper delivery route and mowing lawns.
When it came time for Lumley to choose a college it was his sister, Marlene, five years his senior, who had the greatest influence over him, even more than his father who wanted him to study law at the University of Oklahoma.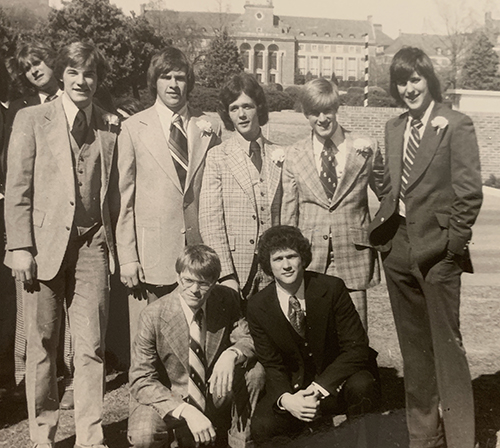 Marlene attended Oklahoma State University and with frequent visits to Stillwater to see his sister and to compete in high school track and cross country meets held at OSU, Lumley decided he wanted to be a Cowboy. It didn't hurt that his closest friends from Tulsa were going to OSU.
With a father who was an accountant, Lumley said it just made sense for him to follow his dad's lead and study business, though he admits that for his first two years in the business college studies were not his highest priority. At the time Lumley was deeply involved in all aspects of fraternity life at Sigma Nu, a period he fondly recalls.
"I didn't really apply myself at first and I often say that I learned a lot of my networking and soft skills at the Sigma Nu fraternity," Lumley said.
But summer jobs at the Bank of Oklahoma provided him with a wakeup call and exposed him to opportunities in banking, but only if he took school seriously.
"I noticed that they primarily hired MBAs, but my grades were only average," he said. "A light came on and I realized if I wanted to get into graduate school, I had to kick it into gear and I aced the last two years."
Lumley graduated in 1978 with a bachelor's degree in finance and successfully enrolled in the OSU MBA program, completing his master's the next year. He moved to Dallas in 1979 and joined The First National Bank of Boston in its Dallas office, working in oil and gas financing at a promising time in the business when oil prices were high and the industry needed money.
But the 1980s foreshadowed tumultuous changes in banking. In 1986, the oil and gas industry in the U.S. suffered the start of a financial collapse that took down with it a number of banks built on the energy industry. Lumley missed much of the carnage from the meltdown when he had earlier changed business areas at the Bank of Boston and began working with nonenergy clients on mergers and acquisitions and leveraged buyouts.
"I was very fortunate, but that was only the start of dramatic changes that affected the whole banking industry," Lumley said. "Towards the end of the '80s there was the savings and loan crisis and the start of bank consolidation followed by interstate banking. When I started my career there were roughly 14,000 banks in the United States. Today, there's something like 4,500."
Recruited by Mercantile Bank to manage a new line of commercial business products, Lumley moved to Kansas City in 1991 where he spent the rest of his career and where he met his second wife, Suzanne Dimmel, who at the time worked in banking and is now a commercial real estate broker and director with Cushman and Wakefield Inc. The couple recently celebrated their 25th anniversary. Until his retirement this year, Lumley had worked in Kansas City for a number of banks and companies including Mercantile, M&I Bank, Bank of the West and UMB Bank and also served in finance roles for large construction firms JE Dunn Construction and BKD, LLP.
For Lumley, his years as an OSU student were transformative, a time when he said he matured and began to discover a world beyond his hometown. It's because of his own formative experience at OSU and the business college that Lumley said he wants to give back by helping students and why he found it so rewarding to mentor others.
"I grew up at OSU. It's where I made the transition from a sort of smart-alecky teenager to an adult," he said. "It was a life-changing experience and it's why I want to give back."
Recalling his own experiences starting his career in Dallas, Lumley said young people need the guiding hand of experience to find the many opportunities available to them in their young careers.
"The most fulfillment I've experienced throughout my career has been helping younger people as a mentor and helping my associates grow in their banking careers," he said. "The best feeling in the world is when they call you and thank you and say they never could have gotten where they are without your help."
One such OSU student was Callie Heerwagen, who Lumley mentored at Spears Business. Heerwagen, who graduated from OSU in 2014 with a bachelor's degree in finance, participated in the mentoring program when it was introduced as a pilot and said Lumley deeply affected her experience as a business student, and they remain friends today.
"Beyond being a mentor, over the years he has become a cherished friend," she said. "He has always been my rock and my sounding board throughout my career. A true measure of his success is all the lives he has touched."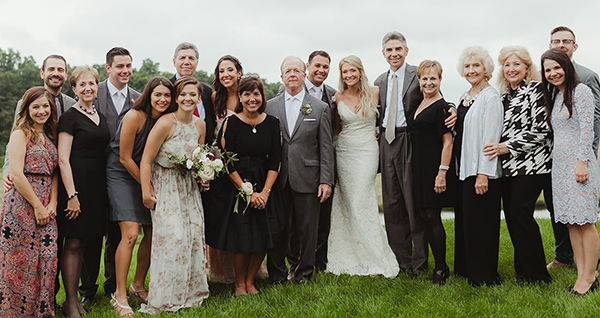 Lumley is a member of the Spears Business Dean's Council and past member of the Alumni Society Board and his extensive work with the Spears Department of Finance led to this year's launch of an annual Finance and Accounting Career Day at which he participated. He was also a catalyst for the establishment of a new graduate level course, Financial Modeling Techniques and Analysis, which was offered for the first time in 2019. And he was instrumental in the launch of the MBA with Concentration in Finance and Investment Banking and the graduate-level Certificate in Finance and Investment Banking.
In 2011, Roger was profiled as one of 50 distinguished OSU MBA alumni in the book MBA Preferred, by Jeretta Horn Nord and Lawrence A. Crosby.
"Giving is important, but I also want to do more than just write a check," Lumley said. "I want to contribute where I feel I can provide more value and do that by being involved. I just really care about making a positive difference in student's lives. It means so much when you see the light come on in a student's mind."
Lumley, who describes his many interests as eclectic, loves many outdoor activities, but he stresses his greatest interest is his family, including Suzanne and the couple's blended family of four children. Lumley says they are proud of their children's successes as they pursue their own careers, including Kathryn Glass, a business reporter and producer in London, Scott Glass, a member of a Kansas City rock band, Dr. Catherine Lumley, a doctor and an assistant professor of medicine at the University of North Carolina Medical School, Bonnie Lumley, a senior creative director for a national advertising agency in New York City, and son-in-law Dr. Kyle Nappo, a resident at Marine Corps Base Camp Lejeune in North Carolina.
"All along the way I feel that truly I've been able to make a difference for people from my business clients to OSU students. It's truly been rewarding," Lumley said.
Media contact: Jeff Joiner | Communications Coordinator | 405.744.2700 | jeff.joiner@okstate.edu