Laying a foundation
Wednesday, October 23, 2019
Tessa Recendes using OSU doctorate to launch her academic career
Dr. Tessa Recendes has always been fascinated with sports, both as an athlete while growing up and later working in the sports business world. After graduating from college, her interest led her to a job with Major League Soccer, where she worked in sales and community development for the professional team in Denver and later in Dallas.
An experience with FC Dallas changed the course of Recendes' career.
"We actually were doing horrible as a business, but we got a new CEO and within six months I saw all these positive changes that he was making internally and how the season ticket holders and our sponsors reacted," she said. "That phenomena of how the CEO's personality and behavior affected both the employees and external perceptions of the organization really interested me."
Fast forward a decade, and Recendes has now completed a doctorate in management at Oklahoma State University and accepted a faculty position at Pennsylvania State University, home of one of the leading management research programs in the country. At OSU, Recendes joined a top Spears School of Business professor in a prolific research partnership that resulted in two articles published within a single year in one of the country's leading strategic management journals.
Recendes, a native of San Antonio, earned a dual bachelor's degree in 2009 at Baylor University in economics and sports sponsorships and sales before joining the MLS Colorado Rapids in Denver. Later she moved to Texas and joined the FC Dallas staff, completing an MBA at the University of North Texas in nearby Denton while there. The eye-opening experience with her CEO as an organizational turnaround artist intensified her curiosity about the role of dynamic leaders in successful companies.
"Some of the questions I had from that experience with Major League Soccer weren't being answered in my MBA classes," Recendes said. "I wanted to delve into deeper questions, so that led me to pursue a Ph.D."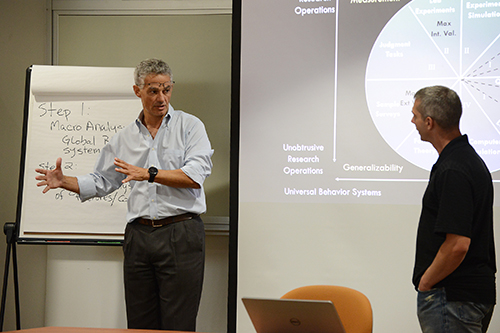 Recendes found the business doctoral program at OSU, where Dr. Federico Aime, the William S. Spears Chair in Business Administration and professor of management, has led research into organizational decision making and performance for 13 years, including studying CEO personality and influence on companies. At OSU, Recendes found a faculty guide to help direct her intellectual energy, focusing it on meeting her academic career goals. For Aime, the partnership was another opportunity to impact a young scholar's career, something he's done many times.
"I like working with students who have big ideas, so I'm always looking for people who are curious and willing to do the work to explore bigger research questions," he said.
Aime and Recendes met to discuss her objectives, and the two devised a five-year plan for reaching those goals. Recendes followed the detailed roadmap, which included publishing four to six research papers in top-tier journals, many co-authored with Aime, as well as getting her name out in the strategic management field.
"We went to conferences and made sure she met the right people, and I connected her with people from different universities that are relevant to her research area," Aime said. "I also connected her with specific women in the field so that she has a support network. That's very important."
Recendes' ultimate goal became landing a faculty position at a leading management research university. Aime and Recendes made a short but ambitious list of universities with Penn State at the top.
Recendes completed her OSU doctorate this summer and successfully reached a milestone on her career roadmap. She interviewed for what Aime called the eight best management faculty positions available and received seven offers, including the assistant professor's position at Penn State, which she started in August.
A big part of the success Recendes has enjoyed in meeting that early career objective was made possible by publishing research in top-tier journals, including two articles within a year in Strategic Management Journal, one co-authored with Aime and former OSU doctoral student Dr. Oleg Petrenko.
"Less than 1 percent of the research population in the strategic management field has been published in a journal at the level of the Strategic Management Journal, and she's already had two," Aime said.
Recendes has also made a name for her scholarly work by winning numerous awards for her research including the Best Student Paper Award at the 2018 meeting of the Academy of Management. Also in 2018, she was named a Phillips Dissertation Scholar and OSU's Outstanding Management Graduate Student and was recognized by the OSU Women's Faculty Council as a graduate student research award winner.
In five years of working toward her doctorate and writing her dissertation, Recendes' research focus has shifted. Her dissertation examined organizational identity and specifically how an organization performs in its role as an investment. Her work, which she is continuing at Penn State, has evolved to now include research into the theory in strategic management that maximizing profit is no longer an organization's definitive goal.
"The conceptualization of firm performance as anything other than maximizing operation return has not been looked at before," she said.
Recendes argues that companies are now fulfilling a variety of roles for investors and that the performance of those organizations can be multidimensional depending on an investor's goals — high growth versus long-term stability as an example. Recendes is working to understand that change in the traditional performance role by analyzing the language companies use to identify themselves.
"Her measurement of these new identities is super interesting," Aime said.
Recendes credits Aime for his mentorship and the apprenticeship model at Spears Business for her successful navigation of the process that prepared her to start her career in academia.
"I would not have been able to develop to where I am today and wherever I'm going to be tomorrow without Federico," Recendes said.
With a long career ahead of her contributing to research in the field, Recendes will also have the opportunity to give back by mentoring future scholars. She said that duty is very much on her mind, but first she has tenure to think about.
"There are a lot of us in this profession who are really thankful for our advisers helping us in our careers, and I look forward to passing that on one day," she said.
Media Contact: Jeff Joiner | Communications Coordinator | 405.744.2700 | jeff.joiner@okstate.edu