Jill Sharp's career rise, OSU passion lead to Spears Hall of Fame induction
Tuesday, October 22, 2019
Sharp has taken her Oklahoma State values wherever her career took her
Jill Sharp, vice president of finance, Western Hemisphere, for Halliburton, says her upbringing in Bethany, Oklahoma, was pretty simple and her family wasn't particularly adventurous, but you wouldn't know it by looking at her career with the global oil field services company. The Oklahoma State University alumna's fast rise through the company's executive ranks at a young age, grabbing opportunities that some thought she wasn't ready for and taking her family with her on international adventures could easily be described as fearless.
Sharp grew up in Bethany, Okla., where her dad was a welder and department supervisor for the electric utility OG&E and her mom owned a beauty shop that she operated out of their home. But what Sharp describes as being a simple upbringing along with her education at the Spears School of Business were more than enough to prepare her to become a vice president for finance for Halliburton.
"In my career, my family and I have traveled and experienced so many things," she said. "When I was younger my mom said I told her I wanted to grow up and work in a big city like New York, but I don't really know where that came from."
Sharp said she doesn't remember having any particular interest in business or numbers growing up, until she took accounting classes at Putnam City High School and decided that's what she wanted to study in college after graduating in 1988. A weekend for high school students with her best friend on the Oklahoma State campus convinced Sharp, a first-generation college student, that that's where she wanted to go. "I just fell in love with the campus," she said.
As is often the case with college students, Sharp says she soon realized how challenging Spears Business classes were and that she wasn't necessarily going to be the top student in many classes as she was in high school.
"I can remember realizing how super competitive it was at OSU and I began to wonder how I was going to set myself apart," Sharp said.
A conversation with an accounting professor assured her that she was going to be OK. "He said there's something special about me and that I was going to be OK. He saw something in me and that made a big difference."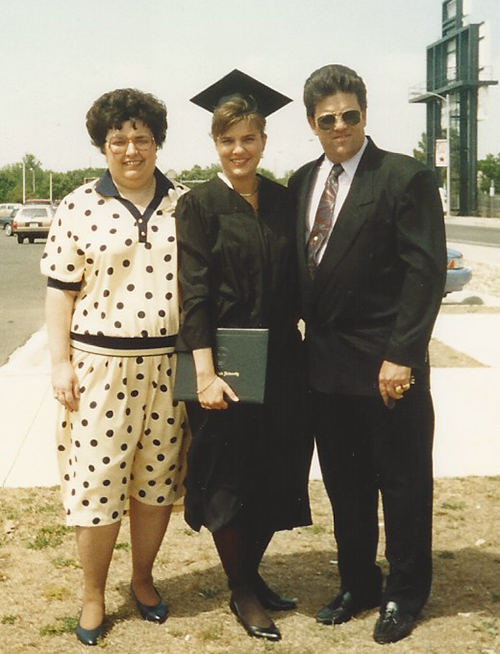 In her junior and senior years, Sharp began meeting with company recruiters at OSU and was confronted with deciding if she wanted to pursue jobs with accounting firms or work in industry. It seemed many of the top accounting students in her class wanted to work for one of the large accounting firms like one of the "Big 8", but Sharp decided she would follow her own path. An interview during her senior year with Halliburton representatives launched her on her career track.
With a job offer in hand from Halliburton, Sharp graduated from OSU in 1992 and moved to Duncan, Okla., the company's headquarters. Her timing was fortuitous. Already a global presence, Halliburton began buying a number of companies in the 1990s that made it the industry's leading player. Working as an accountant in Halliburton's corporate offices, Sharp was on hand to witness a period of rapid growth. By 2003, the company had relocated its headquarters to Houston after operating from Duncan since 1921.
Even while working as a young corporate accountant, Sharp was soon noticed by managers in her department and even by those in other areas of Halliburton. She likes to tell students the story of how she became responsible for distributing printed reports to various departments and how her willingness to take on the menial job allowed her to meet managers and others from across departments and business lines at the company.
"Pretty soon I was meeting and shaking hands with the tax manager and shaking hands with the guy who runs audit and shaking hands with the guy who runs a manufacturing facility," she said. "I was building a network."
In 1996, Sharp was promoted to a supervisory accounting position in Houston and five years later moved to Kilgore, Texas, to become accounting manager for Halliburton's Southeast U.S. Operations. She was only there a couple of years when word went out that the position of controller for all of Halliburton's operations in Canada was open. Interested, she let her manager in Kilgore know, but was told she wasn't qualified.
The position went unfilled for several months and again she expressed interest but was rebuffed. "'Jill, you're not ready. Canada's too big,' I was told," she said.
A little later, when Sharp and her family were on vacation, she got a call from her manager requesting her to come to Houston the next day to interview with the vice president of operations for Canada who was upset the job hadn't been filled. Sharp felt sure her boss had called her not to give her a real shot but because he needed to pacify the visiting executive. Despite being on vacation in Oklahoma, Sharp was determined to get to Houston for the interview and make a good impression.
"So, the night before I studied the financials and I see that his freight costs are really high," she said. "We talk about this in the interview and I tell him he needs to manage trucking and right there he's sure I'm the person for the job."
In 2003, Jill and her family moved to Calgary where she becomes the 31-year-old controller for all of Halliburton's Canadian businesses. It was by far the most responsibility she'd ever been given, and it was a turning point in her career.
"That's when I realized that I was really excelling and it's when I started getting people's attention higher up," she said.
At the time they moved to Calgary, Jill and her husband, James, had a 4-year-old son and 15-month-old daughter. With no work visa for Canada, James began to care for their kids fulltime at home. It was the key to making the family's move and her new job possible.
"All of a sudden he got amazing at being in charge of the house and he ended up loving it," she said. "We couldn't have done it without him caring for the kids."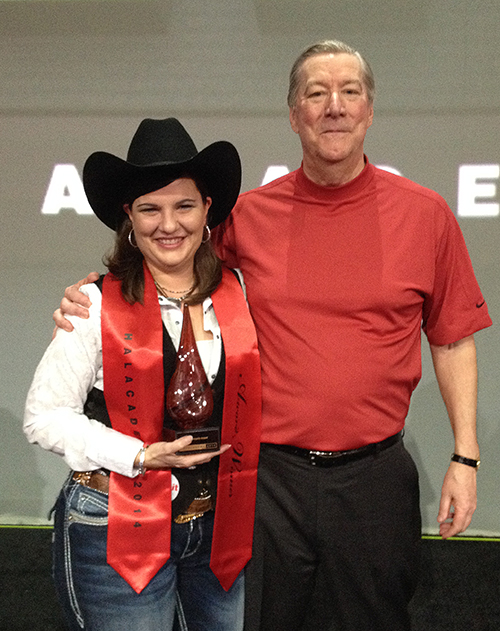 Sharp moved back to Halliburton's Houston offices in 2007 as the senior accounting manager for a global product service line, but it was not the end of the family's adventures. Already comfortable with managing the global intricacies of Halliburton's businesses, Sharp had expressed interest in again working internationally, this time for the company's Asia Pacific region. In 2010 she was named the Asia Pacific regional controller with responsibility for China, India, all of Southeast Asia, Australia and New Zealand. The job was based in Kuala Lumpur, the capital of Malaysia.
Before accepting, Sharp went home and talked it over with James, who wasn't sure about the move.
"He said, 'Jill, I don't think we should live on the other side of the world.' And I said I think we should!" Sharp said.
Someone else not too crazy about the move was their son who was about to start 6th grade. His mother said he declared he's wasn't going, but soon she heard him outside their home bragging to friends that they were moving to Malaysia. James again became a stay-at-home dad while his wife traveled throughout Asia visiting Halliburton facilities and offices.
"I traveled like I had never traveled before. And James and the kids would meet me in places like Vietnam and we would have long weekends together," she said. "It has been the highlight of our family and of my career."
Sharp said she was constantly surprised by her growth in the role, especially her ability to work with so many cultures in locations from India to New Zealand.
"I've always been a people person, but it was something to go to Australia and talk to our workers about how their families are doing and, say, you're a little bit late on that report, and then go to Beijing the next week," Sharp said. "The Chinese are just so serious. But I learned I could maneuver in both worlds and get the best out of everyone. That was exciting."
Sharp spent three years in Asia, returning with her family to Halliburton's Houston headquarters after being named vice president of finance for the Western Hemisphere, the position she holds today. Unsurprisingly, she has become a popular speaker at Spears Business where she has shared her experiences and offered advice to students for making the most of their business education and navigating the corporate world once they begin their careers. She said her early career and travels limited her ability to be more involved at OSU, but she was recently appointed to the OSU School of Accounting Advisory Board. She said she's ready to share her story with students and hopes it's inspiring.
"Now I have a story to tell and I love talking about my experiences," she said. "I tell them, 'You control your own destiny.'"
Jill and her husband, James, make their home in the Houston suburb of Champions. They have two children, Jaxon, a junior at Colorado School of the Mines majoring in civil engineering, and Jaden, a senior at Cypress Creek High School.
Media contact: Jeff Joiner | Communications Coordinator | 405.744.2700 | jeff.joiner@okstate.edu