Oklahoma State University business alumni have filled leadership positions in corporations, governments, research institutions and academia across the U.S. and even around the world. A few have risen to lead major colleges and universities. These three OSU business alums who have reached the top levels of their institution's leadership credit Oklahoma State with their foundation for academic success.
Listening to those who care paved the way to leadership
Dr. Linda Livingstone
President, Baylor University

Oklahoma State University roots: Bachelor's in economics and business management, 1982; MBA, 1983; Ph.D., 1992
Although Linda Livingstone was born in Norman, Oklahoma, she is quick to point out that her formative years were spent growing up on a farm near Perkins, Oklahoma, and included hanging out on the basketball court at Oklahoma State University's Gallagher Hall, where her dad, Doyle Parrack, was assistant men's basketball coach in the 1960s. Livingston herself played basketball at OSU from 1978-1982, where she was a four-year letter winner and Big 8 Scholar Athlete.
Livingstone graduated from the College of Business Administration in 1982 with degrees in economics and management and completed her MBA at OSU the next year. She was originally interested in sports administration and wanted to become a university athletic director, but her course changed while working on her MBA. One day, a business professor pulled her aside for a short conversation in one of many interactions in her life that would change the course of her career.
"Dr. John Mowen asked me if I'd ever considered getting my Ph.D., and I said I really hadn't," she said. "He said, 'I think it would be a really good path for you.' That conversation with Dr. Mowen planted the seed."
After working in western Oklahoma for several years, both Livingstone and her husband, Brad, returned to OSU to continue their educations. She entered the doctoral program, and he earned a master's in education after having graduated earlier with a bachelor's in business management. Livingstone said her Ph.D. experience set her on the path to a successful teaching, research and university administration career.
"I had wonderful mentors at Oklahoma State who helped me to be successful not only in my Ph.D. program but also helped prepare me for doing what I've done since then," she said.
She credits two faculty members for creating particularly strong impressions on her: Dr. Deborah Nelson, chair of her dissertation committee, and Dr. Margaret White, who worked closely with her on research skills.
"The research was really fascinating because at the end of the day I was trying to help people to be more successful, more productive and more satisfied in their work and help organizations to be healthier places for people," Livingstone said. "That inspired me, and I think it's why I like administration so much because you're really applying those principles."
Following completion of her doctorate in management and organizational behavior, Livingstone joined Baylor University's Hankamer School of Business. She earned tenure and served as associate dean of graduate programs. After 11 years at Baylor, she left to become dean of the business school at Pepperdine University and later at George Washington University.
Livingstone returned to Waco, Texas, in 2017 when she was named the 15th president of Baylor University and the first woman to lead the private Christian university. Her tenure has included developing a new strategic plan and a successful $1.1 billion philanthropic campaign. Beginning at OSU, her academic journey has always included listening to people who, she said, cared about her.
"I feel I had tremendous opportunities at Oklahoma State, whether it was as a student athlete or because of the support and encouragement I received in my MBA and my Ph.D. programs," she said. "I certainly would not have been as well prepared as I was for the career that rolled out for me or, I think, have been as thoughtful about what I should be doing from an academic perspective or even going down that path."
The benefits of being challenged
Dr. Bill Hardgrave
Provost and Senior Vice President, Auburn University

Oklahoma State University roots: Ph.D., 1993
From humble beginnings, Dr. Bill Hardgrave has reached lofty heights. Starting in the tiny town of Hartman, Arkansas — population 300 including the 23 students in his senior class — Hardgrave completed a challenging doctoral program at Oklahoma State and used it to launch a successful academic career at one of the nation's Southern land-grant universities.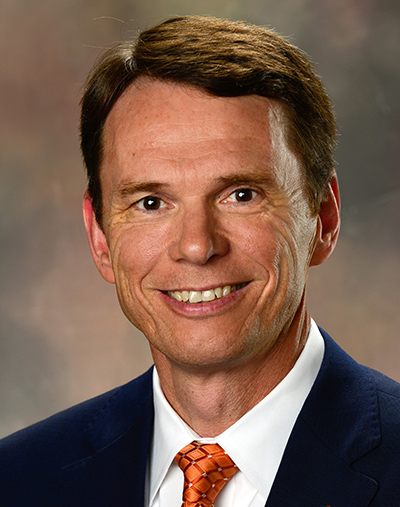 Hardgrave graduated with a bachelor's degree in computer science from Arkansas Tech University and an MBA from Southwest Missouri State University, where an opportunity to teach undergraduates changed the course of his life.
"I was asked to teach this information systems class, and I thought it was the coolest thing I'd ever done," Hardgrave said. "And people get paid to do this."
Hardgrave turned out to be such a good teacher that his MBA department chair encouraged him to get a doctorate. Hardgrave said the idea had never occurred to him, but he loved to teach and if that's what it required, then he would get a doctorate — though he admits he didn't realize what it involved.
"I was entirely naive about earning a Ph.D. because I didn't know what that meant," Hardgrave said.
He decided to apply to OSU after a visit to the business school, but his experience in the doctoral program here cemented his passion for teaching and for research.
"Oklahoma State really opened my eyes to this world of the academia and what it means to be great in the classroom and what it means to do life-altering research. It left a mark on me," he said.
Hardgrave said the faculty members were a strength of the program.
"Faculty like Dr. Ramesh Sharda were world-leading experts and were passionate about teaching and challenging their students," he said. "Dr. Rick Wilson was my dissertation chair and fostered in me taking leading-edge research and understanding how to apply it."
After completing his doctorate in 1993, Hardgrave accepted an assistant professorship at the University of Arkansas. Within three years, he had achieved tenure, and within six, he had an endowed chair.
In 2010, Hardgrave was named dean of the Harbert College of Business at Auburn University, a position he held until 2018, when he was appointed Auburn's provost and senior vice president for academic affairs. In that role, he has overseen the development of the university's strategic plan, a process that he said took him back to his land-grant roots at OSU.
"We started our mission statement as a land-grant institution, and we did that to be very purposeful," Hardgrave said. "That's who we are, and I can track that back to the flavor I got at Oklahoma State."
Faculty intervention opened doors to opportunity
Dr. Brad Wheeler
Vice President for Information Technology, Chief Information Officer and Vice President of Communications and Marketing, Indiana University
Oklahoma State University roots: Bachelor's in Business Management (1987); MBA (1989)
A native of the small western Oklahoma town of Hinton, Dr. Brad Wheeler went to college never intending to complete a degree. He just wanted to take some business classes. A member of a ranching family, Wheeler also did the accounting, programmed computers and created a payroll system for his family's Chevrolet dealership in Hinton. He decided to attend Oklahoma State after graduating from high school, but just for a little while.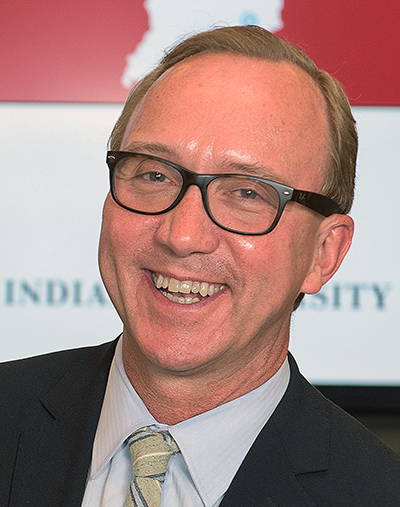 "I thought I would go to college for a couple of years because I wanted to learn some things, but I really wasn't all that intent on getting a degree," Wheeler said. "I remember when the (OSU) adviser printed my class schedule and it was English and all the introductory courses, and I said I wanted to take business classes. She said I'd do that in my second year."
Wheeler ultimately decided to complete one degree, and then another, at OSU, with the decision fostered as much by what he was learning as by seeing just a little bit of the world beyond Hinton.
Wheeler graduated with a bachelor's in business management in 1987 and went to work for the Tandy RadioShack store in Stillwater. But OSU business faculty offered him a teaching assistantship if he joined the MBA program. Wheeler said a number of professors influenced his decision to continue his education and ultimately to go on to earn a doctorate at Indiana University. Those faculty members included Drs. Debora Nelson, Meg Kletke, Margaret White, Ramesh Sharda and Wayne Meinhart.
As a first-year MBA student at OSU, Wheeler taught MSIS 2101, an undergraduate introduction to information systems, an experience that convinced him he wanted to be a university professor.
His respect for research came from working as a research assistant for Dr. Sharda, who Wheeler calls one of the most rigorous professors he knows. While an MBA student working for Sharda, Wheeler was exposed to a number of doctoral-level information systems courses and projects.
"I worked with Ramesh on early artificial intelligence programs, and he put me in one of his doctoral-level classes on a whole range of topics like object-oriented software," Wheeler said. "So as a master's student in a doctoral-level class and working in his research program, he toughened me up considerably."
It was Sharda who suggested Wheeler attend a Ph.D. program in a Big 10 school, and both hoped after completing his doctorate Wheeler would come back to OSU as an assistant professor. But the recession of 1992-93 resulted in a hiring freeze at OSU, and Wheeler eventually found himself at Indiana University, where he has remained for 23 years.
"I grew up in a really healthy academic culture in the management department at Oklahoma State," Wheeler said. "The culture there and the mentoring and the goodness of the faculty there absolutely bent the curve of my life."
Media contact: Jeff Joiner | Communications Coordinator | 405.744.2700 | jeff.joiner@okstate.edu