Dr. Wayne Thomas was presented the inaugural Don Herrmann Distinguished Accounting Ph.D. Alumni Award April 11 by the Oklahoma State University School of Accounting.
The award was created in honor of the late Dr. Don Herrmann, a member of the School of Accounting faculty for 13 years who passed away May 8, 2018 at the age of 54 after battling brain cancer.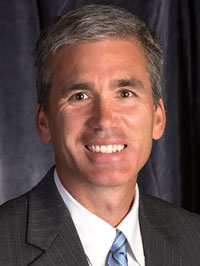 "I am deeply honored that OSU would consider me for the inaugural Don Herrmann Distinguished Accounting Ph.D. Alumni Award," said Thomas, who was a long-time family friend and co-authored many academic papers and a textbook with Herrmann. "Don was more than a colleague; he was the closest of friends. He's someone that had a profound impact on my career, on me as a person and on my entire family. I was fortunate to get to share my life with Don. I will miss my friend."
Thomas is the W.K. Newton Chair of Accounting and George Lynn Cross Research Professor at the John T. Steed School of Accounting at the University of Oklahoma. He joined the OU faculty in 2000, and has taught financial accounting, intermediate accounting, international financial statement analysis and capital markets.
He received his bachelor's degree in accounting from Southwestern Oklahoma State University (1991) and earned his master's and doctorate degrees in accounting from OSU (1992/1995). His research interests include accounting information in capital markets, techniques used by managers to manipulate earnings, the importance of financial disclosures, and financial statement analysis. Thomas has published articles in The Accounting Review, Journal of Accounting Research, Journal of Accounting & Economics, Contemporary Accounting Research, and several other journals.
Thomas, Herrmann and Dr. David Spiceland were co-authors of the Financial Accounting textbook, fifth edition (McGraw-Hill).
Herrmann worked as an auditor for Deloitte in Colorado before moving to Stillwater where he earned his PhD in accounting from OSU in 1995. He spent nine years teaching at Oregon State University before accepting a faculty position at OSU in 2005. In addition to his research, teaching and textbook authorship, Herrmann served in various roles at OSU, including accounting department head and Ph.D. coordinator.
"It was incredibly thoughtful to honor not only Don, but Wayne Thomas as the first recipient of this award," Mary Herrmann, who was married to Don for 30 years, said. "Wayne and Don went to school together from 1991 to 1995 and have inspired each other in their research since their early days together as students and friends.
"Last Thursday was a fun opportunity to see many former students Don and I enjoyed having in our home when they were at OSU as doctoral students. Now they are spread across the nation teaching and researching as they pass on skills they acquired at OSU."
The Herrmann family spent the past 14-plus years in Stillwater where he was active in the community, serving as an elder at Countryside Church, leading numerous Bible studies and coaching many youth sports teams.
Two of his four children followed in Herrmann's footsteps, earning accounting degrees. Both daughter Rachel Cox, an OSU faculty member, and son Nathan Herrmann earned bachelor's and master's degrees in accounting from OSU. His son, David, earned his bachelor's degree in chemical engineering from OSU before earning a medical degree from OSU's Center for Health Sciences in Tulsa. Youngest son, Micah, attended OSU for a year in 2018-19 before transferring to John Brown University in Siloam Springs, Ark., his dad's alma mater, to play soccer.