Showing Stillwater Hospitality
Thursday, October 27, 2022
Media Contact: Bailey Stacy | Communications Coordinator, Marketing & Communications | 405-744-2700 | bailey.stacy@okstate.edu
Face2Face with Bekzat Kozy-Korpesh, Nuray Baidrakhmankyzy and Alexis Hightower
A shared connection to Kazakhstan, OSU football, a rodeo, Oklahoma ice cream, Taco Bell and one simple social media shoutout has cultivated a friendship.
During Oklahoma State University's first day of school festivities, in August, Bekzat Kozy-Korpesh and Nuray Baidrakhmankyzy stopped by the Business Building plaza to record a video message for their family and friends that was then used on social media. While Baidrakhmankyzy shouted out her family and friends, Kozy-Korpesh in true patriotic fashion acknowledged his entire country.
Sandwiched between Russia and China sits the former Soviet republic country and the ninth largest country in the world, Kazakhstan. Kazakhstan is home to Kozy-Korpesh and Baidrakhmankyzy, exchange students studying at Oklahoma State University's Spears School of Business for one semester this fall. Their home university, Suleyman Demirel University (SDU), has an exchange partnership with OSU, the only university partner in the United States.
Kozy-Korpesh's video caught the attention of Alexis Hightower, program specialist in Spears Business and recent OSU MBA graduate. Hightower was born in Kazakhstan but was adopted by her parents and brought to America when she was one year old.
Immediately, Hightower contacted the Spears Business marketing and communications team to find out who Kozy-Korpesh was and how she could get in contact with him because she had only met one other person from her home country. After finding his Instagram, Hightower messaged Kozy-Korpesh and told him her story, and he mentioned that Baidrakmankyzy was also here from Kazakhstan. The three started messaging and planning to meet up.
The following day, the Riata Center for Innovation and Entrepreneurship held a career fair where Hightower was working and by happenstance she met Baidrakmankyzy, who was attending the event.
"She comes up to the table and we both kind of look at each other like you're the person I just heard about yesterday," Hightower said. "I got her number, got his number, and then I just wanted to give them the full Oklahoma and Stillwater experience."
The three Kazakhs have formed a special bond and went on several adventures throughout Stillwater including the rodeo, a football game, restaurants and shopping and have many others planned. Kozy-Korpesh is looking forward to trying barbecue for the first time and Baidrakhmankyzy would like to attend all the sports events she can in her time here.
"I was really surprised because it was a thing that I expected least to meet another Kazakh girl here," said Baidrakhmakyzy, an 18-year-old finance junior. "Then we started to spend time together. We became friends very quickly."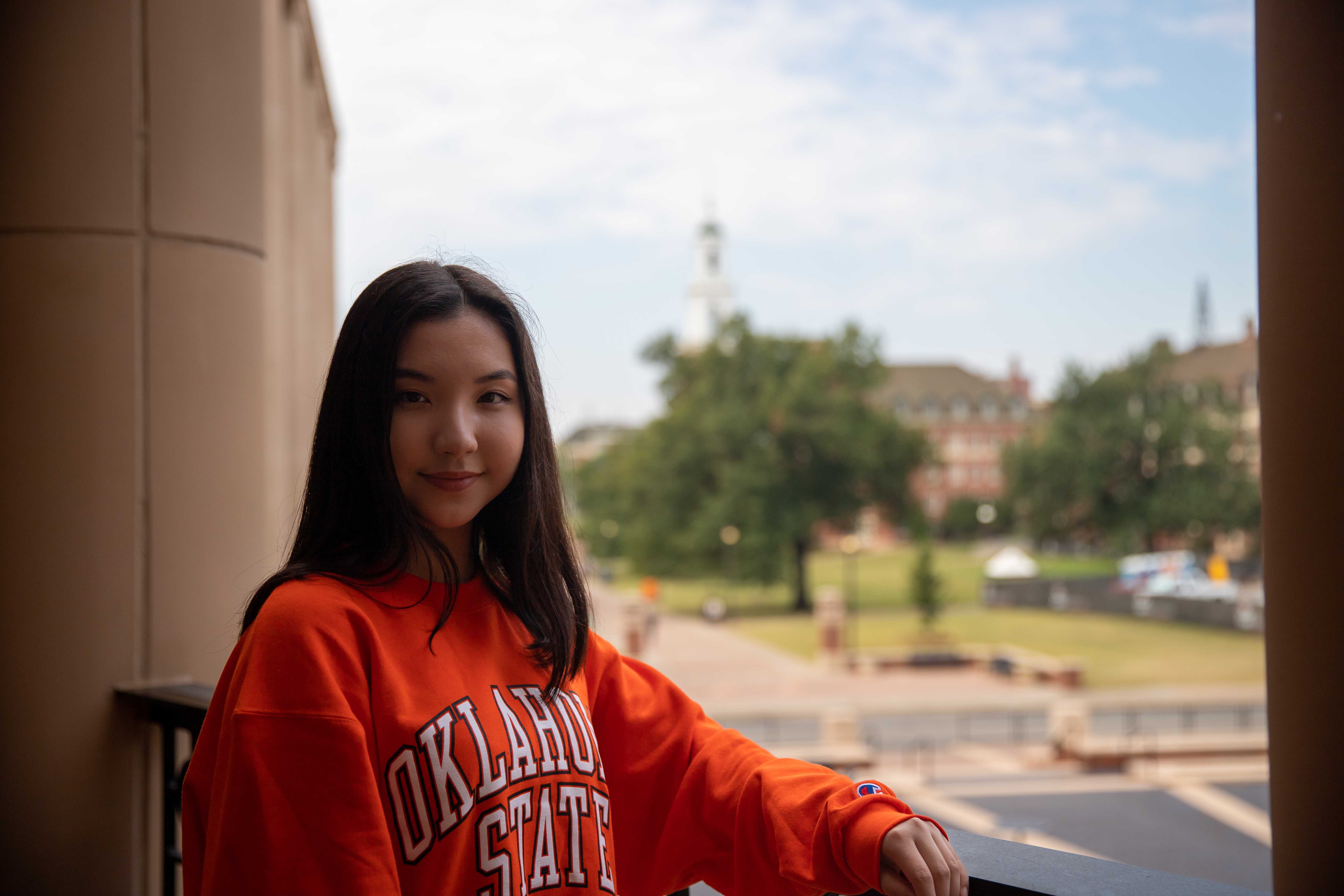 On one of their adventures through Stillwater, Hightower took them to a place they had always wanted to go, Taco Bell. Kozy-Korpesh got a burrito and rated it a 7.5 out of 10. They followed Taco Bell up with some Oklahoma ice cream from Braum's.
"They loved it," Hightower said. "They looked at each other like, 'this is so good.' I'm like, 'I'm glad you think so. I'm glad you guys enjoyed it.'"
While they both enjoy the new experiences and food they have been able to have in the U.S., Baidrakmankyzy says it's the people who have really left an impact on her.
"The people in Stillwater are very friendly, nice and always ready to help," Baidrakmankyzy said.
Kozy-Korpesh echoes her sentiment.
"I would say OSU is really warm and a nice place," said Kozy-Korpesh, business management sophomore. "People are really good. They treat you, I think, the best way possible. They're always there to help you. I've never encountered a situation where I needed help and there wasn't anyone who was there for me."
He attributes this to the wealth of resources and endless opportunities OSU provides and the friendliness of the people at Spears Business who exemplify their motto, "The Power of Personal."
"SDU, I think, is the best university in Kazakhstan," said Kozy-Korpesh. "Not only because of the education, but because of the atmosphere that is being held by people in the university. Some call it Suleyman Demirel University, which is like SDU, it stands for like the friendliest university in the country…. SDU just feels like home, and I feel a part of it here in OSU because it's like almost the same atmosphere. Everyone is friendly here, everyone is nice."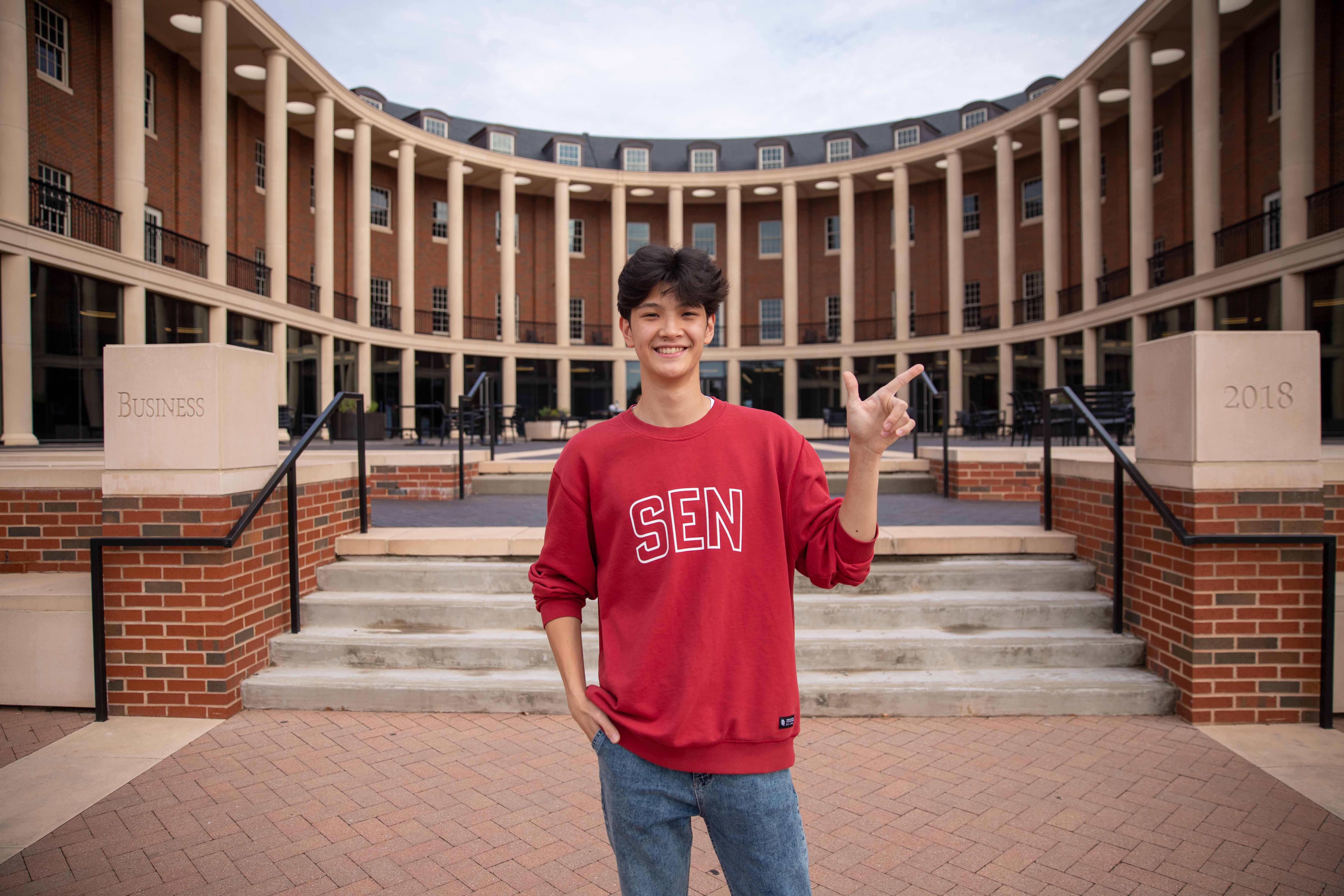 While the friendly atmosphere of the two universities and countries may be similar there are still culture shocks the pair has encountered.
"The biggest one I would say is that people really love to stand in lines," he said. "The second cultural shock is sports. The attitude towards sports, especially football at OSU…. People really gather for a football event and it must be a cultural thing, I believe, and an awesome experience."
While Hightower has been able to show them true Stillwater hospitality, the Kazakhs have been returning the favor by telling stories of their homeland, teaching her about their music, culture, landscape, celebrities and food. The pair have shared her adoption story with marketing and advertising agencies in Kazakhstan who might be able to help her find and identify her birth parents.
This is a difficult task as Hightower's birth mother provided false information and a fake name when she checked into the hospital in Aktobe, Kazakhstan at 32 weeks pregnant on May 13, 1999 to give birth to Hightower whose Kazakh name was Dina Zhaparonva Turanova.
"It was shared in my adoption records that they took me to clean me off and when they came back my mom was gone," Hightower said. "Whenever a mother holds their child, there is such a connection immediately, such a bond. I just have a feeling she was protecting both of us in a sense."
Kazakhs are known for being well networked, which is a major benefit in the search for Hightower's birth family. The student pair are distributing her birth name, birthdate, hospital, her birth mother's fake name, baby picture, passport and story to all of their contacts back home. One of their contacts who works for the government is even going through Hightower's adoption records from the orphanage.
Hightower and her family are excited to see what may come of Baidrakmankyzy and Kozy-Korpesh's inquests. She expressed her gratitude for all the love and support her parents were able to provide for her.
"Without God and my parents I wouldn't be where I am and who I am today," Hightower said.
"None of us are getting our hopes up necessarily," Hightower said. "I'm more thankful for the opportunity to learn about Kazakhstan in a more personal way, rather than just Googling things."
One day Hightower would like to visit her new friends in Kazakhstan on her origin voyage. She isn't sure if she is ready to meet her birth family yet, but if she finds them there will be a lot of tears.
"It's a really interesting story and sometimes it seems like fate," Baidrakmankyzy said.
The relationship and bond they have created has left a lasting impact on each of them.
"We got to know each other and now she's like a big sister to me and Nuray," Kozy-Korpesh said. "It was really an interesting coincidence. It's just like something that you wouldn't expect, but makes your heart like really warm."